Sailors Take Warning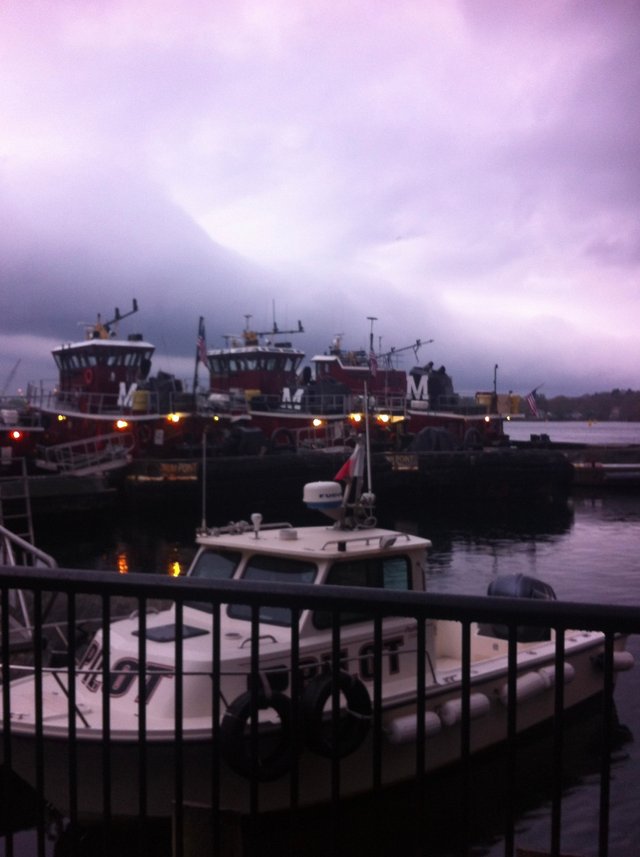 Tugs, three of them, are tied up to the wharf as a storm approaches. Standing sentinel over them is the Pilot's vessel.
Portsmouth, NH has a vibrant working waterfront. Although not the biggest port on the New England coast, the Piscataqua River runs inland from the Atlantic Ocean, giving access to fishermen, oil tankers, and even US Navy Submarines.
These tugs escort larger ships in and out of the harbor, navigating the shallows, at all times of the day and night.
This evening, a thundershower threatened. Only a few moments later, sheets of warm rain fell while thunder and lightening pierced the skies all along the river.
Fairer Skies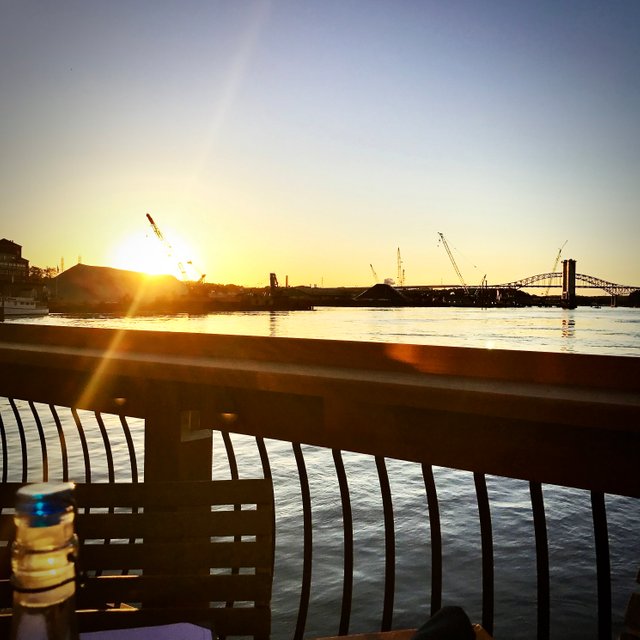 This shot, taken from further downriver, at Martingale Wharf, allows for a wider view of the river. At left, peaking under the setting sun, is a giant salt pile. These salt piles are built up over the summer and fall, and are used on the wintry New England roads and highways to combat snow and ice.
Cranes rise up over the New Hampshire approach to two of the three bridges that cross the Piscataqua River. The third bridge is just behind from the origination of this photo.
Portsmouth is a historical town, deep in seafaring history, and a feast for the eyes. With many riverfront restaurants and parks, Portsmouth is a draw for tourists and locals from new and far.
But it is the Piscataqua River that is the real star of the show. And the access it gives to this industrious river community, under the careful escort of the Moran Tugs, is an equal partner in New Hampshire and Southern Maine's economy.