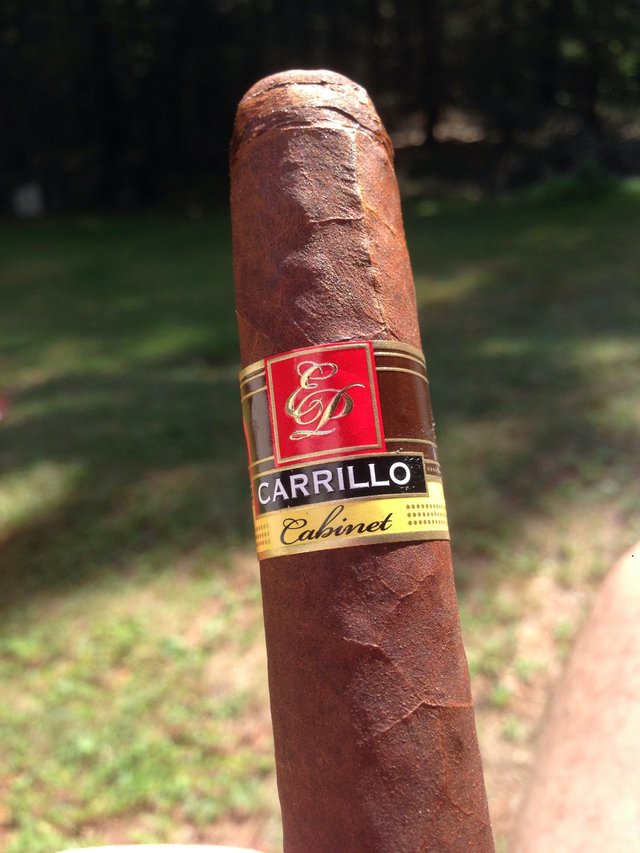 Sunlight dances on the tip of this EP Carillo Cabinet cigar in the hot July sunshine. The cinnamon-hued Corojo wrapper tells you that spice is nice. A Dominican and Nicaraguan blend, pepper power rules in this delightful smoke.
A medium bodied smoke, the minimum strength necessary to burst through my poor palate, it features a nuttiness that runs concurrent with spice. Almonds and cashews come to mind as rich smoke curls around one's tongue.
This cigar finishes with a mild, sweet quality that pairs it well with an IPA or a brown lager. A better choice, perhaps, would be a cup of hot coffee in the summer sun.
Mornings are my favorite time for a cigar. To start one's day, sitting outside, listening to the birds rejoice, with plumes of gray smoke rising into the sunlight.
This EP Carillo sports an up tempo, almost art deco wrapper of red, yellow, and chocolatey brown. Initials in gold in a soft script over a simple black band with the makers last name in block type.
I enjoyed this cigar on my birthday during a time of great upheaval. While I don't usually remember specific sittings in particular, this one remains quite clear in my memory. It was a moment of peace, tranquility, and satisfaction that as sorely needed.
The Cigar Bar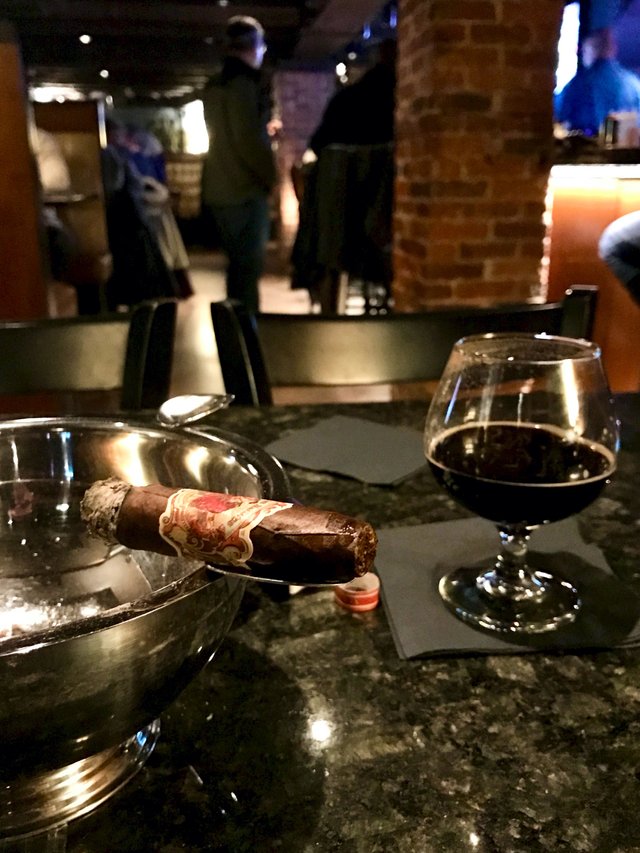 A bonus shot from my favorite Cigar Bar and Hangout.
My Father Flor de Las Antillas and a glass of Stout make for a fine evening in my Cigar Bar.
The Flor de Las Antillas is encased in dark brown Sun Grown wrapper. Box-pressed, it has a squarish shape in one's hand, with fine Nicaraguan tobaccos rolled tightly within. Flavors include cocoa, pepper, sweet cedar, and earth; a combination tough enough to stand with a rich, dark stout in the heart of winter.
This smoke was Cigar Aficionado's Cigar of the Year in 2012.