The Emperor of Snow - Barfani Baba of Badrinath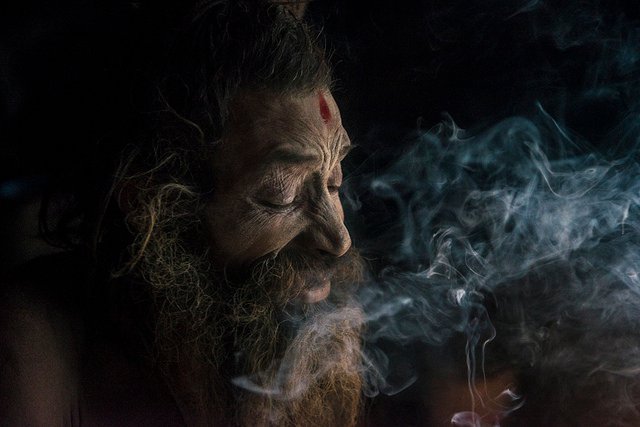 Two years ago we travelled to Northern tip of India. The destination was a glacier up north but we couldn't travel that far because of the landslides. We stayed in the Hindu Holy city of Badrinath. 
We stayed in a Border Roads organization guest house and as we were getting acclimatized to the 10,000feet (3000+ MSL), we strolled the holy city, met its Sadhus, a dog by the name Tamatar (Tomato) as its favorite food is tomatoes!
After few days we learned to avoid the pesky "Sadhus" offering various heavenly offers. So when we stumbled upon a small hut while strolling by the river, we quickly avoided the Sadhu. But then he beckoned us & as we were stepping inside his 1 x 4 meter "palace" he ordered us to remove the shoes. When reluctantly obeying the cursing the cold we knew, this was a mistake.
He prepared the sweetest, thickest & yummiest tea ever for us in the most fashionable of ways. Wrapped in a small red cloth, as if a bikini he was  silently challenging our three layer thermal clothing, ego & all the preparations made for high altitude trekking.
He told me that he belongs to the Juna Akhara.  He explained that he lives in his palace by the river irrespective of the  Snow or rain or sun.  I scanned his worldly possessions which included 2 glasses, an Aluminum kettle, a broken piece of mirror and random pieces of cloth and asked him how is it possible withstand the cold - which I know for sure is extreme and the Indian army every year makes the path to the area cleaning few meters of snow when the pilgrimage season starts he merely said, Hum Tho Maharaj Hai 
My face probably had no emotions or rather had a confused look as I was trying to decipher the meaning of the statement - I am The Emperor - he came to my resucue and explained that he is the Barfani Baba which roughly translates to Saint of Snow
I expected him to ask for money for the company and the long discussions and hospitality. But nothing happened and we returned the next day with half kilograms of tea powder and sugar. Baba was making lunch. We, 2 of us, Baba and few dogs shared the 3 odd Chappattis Baba made. We offered to wash the utensils for him which turned out to be a freezing encounter in the river.  Baba started cleaning his hut as it was time for his meditation and we left.

Later I confirmed with a friend who was working in the area 2 decades before  that Baba was there back then as well and the friends in the army confirmed that he lives in his hut 365 days of the year. He leaves once in 4 years or so to attend Kumbhmela.
Perhaps, he is really the Emperor of snow ?