After the food excesses of Christmas, a little walk is needed. We took advantage of the beautiful Normandy weather, with my dad, to go for a ride. There is a place where I particularly like to go, it is at the Fort de la Hougue by the sea. Today we were lucky, the sea was high, which is even more beautiful.
Après les petits excès du repas de Noël, un peu de marche s'impose. Nous avons profité du beau temps normand, avec mon papa, pour aller faire un tour. Il y a un endroit où j'aime particulièrement aller, c'est au fort de la Hougue en bord de mer. Aujourd'hui nous étions chanceux, la mer était haute, ce qui est encore plus joli.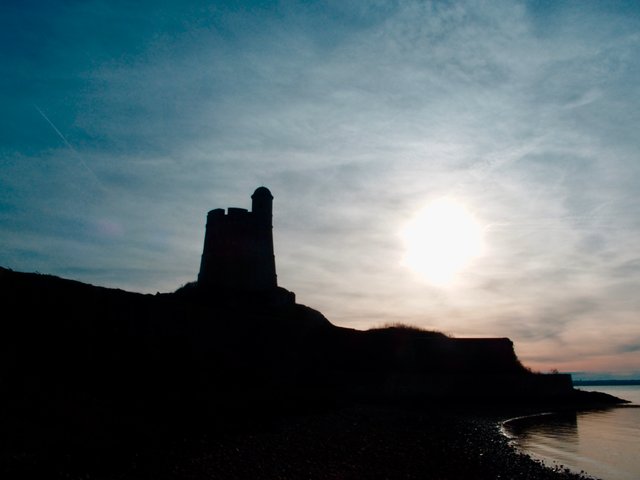 The fort of / Le fort de La Hougue
I usually take my pictures with my mobile phone, but today I used my parents' camera to try my hand at photography.
D'habitude je fais mes photos avec mon téléphone portable, mais aujourd'hui j'ai utilisé l'appareil photo de mes parents pour m'essayer à la photographie.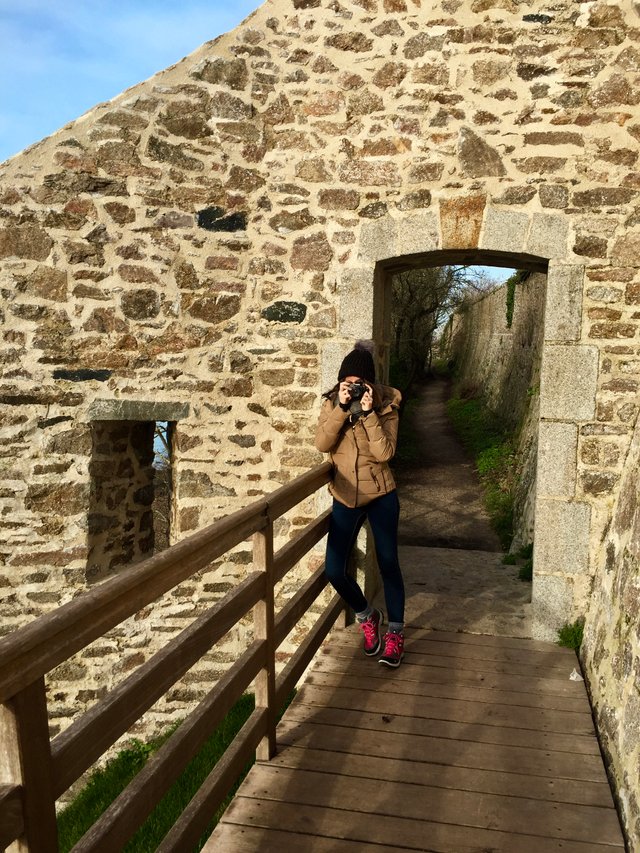 Me, the camera and my super "it's cold outside" style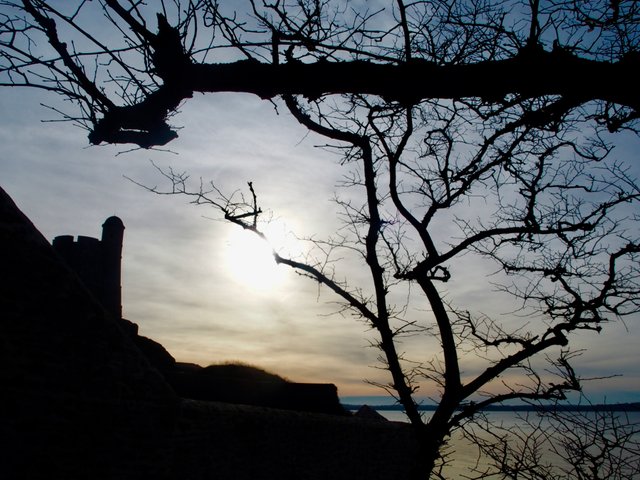 I still need to improve my angles and shots, but I like the colors made by the camera.
Je dois encore améliorer un peu mes angles et prises de vues, mais j'aime bien les couleurs rendues par l'appareil photo.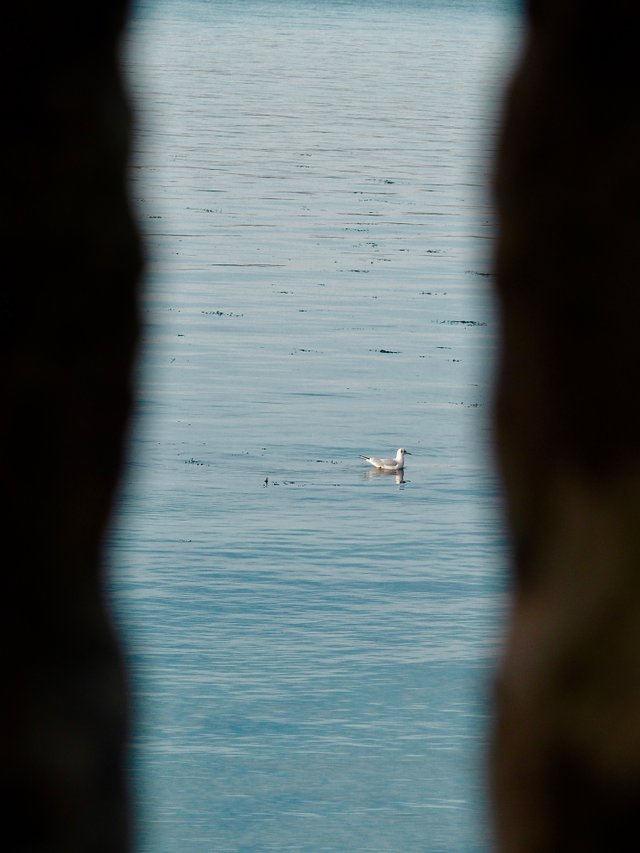 ---
To make the tour of the fort it is necessary to take a narrow way, surrounded by the sea when the tide is high and by the stones when the tide is low. For those who have vertigo, the ride may be a little dangerous! I remember doing it on a windy day and with my approximate balance I almost fell into the water!
Pour faire le tour du fort, il faut emprunter un chemin assez étroit, entouré par la mer lorsque la marée est haute et par les pierres lorsque la marée est basse. Pour ceux qui ont le vertige, la balade peut-être un peu périlleuse ! Je me souviens l'avoir fait un jour de grand vent et avec mon équilibre approximatif j'ai bien failli me retrouver à l'eau !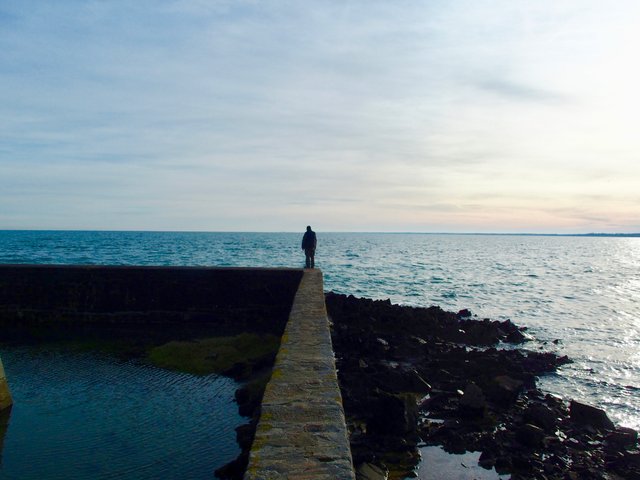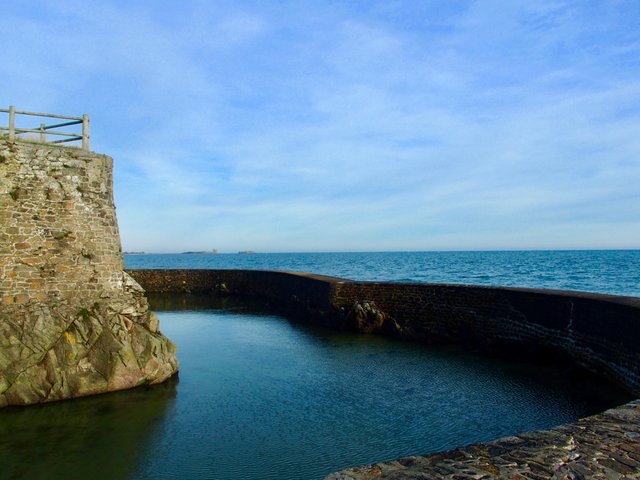 It's the same place, but you can notice the difference in colors. There were a few minutes between the two shots and the sunset totally changed the atmosphere. The turquoise water has given way to the warm colors of the early evening.
C'est le même endroit, mais vous pouvez remarquer la différence des couleurs. Il y a eu quelques minutes entre les deux clichés et le soleil couchant a totalement changé l'atmosphère. L'eau turquoise a laissé place aux couleurs chaudes du début de soirée.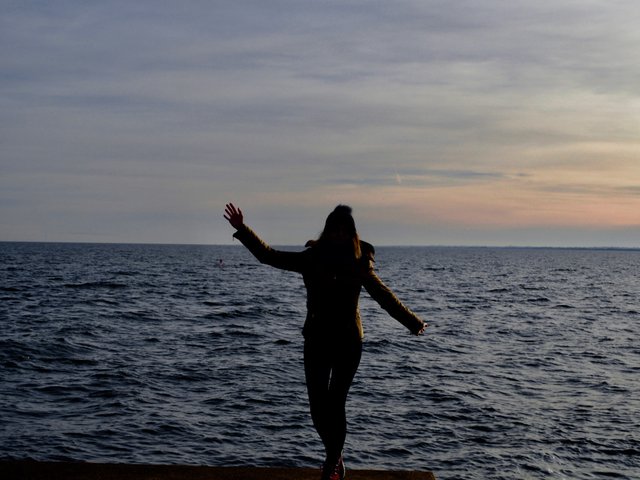 "Hey dad, do you see me?"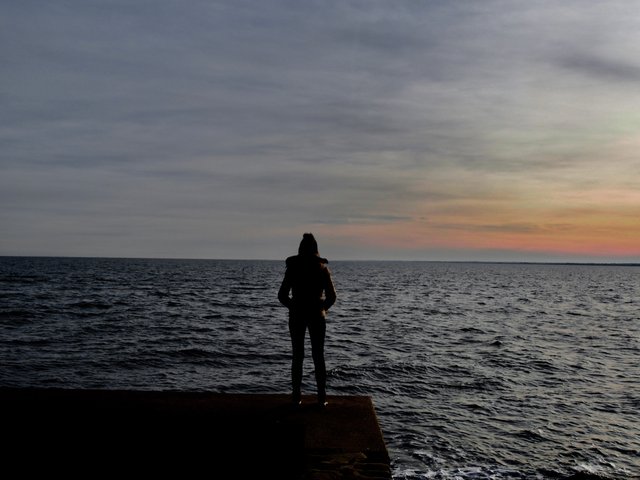 Me looking at the horizon and thinking about my good resolutions for 2019
---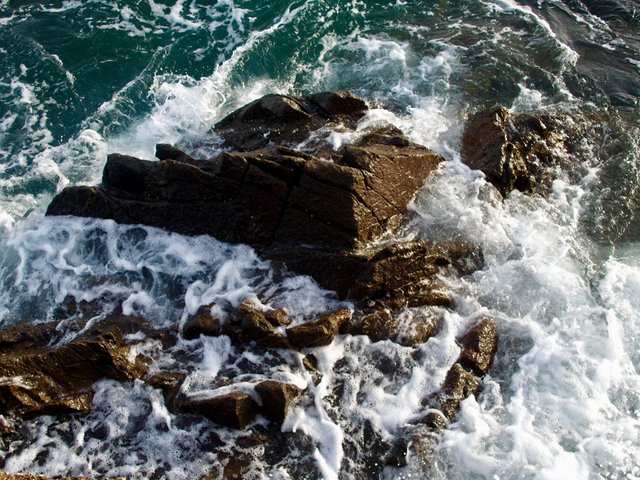 There was a little wind, not enough to be cold but just enough to make the waves foam on the rocks. Do you hear the sound of the waves too?
Il y avait un petit peu de vent, pas assez pour avoir froid mais juste assez pour donner faire mousser les vagues sur les rochers. Vous-entendez le bruit des vagues vous aussi ?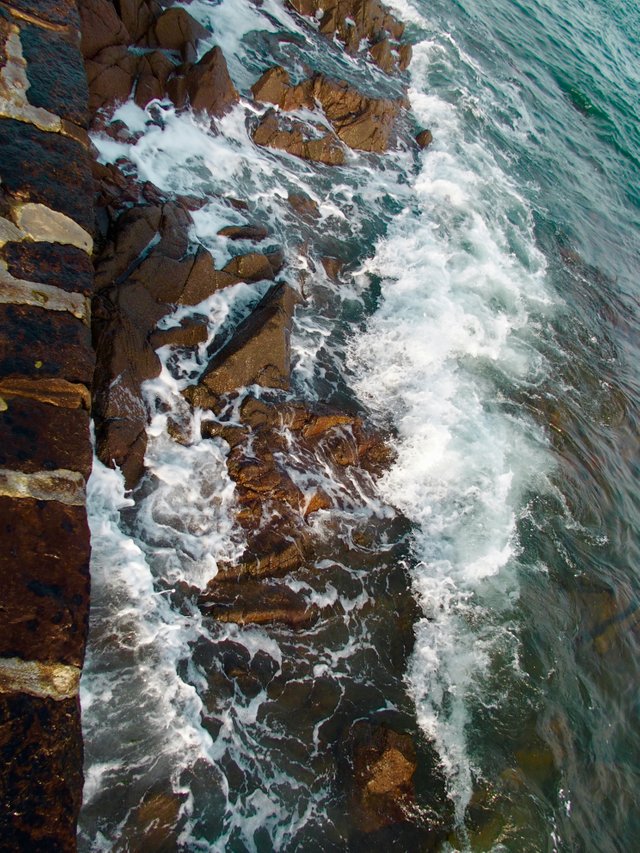 ---
Across from the Fort de la Hougue is the Fort of the Tatihou Island. The two towers are called Vauban towers (named after their architect). They were built at the request of King Louis XIV to protect the French coast against foreign invasions (especially English).
En face du Fort de la Hougue se trouve le Fort de l'île Tatihou. Les deux tours s'appellent les tours Vauban (du nom de leur architecte). Elles furent construites sur demande du Roi Louis XIV afin de protéger les côtes françaises contre les invasions étrangères (des anglais surtout).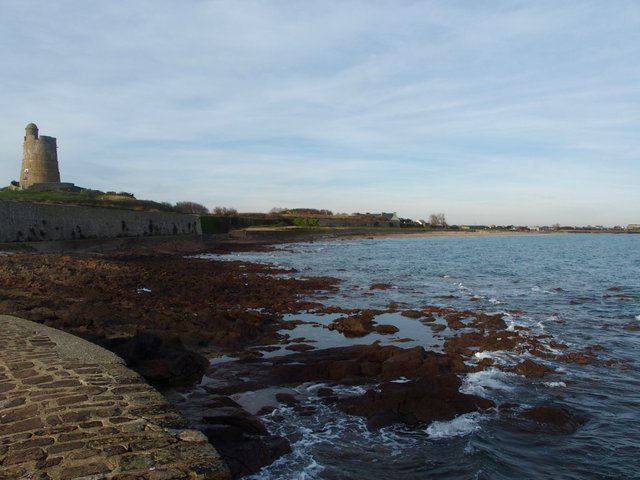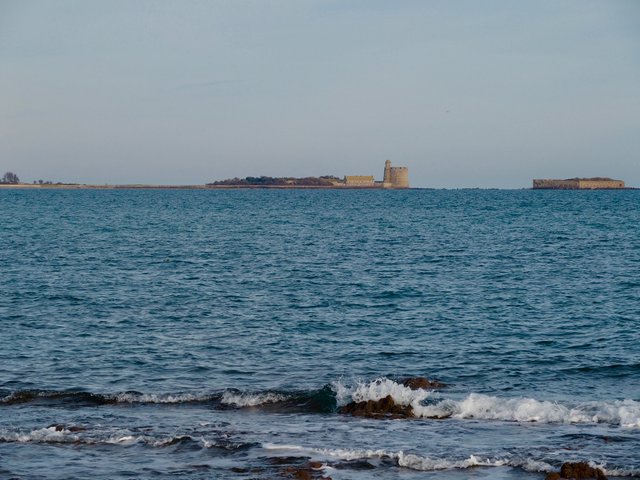 It is possible to visit the island of Tatihou, the journey between the mainland and the island can be done on foot during low tides of great coefficient, or by amphibious boat, when the sea is high it sails, when the sea is low it drives on the sand. It should be noted that the island of Tatihou once served as a quarantine place for sick sailors before going back on the mainland but also later as a correctional center for young boys.
Il est possible de visiter l'île de Tatihou, le trajet entre le continent et l'île peut se faire à pied lors des marées basses de grand coefficient, ou en bateau amphibie, lorsque la mer est haute il navigue, lorsque la mer est basse il roule. A noter qu'autrefois l'île de Tatihou a servi de lieu de quarantaine pour les marins malades qui revenaient de séjour en mer mais aussi plus tard de centre de correction pour jeunes garçons.
---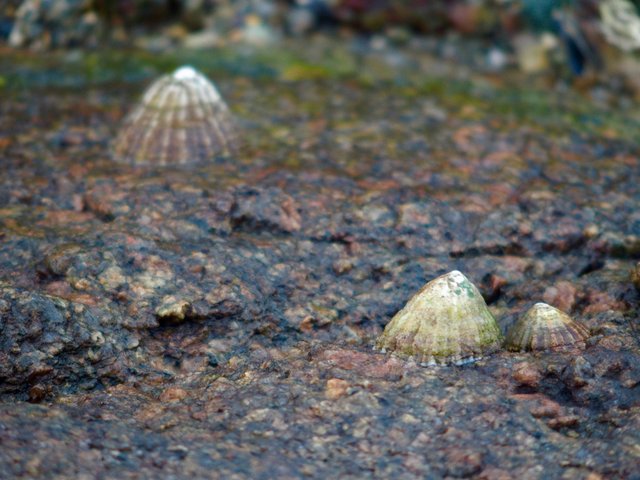 Limpet or "Chapeau chinois" in French, which means "Chinese hat"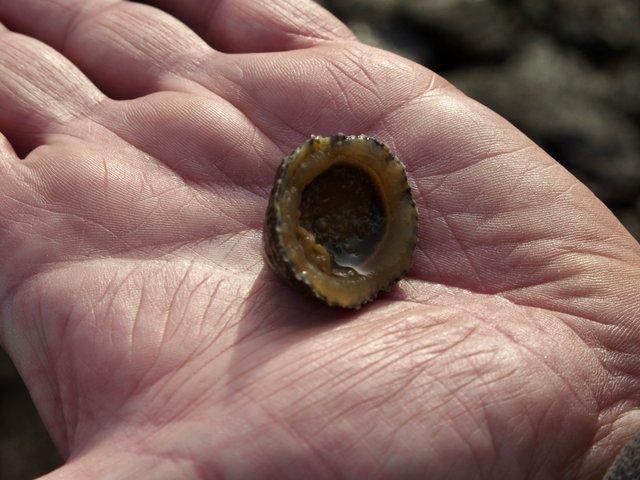 Inside of a limpet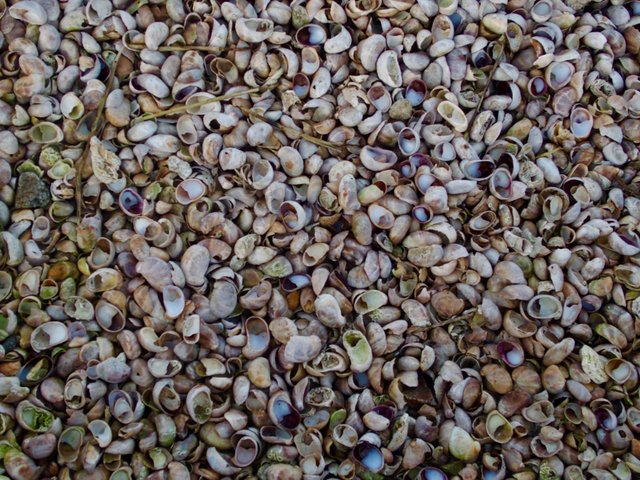 These other shells appeared in France after the second world war, they were hooked to the hulls of the American boats which landed on June 6, 1944 and since proliferated on the Normandy coasts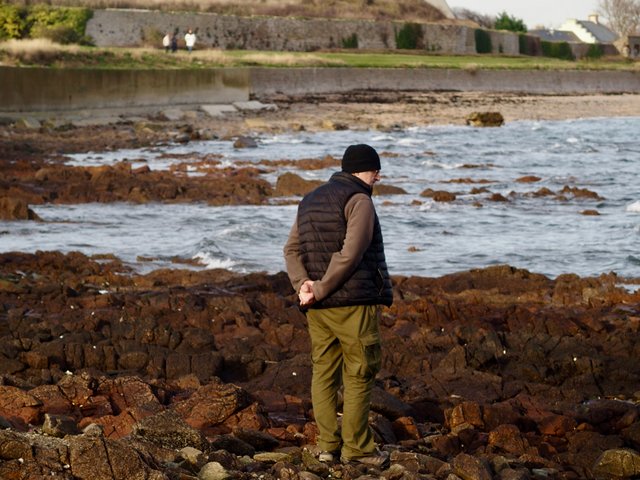 My father, dressed in the same color as the landscape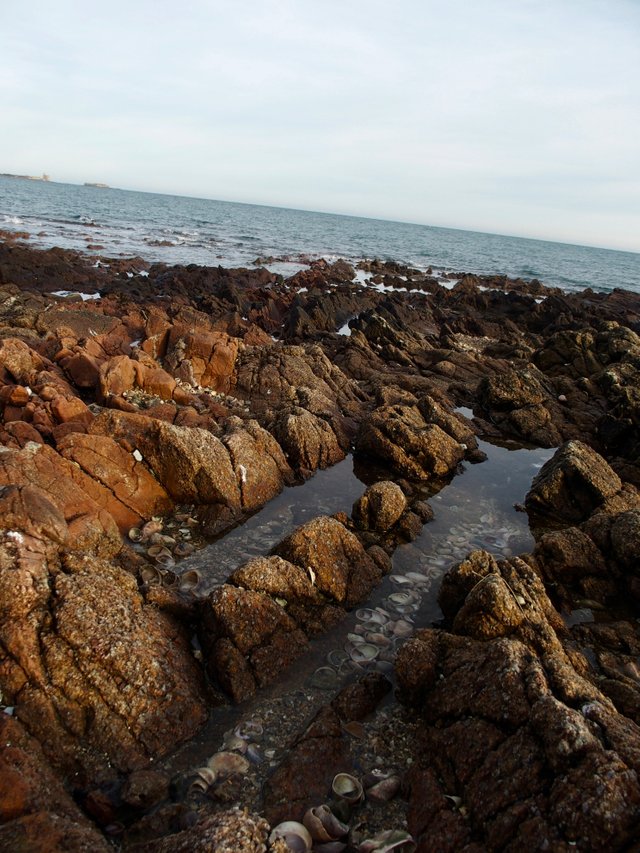 Red rocks on the coast
---
I hope you enjoyed this ride with me. I take advantage of my beautiful Norman region before flying for new adventures! In the meantime, I wish you a happy new year, it's time to think of your good resolutions (that no one will hold...) for 2019 like me!
J'espère que vous avez apprécié cette balade en ma compagnie. Je profite de ma magnifique région normande avant de m'envoler pour de nouvelles aventures ! En attendant, je vous souhaite une bonne fin d'année, il est l'heure de penser à vos bonnes résolutions (que vous non plus, ne tiendrez pas...) pour 2019 !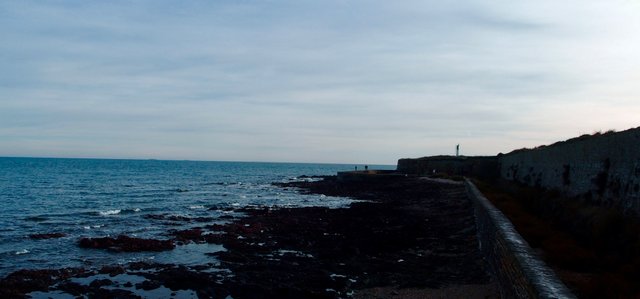 See you soon! À bientôt !