Hi there Steemians!
---
I think it will be a new type of my posts - the composition talk, where I will present some different looks at the same scene, and after the comments and opinions from You - I will place the winner in a separate post with little more information about the picture itself.
This time - the winner was close look at a distant small island with foggy hills in back and nice morning light.
Jonsvatnet lake is amazing place, very well accesible because there is a road around the lake, not far from it shores, sometimes as close as few meters from the water.
Several smaller and bigger islands, interesting shore line, surrounded by forests, meadows, some villages and mountains.
The water is fantastic - always crystal clear, always cold and transparent like a glass.
Great spot for fishing trips as well as photographic ones!
And it is only 5 minutes drive by car from my place...

<><><><><><><><><><><><><>
---
Heavenly island
---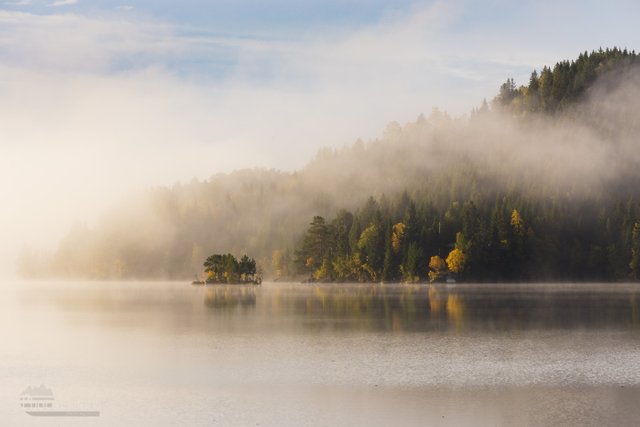 Left click on the image to view in Full Screen mode!
---
| | |
| --- | --- |
| Category | Landscape/Lakescape |
| Settings | 200mm | ISO100 | f13 | 1/60sec |
| Gear | Canon 6D + Canon 70-300mm + UV filter |
| Location | Jonsvatent, Trondheim, Norway |
<><><><><><><><><><><><><>

Any photo available as Digital Files. Join my Discord channel for details: https://discord.gg/ApdDcNh
If You like my work, check my portfolio site asphotovisions
Calendars from beautiful Norway on 2019 available to Pre-order on my site.

Thanks for watching and have a great day!
---
Upvoting, Resteeming and Following are the best way to show the authors that You like their work, it supports them not only finacially but what more important gives a huuuge amount of positive energy to create more interesting posts and work on future projects!