Hi there All!
---
I am still sitting into photos from latest workshops on norwegian Lofoten and now, looking forward to my next trip in March.
Utakleiv beach - on the picture - is a very large beach where we can find a lot of great photographic motives, some of them are well known - as the famous Eye of Utakleiv, but there is a lot more to shoot. I can split the whole beach into three different areas - Rocky shore, big round stones and sandy dunes...
Place from the picture I photographed for the first time.
I am not sure why that water between the stones had this nice green colour, but it looked really interesting and gave a nice extra contrast to the foreground.
Photo is a panoramic work stitched from 6 vertical shots.
Hope You will like it!
---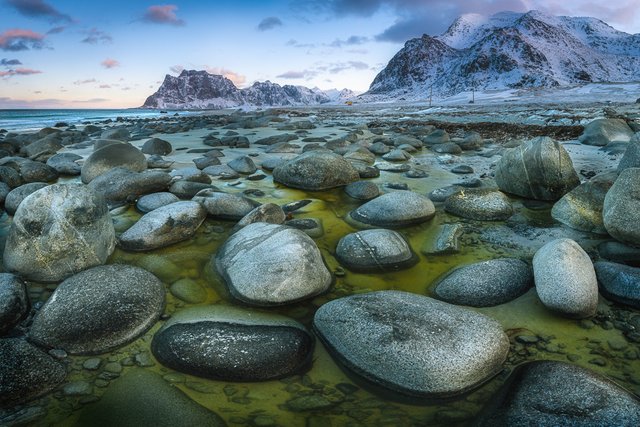 ---
Places to visit:
My web site: https://www.asphotovisions.com/
My insta: https://www.instagram.com/photo_visions/
My FB fanpage: https://www.facebook.com/AdrianSzatewiczPhotovisions/
My 35Photo: https://35photo.pro/adrianszatewicz
My 500px site: https://500px.com/photovisions_by_adrianszatewicz
---
Remember! Upvoting, Resteeming and Following are the best way to show the authors that You like their work!