Magical Lofoten: Reine once more... panoramic view
Hi Friends!
---
Hope You are all well in these strange times!
Today, something fresh from my latest workshops on the north...
This place has already like 10 milion photos - taken in every possible conditions and seasons... but I am not suprised - it is simply so scenic, can be photograph in many different angles, compositions and techniques. Every time looks different and every time looks great!
On this one - larger view over the island and mountain range in background. Panoramic shot made from several vertical shots.
Weather that morning was quite extreme - we waited for some sunrise colours but didn't get any - instead we got some amazing clouds and dynamic light.
Hamnøya - iconic bridge photo spot.
Lofoten Islands, wintertime Landscape Photography Workshops, March 2020.
Interested in joining my next workshops?
Here are the dates:
Autumnal Lofoten
​
Landscape Photography Workshops
10-17 October 2020
5 places available
​
---
Arctic Lights on Lofoten Islands
​
Landscape Photography Workshops & Aurora Hunting
23-30 January 2021
5 places available
​
---
Wintertime Magic on Lofoten
​
Landscape Photography Workshops
6-13 March 2021
5 places available
​
---
Autumn 2021 - contact me for details.
All the DETAILS AND BOOKINGs will run very soon but let me know today if You are interested!
---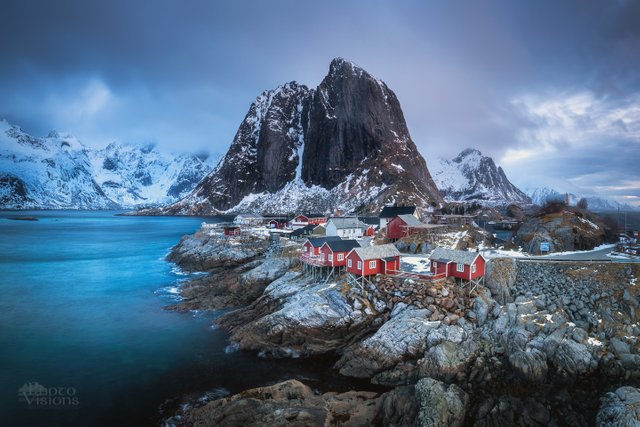 ---
UNTIL THE NEXT ONE!
---
Places to visit:
My web site: https://www.asphotovisions.com/
My insta: https://www.instagram.com/photo_visions/
My FB fanpage: https://www.facebook.com/AdrianSzatewiczPhotovisions/
My 35Photo: https://35photo.pro/adrianszatewicz
My 500px site: https://500px.com/photovisions_by_adrianszatewicz
---
Remember! Upvoting, Resteeming and Following are the best way to show the authors that You like their work!