I decided to continue with my series which I fondly called "The Art of Street Photography" which is based on a lecture I gave a couple of weeks ago.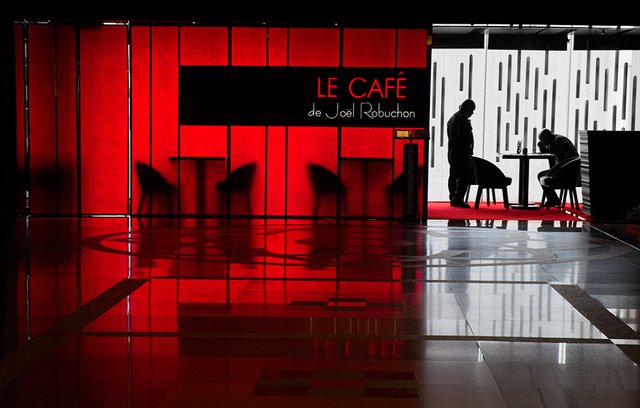 The Trasaction
I am calling it the Art of Street Photography because of my emphasis on the strategies and composition elements used in the photographs in order to create fine art photographs. During my research about Street Photography, I came across a definition by Larry E. Fink where he defines Street photography as "a branch of fine art photography that—traditionally—records un-posed scenes in public places".
For me, fine art photography is when I consciously use photographic compositional strategies and elements in order to create a mood or draw attention to specific elements in the photo.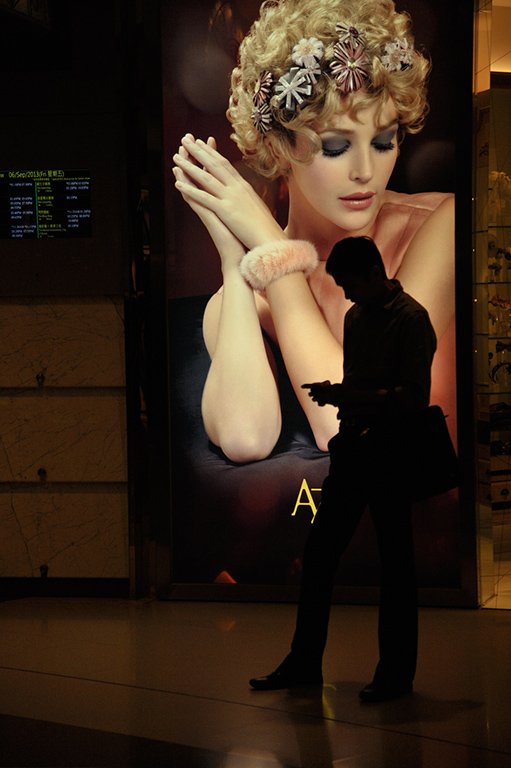 Dressed to Kill
Silhouette as a composition strategy is known to create a specific mood - mostly that of intrigue. I am of the opinion that silhouettes may also be used to draw attention to certain elements in the scene. If the silhouette is that of a person or persons, it will also help to make them anonymous elements in the scene.
In "The Transaction" above, I used silhouette to change this ordinary conversation in a restaurant into something that let one's imagination run wild... Is this a meeting between two members of the mafia? Is the boss giving instructions to his henchmen? Is this an encounter between two druglords?
The gesture of the man's hands in "Dressed to Kill" mimics that of a drawn pistol. In reality, it is just a bored husband browsing on his phone while waiting outside a shop for his wife who is busy spending his hard earned money... Wait, maybe he is dressed to kill...
In the photo "I'm out of here" I have waited a long time for a passerby to walk towards me and then managed to get my timing right to photograph him without his head in order to mimic the headless mannequins in the shop window. With this I tried to create a scene that looks like one of the mannequins walked out of the scene.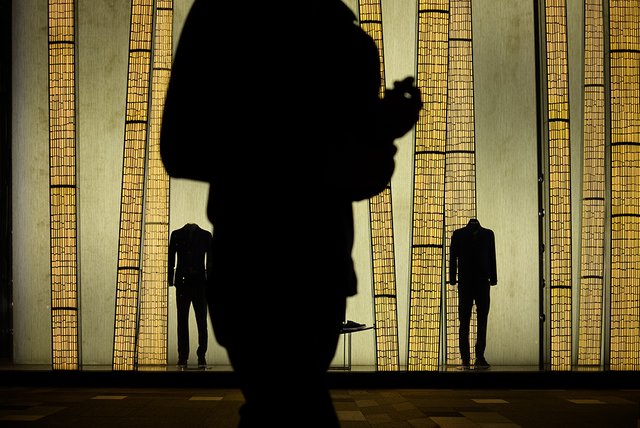 I'm out of here
On a technical note
When doing street photography one must have quick reactions and also have a good knowledge of one's camera settings. I find the easiest and quickest to get the light right for a silhouette photo is to quickly change the light meter reading setting to spot meter and then make sore the link meter spot is selected on the brightest area in the scene. This will automatically then render the other elements darker and dark elements as silhouettes. The added benefit of this technique is that you most likely will get a much higher shutter speed than what would have been necessary to expose correctly for the overall scene.
If your camera (like my Fujifilm cameras) has the option to save setting banks, then create a specific setting bank for silhouette photographs.
This is my entry in the #streetphotographychallenge created by @juliank