Hongcun is a village in Yi County in the Anhui Province of China. It is a very popular tourist attraction which is mainly as a result of the fact that some of the scenes (including the opening scene) of the award-winning movie Crouching Tiger, Hidden Dragon was filmed in this village.
The first 36 seconds of this opening scene features the famous outside view of Hongcun Village
As mentioned in an earlier post, I've attended 3 photo festivals in the Yi County and all three took place very close to Hongchun.
During these festivals, the guests get the opportunity to visit all the famous scenic spots close to the Festival's venue, and Hongcun is normally the first one on the list.
On my first visit, I was very excited to visit Hongchun as I am a great fan of Crouching Tiger, Hidden Dragon and wanted especially to photograph that famous bridge in the opening scene.
Unfortunately, I was not the only person who wanted to photograph or get photographed on this famous bridge. Upon arriving, I was greeted with a queue of people who would like to take a selfie on the bridge. My guess was that on average it took a person about 2 minutes from getting in the queue to getting at the top of the bridge. And the queue never shortened. I was totally disillusioned.
I was standing around watching this queue in disgust for close to 30 minutes before realising that I am wasting time trying to wait for the queue to clear.
Eventually, I managed to pull myself together and then came up with a plan - I decided to do an ultra long exposure in order to blur the people as they moved over the bridge.
It was 3 pm and although it was an overcast day, the ambient light was still very bright. I added my 10 stop filter as well as two 3 stop filters in order to slow the shutter down sufficient enough to fade the people into a blur as they slowly move over the bridge.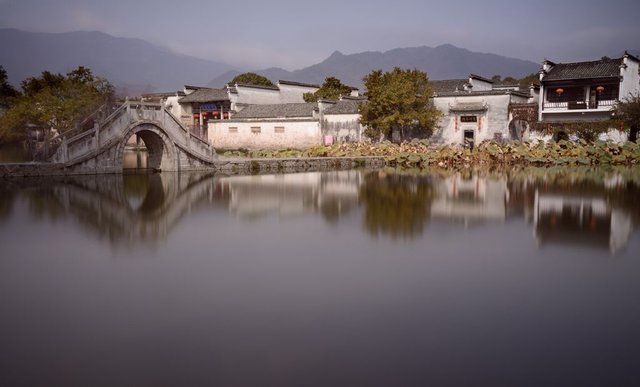 Hongcun Entrance. A 107 second exposure
If you look closely, you will notice the blur of people on top of the bridge against the grey mountain in the background. There are still traces of people visible on the left side of the bridge, as this is the spot where most of them stop to take a selfie photo with the village entrance in the background.
This is my entry in the weekly #longexposurephotography challenge created by @juliank.
Hope you enjoy it.