I had heard of SteemPeak a lil while back and had been meaning to try it. And after talking to a friend who had good things to say I did.
I don't have much to say yet as I literally just signed up! Lol... So this is no review or anything really, however.. Upon first impressions.. It looks nicer and feels cleaner for the most part. I feel a little bit of lag on my keyboard typing for some reason but I'm fairly certain that's mostly because I'm almost out of disc space, though.. I didn't notice it like that on steemit so perhaps the UI requires a lil more something.
The main most important thing is the "notifications".. Wow.. How much of a difference that makes!
It's much more like Facebook now where you can easily look through things, and I haven't seen the icon light up yet, but hopefully it lights up whenever a new notification comes in! Either way I think it will make it a lot easier for me to respond to people as I've been struggling with that recently. I almost tried fast reply but just didn't quite get it, and.. I dunno what fast reply is like but was told it's similar, though to me I would liken it to Facebook notifications.
Pretty cool! I kinda doubt I'll go back to the old one at steemit.com. I have a feeling I'll keep using this. Though It's still too early to say for sure! Either way I'm liking this so far. :) I'd suggest giving it a try if you haven't yet. And now onto the photography!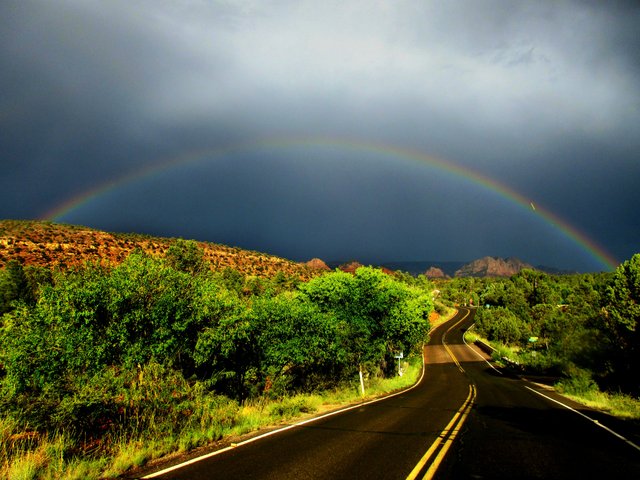 I got this one a couple days ago and while I wasn't in the best place, I think it still came out pretty nice! I kinda like how the road is in the frame it's almost like you're driving into a really beautiful place. I think it's a pretty cool shot and I like it.
I almost thought there was a UFO or something on the right in the rainbow.. But.. I think it's probably just rain.. I'm guessing that for some weird reason that one was lit up yellow when the one right next it is white.. I just... Dunno why or understand it.. It seems like it should be the same color as the other drops, plus it's a bit longer of a streak.. Makes me wonder if it's something else? Maybe a bug? I dunno... Interesting though! The one below is unedited just to show the difference, sometimes a lil bit of editing can help a lot and the original was just a bit too washed out. Hope you enjoyed the images! These were filmed in Sedona Arizona, on the Elph 360.