Hello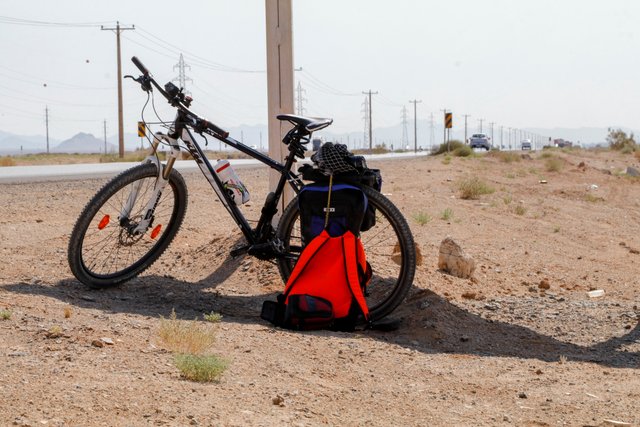 The only source of shadow was a road sign
It's been a long time since the last "Diaries of an addict" series. Not that I didn't use the bike in the past year, but it was mostly the regular stuff.
The Idea
This one is about something I had on my mind for few years. Though it was not a big deal, but it was much more than what I do normally. Cycling from my home to the village we go regularly.
Problems
The distance is about 130KM, which is not the real problem but there are two major problems:
1- You're not alone on the road, cars and trucks will be driving alongside you but much faster than usual (compared to cycling in the city)
2- about 70 KM of the route is a straight forward highway in the middle of desert, boring as hell, no shadows, no trees.

(My bad, it's about 55km)
and a minor one:
In the summer, where I live temperature reaches 40 Celsius and in the road you'll be under direct sunlight the whole way.
If you live in Europe, the first problem might not sound like a problem at all but reviewing some statistics might help understand the risk:
Iran is in the top ten countries with the highest road traffic death rate
Half of the people killed in road accidents are pedestrians, cyclists, or operators of two-wheeled vehicles.
How did it happen?
My parents wanted to go to the village. I usually go with them, but this time there was no space in the car for me. (they were taking my grandparents and my aunt). My mother told me some other relatives might leave for the village (Kejan) tonight and you can call them the check if they have an empty seat but I told them I'm not coming to the village this weekend. After a little bit of peaceful arguments, they accepted that "I'm not coming with you" and left the house.
Though before they leave, I had the idea of going with bike, but it was not the sole reason of not going with relatives. After they left the house, the idea got stronger. Finally (the same day) I decided to do it. Somehow it was the best time, not that it was (and still is) summer, but because I could've done it without my mother knowing and trying to convince me not to do it.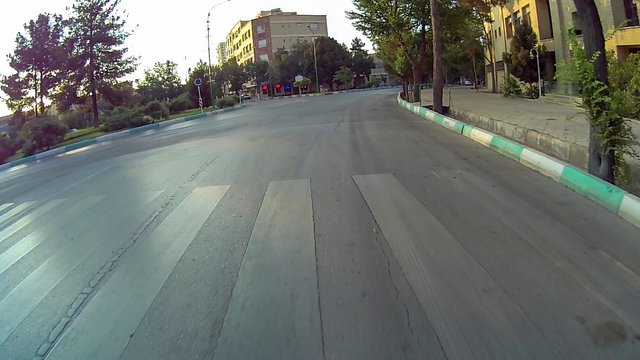 Empty road, soft sunlight, cool air.... ahhh... it's not gonna last
So at night, I prepared some stuff, but not all (checking memories, charging batteries) so I could leave early morning. Though I knew I should sleep early but I didn't. I slept around 00:30 and woke up around 5:15. The rest of the preparation took longer than I thought. Saying my prayers, preparing the bike, eating breakfast, taking the [main] camera, attaching the [small] camera to handle bar took me about 80 minutes. Then I left the house at 6:40. A little bit later than what I had in mind.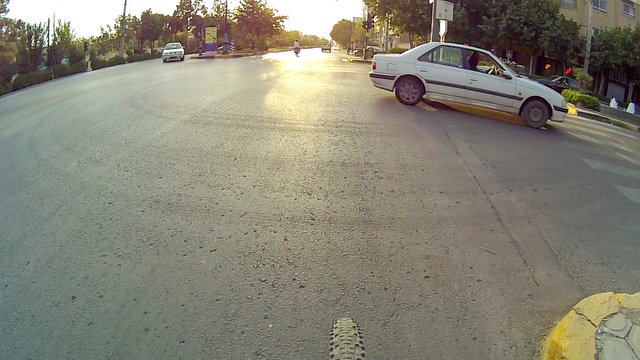 Don't look for the bike lanes, because there aren't any
The first 60 KM was easy and also deceiving, because the rest was opposite of easy. I reached Sejzi (which you can see in the map photo) in about 2-2.5 hours. My average speed was about 25 KM/h, sun was not bothering yet, temperature was still below 30 and the road had no slope. So when I reached Sejzi at about 9, I was happy, with so much energy.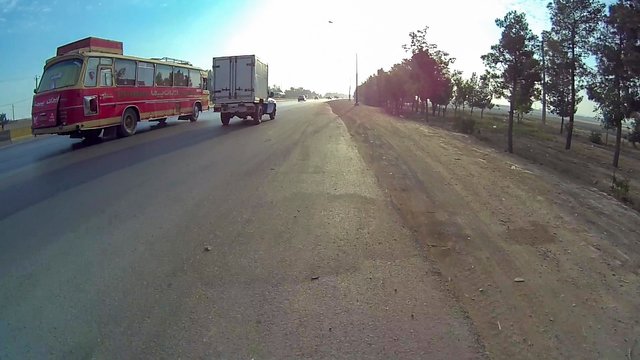 Few of my rivals, they can't beat me, no one can!
Though the first two hours had a problem. It was my first time cycling out of a city, in a highway, I wasn't used to all the noises from cars and trucks overtaking me so fast. I was nervous for about 10 km of the path, but it gradually faded away as my faith got stronger. Yeah, my faith. I realized I can't look back every time I hear a car tooting horn or closing in. Because them I should bike looking backward, and where does that take me? After that, when ever I hear a horn, I just raised my hand to show my respect for noticing me and it felt much better. But what if the car was about to hit you and tooted the horn to notify you? I don't know, fortunately it didn't happen. But I guess it would be an instant death while I'm still in my prime which I appreciate.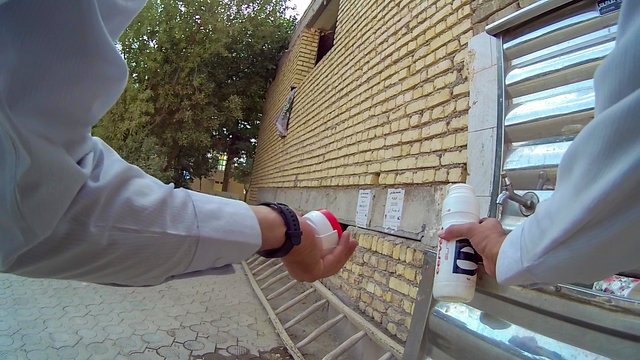 Appreciating the free cool water
OK, back to Sejzi, where I still had much energy, but not much water. So I refilled my bottle and continued the journey. I had about 30 KM to reach thenext city, Kuhpayeh. Based on what I had accomplished by then, I thought it won't take me more than 1.5h to reach there. So I didn't rest in Sejzi and planed to rest at Kuhpayeh. But I was wrong. The road from Sejzi to Kuhpayeh had a little uphill slope that reduced my average speed by 10km/h (about 40%).
That was when the battle started in my head:
Wait a little, there's not much left to Kuhpayeh
I need to find a shadow, I can't rest under the hot sun
+Then wait until we reach Kuhpayeh
Then my body ignored all the voices in my head and acted as soon as I saw a relatively big sign with a shadow big enough to cover me and my bike. So I stopped. After resting for about 20 minutes and drinking water and eating dates, I took few photos and pedalled up toward the next city.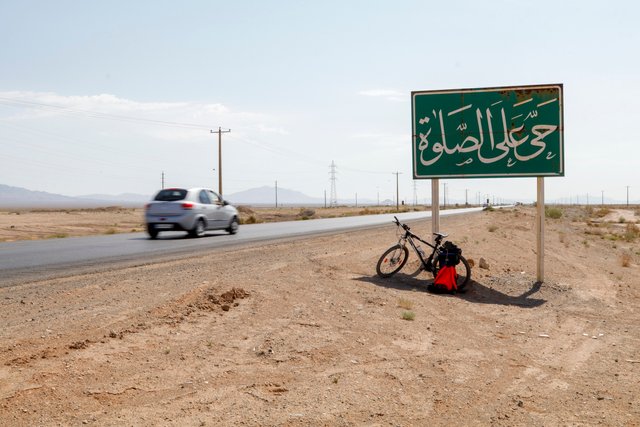 Not a regular road sign. It's Arabic, but remember that Iran's language is Farsi, though we use Arabic for religious text, because they're originally Arabic, and that text on the sign is a religious one, meaning something like "hurry to say your prayer"
You might ask why there's such a sign on the road in the middle of desert? Well, I din't know and although it's kind of normal here, but it doesn't make much sense, but anyway, it helped me (with its shadow), so I appreciate it. It would've made sense if it was close to a mosque. Maybe it was close to a mosque, but when you're cycling in a highway, nothing is close, except fast moving cars and trucks.
After about an hour, finally I reached Kuhpayeh at around 11:00. It was close to my estimates. We drive this route regularly, so I had a good Idea about how it would be if I cycle it, which made the travel a bit more boring, because nearly everything that happened was expected.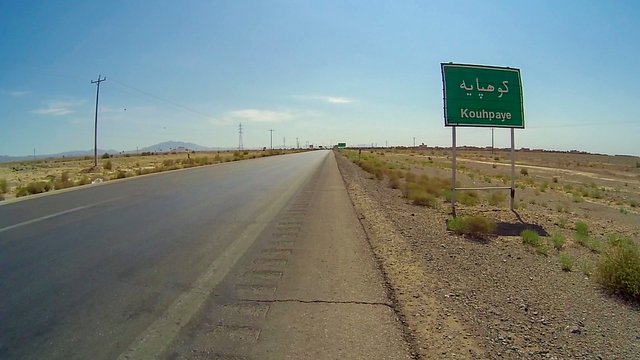 When driving a car, this sign means you have reached the city, but when riding a bicycle, there's so much left.
It was a sad moment, when I realized this sign no longer means I'm there. There's still about 10-15 minutes left to reach the park where I can rest, but when we passed the city by car, it was just a minute.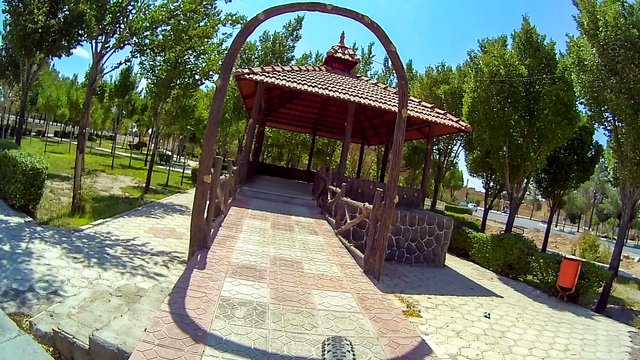 A good place to rest
When I was resting, my uncle called and asked where I am. I told them where I am and what is my ride. Oh! and my parents were with my uncle at the village, So they found out about what I have done, what they (or just my mom?) were afraid I'll do. They told me that if you got tired you could call and they'll come to get me.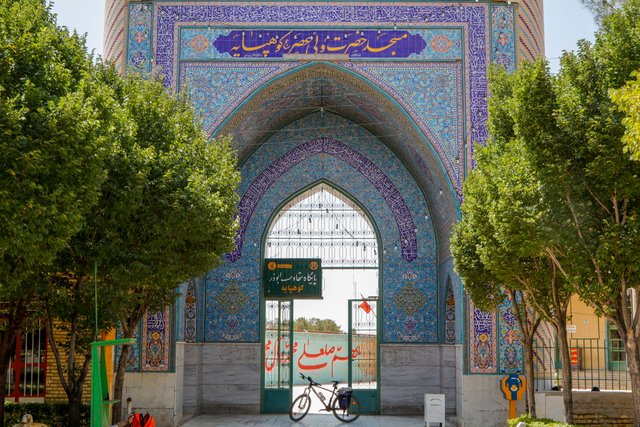 After resting for about half an hour, I bought a cold drink to refresh my self (Is a non-alcoholic beer a paradox?) , then I went to a mosque and refilled my bottle again.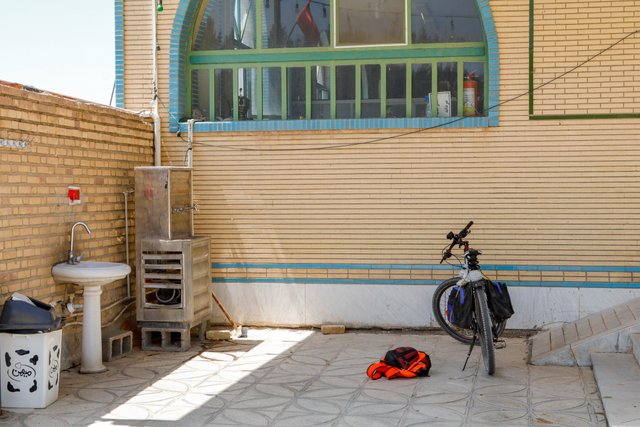 Another place to get free cool water, how cool is that?
I spend about an hour in Kuhpayeh (all the resting and looking for a store and drinking). Then I started the last part which is about 30KM.
The last section
What was the problem with the last section? why it's getting a separate part in the story?
Because it has it's own problems:
1- It was a narrow two-way road (+50% higher chance of death compared to cycling in the highway, maybe?)
2- sun was in the middle of the sky and temperature was close to the highest point (It was just getting close to my inner temperature)
3- I had ridden the bike for almost 100KM in the same day. (Not much, huh?)
4- most of this route had a steep uphill slope. Not really steep, but steep enough to reduce my average speed to 10KM/h (I'm still moving)
5- My mom already knew that I was riding this route with bike, so I had the option to call my dad and just wait about 20-30 minutes for the rescue. (The illusion of choice)
I started pedalling at about 12:00. It was already hot, but not as hot as it gets. The uphill road made the cycling a struggle. Road was narrow and two-way, so when a car was coming from other side and another from behind, there was a high chance of being hit from behind. So when I saw a car is coming toward me, I checked if there's any car coming from behind. If there was, I would stopped in the out side of the road in the dirt so they pass with out hitting me and then start cycling again.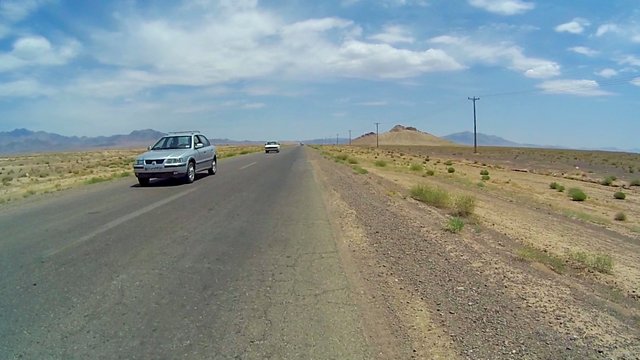 I don't belong here!
From now on, everything was far, far away. That hill over there, it's an hour away. That mountain, probably five hours. It begged the question: "Am I even moving?" yeah, a little bit.
That was the time I give up, basically because I had the choice. I called my dad and told him to come and get me. After an hour I had accomplished only 10KM, the sun was literary cooking me, but more importantly, I had the choice, I had the choice to give up, to call my dad and tell him to come, without the need of explaining why I'm there with my bike.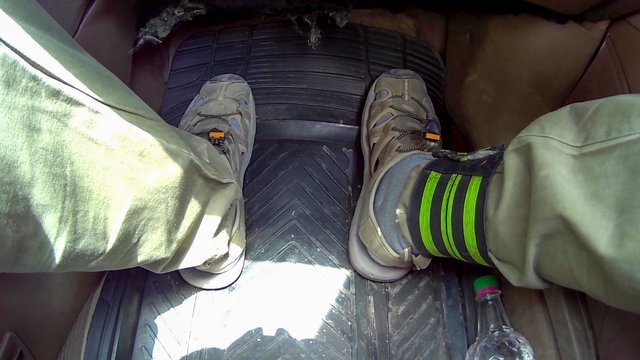 It doesn't always end as you expected!
I continued pedaling for maybe 20 minutes more, until my dad arrived. He stopped, made a U turn and parked the car, with two wheels on the road, two wheels out of the road. I put the bike in the trunk and reached the village with the car, not the bike.
So...
I ask my self, will I do it again? Do I want to do it again? Is it worth the effort?
Surely I didn't regret it, but I don't think I'll do it again. It's not fun, It's not healthy. Why should I do it then?
What do you think about this trip? How dangerous is cycling in your country? Is it easy to find free and cool water where you live?
---
All photos are taken by me, except noted.