---
My sun sets to rise again.
---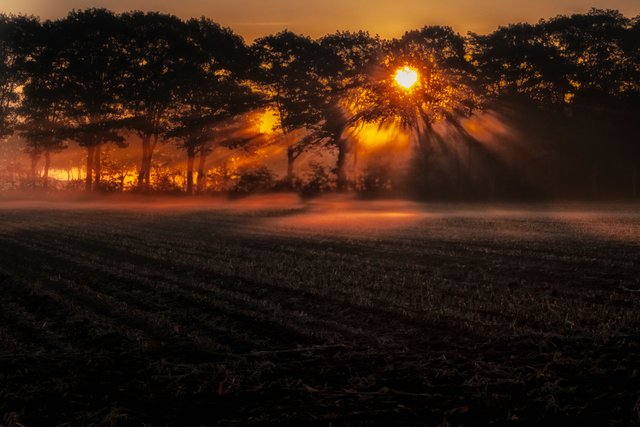 Be sure to click on the image to view full screen!
---
@derangedvisions is back with his photocontest. And of course I participate in this contest again. With great pleasure.
If you want to participate too, Then HERE, you can find a link. You need to be on whaleshares because the contest is not running on Steemit I think.
Power of the Sun.
For his first week the theme is : Power of the sun. And we all know, the sun has power. When the sun shines we all do feel a lot better, it makes everything brighter and we can enjoy the natural warmth of the sun. But the sun has also a negative power. I can literally burn us.
So incredibly beautiful.
I took this photo when I walked the dogs one early morning. It was cold and dark ... but then, the moment the sun rises. Shines through the trees and throws its rays over the plowed field. It was so incredibly beautiful, I ran in with the dogs, quickly grabbed my camera and ran out again ...
Every day is good for a new beginning.
To quickly take a few photos, and especially to enjoy this special moment. It says so much. The power of the sun ... It can't be that dark, or new light will come to your horizon. And every morning, wherever you are in the world, every morning that sun rises, for free. Every day is a new day ... and every day is good for a new beginning. Just as the sun makes a new start every day.
---
| | |
| --- | --- |
| Category | Deranged Visions Photo Contest |
| Settings | ISO 200, f18, s 1/80 |
| Camera | NIKON D300sd |
| Lens | 18-55 f3.5 - f5.6 |
| Location | North Brabant, Netherlands |