You aren't special although you are unique but being different doesn't come with special privileges and, the world itself owes you nothing. @lucylin asked a few moments ago why being my best is a theme that runs through so much of what I write, I understnd the question yet, I also kind of find it strange. Why would anyone want to be anything other than the best they can be?
This is not a simple question though as essentially in any given moment with our experience, knowledge, skills and whatever other tools we have available to us, we are all our best. That said, our best in hindsight and reflection might not have been so good after all but, that view is only possible with the additional knowledge that comes through feedback.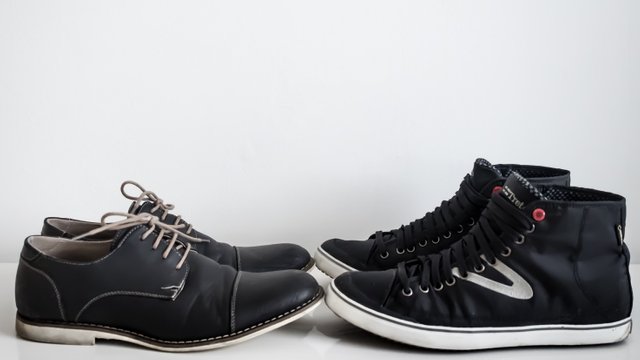 And, in any particular case, someone else given the same tools could use them much more effectively than we did. They can judge us harshly but, they also hold information, skill, experience that we did not, at least at the time. If they were truly 'in our shoes', it would be impossible for them to do anything other than we did.
However, this doesn't mean we can't effect what our best is or, what it could be. Us as humans although caged in many ways, have some chance to affect our experience and, we always have a chance to learn from our experience. Some people learn from the experiences of others too or, from any bit of random information they might chance upon. Others however seem to keep beating their heads against walls expecting different results. This in my opinion isn't ignorance, it is arrogance.
People who don't change their behaviours even though what they are doing isn't getting them to where they want to be are acting as if the universe owes them for the action. It does not. The universe is structured and everything is interconnected which means, if what you are doing isn't getting you to where you want to be, it is you who will have to change in order to get there because, the universe can't, it is what it is. Yes, other things might change in the environment to facilitate you getting what you want but, if you aren't acting in a way that connects present with future but expect a narrow viewed result, you are in for disappointment.
People like to scream at all of the ills of the world and proclaim that they know right from wrong but, is the world better for having you in it, is the community you inhabit benefiting from you being a part and when you evaluate yourself, are you over-weighing your positives and under-weighing the negatives tied to your existence - can you really be objective? Is the sum of your life better for this world or harming it? It is perhaps too complicated to really evaluate, at least for a simple human mind such as ours.
Does this mean that we shouldn't consider the possibilities though, that since we can put a definitive number or line on what is good or bad, we shouldn't worry about the way we behave? Should we just seek for our own pleasure and ignore any harms we may cause along the way. And any harms must be ignored by pleasure seekers because for at least most in this world, causing harm to others isn't pleasurable which means to acknowledge it is to reduce pleasure. This then puts one in a position that pleasure must be reduced in order to cause less harm and then, that compromise is seen as harming the pleasure seeking self. Morality.
No, the world doesn't owe you anything but, do you owe the universe? Do you owe the person next to you anything or, are they meaningless? Is their life valueless in your opinion? Or are you putting a value on it every time you offer them a hand, or withdraw a hand? Are you putting a value on every life in the community that supports you every time you do not do your best to increase the collective value of that same group? Are you limiting the value of other's lives by not being the best you can be?
The universe doesn't care what you do, it is too big, too complex and encapsulates all things. The only thing that cares whether you live or die in this world are you, and the people who surround you. Do you owe them your best?
My daughter has some health concerns but, I am glad that someone in this world decided that they would go to school, learn, explore, experiment and do their best in their field of study so that she has a chance in the future to do the same for someone else. Yes, the specialists she sees get paid well for their job but, they aren't forced to do it. Is giving children a chance at living a more valuable life a greater good than sitting down playing an X-box? It is hard to say.
My daughter surviving opens her up to a lifetime of potential suffering that she would not have to face if she hadn't have continued her life. Does this make the doctor's position one of harm or, is it all about potential?
We all have potential, we can all affect our potential through our thoughts, words and actions to either increase it or, reduce it. We can use the physical and mental tools at our disposal in so many ways to not only improve ourselves but, make space so that others have more possibility to improve themselves too. Is there value in this, I don't know as it seems that for the most part, humanity is destructive in nature even though almost all want a better world. What is a better world? One where you get what you want or, one where everyone has more potential available to them?
No one is forcing you to be your best as your experience is your own. Your experience of this world is all you have and all you will ever have. Don't you owe it to yourself to be your best though? What does that mean for you? Maybe right now you are the best you can ever be in your experience. Do you believe that? I don't but, your experience is yours.
I will never be in your shoes and you will never walk a step in mine.
Taraz
[ a Steem original ]