We can get in our own way sometimes. We can prefer to stick to the comfortable lies that we have become attached to. Being torn away by unpleasant truths can be quite painful. But it's better to know the truth no matter how hard it is to face, rather than keep living in a lie.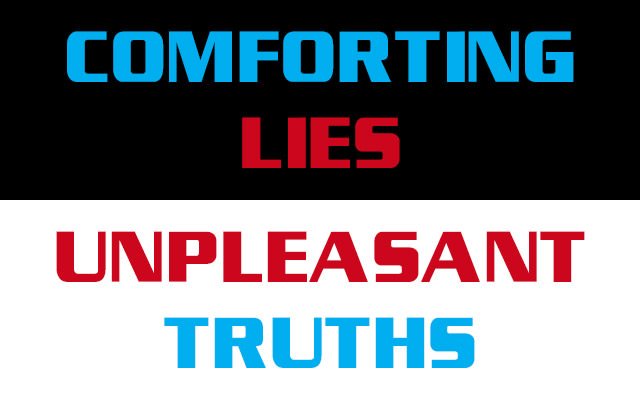 Made by @krnel
If you are doing something wrong, wouldn't you want to know? Wouldn't that knowledge allow you to stop doing it and no longer do something wrong? How much courage do we have to honestly face ourselves when we do something wrong? We shouldn't be in fear of recognizing our faults or errors. We can grow past them if we choose to.
But this requires that we honestly take responsibility for the actions we do. We can't deny them or ignore what they were. The reality of our behavior being called out as wrong is something that our delicate sensitive ego-selves doesn't like to face or admit to. We are often quite fragile psychologically. We often get too attached to ourselves to be able to honestly see what we are doing.
Our actions reflect us at the time. We can change and no longer do an action into the future. But when something is done, it's done, and we can't undo it.
When trying to honestly face what we have done, or getting others to face what they have done, some people believe there is a need to differentiate between the actions and the actor that created them. This is done in order to prevent shame, guilt and the negative connotations that come with facing a wrong-action, to make it seem like the person themselves isn't under "attack" and doesn't "defend" themselves by rejecting what they don't want to accept about what they did.
The idea is to deceive someone into being able to honestly look at the wrong-actions, by dissociating them from their actions. Convince the ego-self-"I" that everything is safe, no one is "attacking" them or their attachment to false beliefs that they have adopted as part of their identity/self. We have issues being able to let go and detach from our attachments to honestly evaluate them, unless we train ourselves to value doing that in our pursuit of truth and to better ourselves.
If I can get you to accept that your actions are not "you", you will be more comfortable in looking at the actions without automatically associating it with yourself. Rather than honestly being able to recognize what you did, you the actor wants to not recognize what you actually did in reality, but instead to just look at it as an action itself without blame, shame, or guilt of it coming from you. This is mental gymnastics.
Someone can convince you (because you want to believe it) that your actions are separate from you, as if they don't come from you. This self-deception is done in an attempt to get you to listen to someone without getting defensive about what you did. In many cases, people won't even look at what they did, as they engage in automatic nonthinking responses rather than engage in voluntary critical thinking processes to honestly evaluate if something is true or not. Facing the mirror is often hard to do. The darkness looking back at us is not desirable to see.
But the truth is that actions represent a person and who they choose to be at the time. Rather than accept reality as it is, I'll just con you into believing you're not responsible for the actions you did, it's not "you", ok? Then you can honestly deal with yourself by not dealing with yourself, right? Isn't it absurd, the level of cognitive dissonance and denial we are in at times just because we don't wan to acknowledge the possibility that we may have done something wrong.
I don't play these dissociative mind games with myself or others. Bypassing reality by convincing someone that they aren't their actions, or that they aren't responsible for their actions, is pure folly and an unreality. Getting people to honestly face themselves in the mirror is what is required for the world to get better and be a real, true and honest place for all our benefit.
Enough of trying to prevent people from feeling the wrongs they engage in. Truth is the way out. See and feel the reality of what your actions have done, not hide from them because you can't handle being wrong or having done something wrong. The way to more right is to let go of what's wrong, and that can't happen if you can't admit being wrong or keep holding onto what's wrong.
Comforting lies about ourselves are more desirable than facing the hard unpleasant truth about what we are doing. Comforting lies placate our delicate sensitive egos, but the unpleasant truths are what will awaken the true self.
---
Thank you for your time and attention. Peace.
---
If you appreciate and value the content, please consider: Upvoting, Sharing or Reblogging below.


me for more content to come!
---
My goal is to share knowledge, truth and moral understanding in order to help change the world for the better. If you appreciate and value what I do, please consider supporting me as a Steem Witness by voting for me at the bottom of the Witness page.