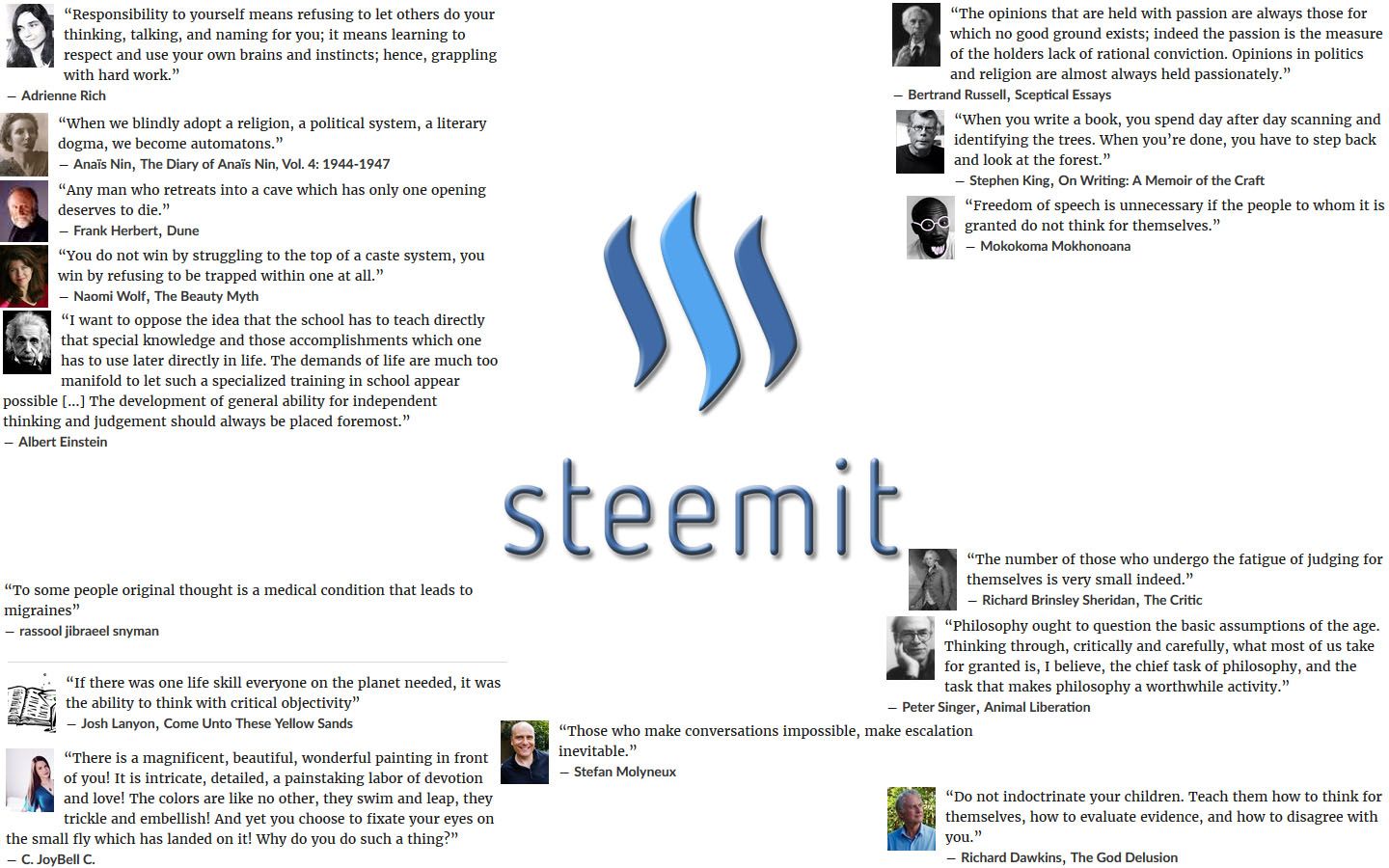 I'll admit it now when someone says I have a great mind, calls me a genius or anything like that I recognize it as a compliment but internally I find myself slightly embarrassed. I thought I might share why...
I may be overly optimistic on what I see as human capabilities, but I believe just like we can work out our body physically consistently and get a very strong body, I also feel this is true of our minds. ALL OF US.
I don't really view myself different from most people. I just exercise my mind a lot, and honestly I neglect my body. If you think I have a great mind, that is a nice compliment and I appreciate it, yet I also see that capability in you and most people.
Some people are born with mutations (some people might call it defects, but sometime it might not be) and differences that may not enable them to achieve the same expressions and understandings I do. However, they likely will also be able to achieve some understandings that I cannot due to their state.
I see value in people. I do not really see my fellow humans as me the Teacher and other people the students. I tend to see us all as simultaneously teachers and students. We are learning as we teach. It is a symbiotic, communal relationship.
So for those of you that follow my posts you know by now that I'm a bit obsessed with Critical Thinking. This is because I see it as perhaps one of our single greatest mental tools for freeing our mind, and accepting other people who disagree as a blessing rather than as a WIN/LOSE, Me against Them type of mentality. I also know our education systems do not teach this. You may see a class that has the phrase Critical Thinking in the title, but in reality they usually barely scratch the surface and it usually is a 100 level class that people just rush through in college as a requirement. It doesn't challenge the students unless you're a glutton for punishment and happen to take the old instructor everyone warns you to avoid. It ended up likely being the single most valuable course in my college experience. It nudged a door open in my mind that the education system was fine with leaving closed. As I peered through it my mind began to expand in new ways. I was always a bit of an odd duck and I've always been considered smart by people that know me, but I assure you my grades did not always reflect that. I was an individual from early in my teens, and I loved being an individual, I stopped trying to fit in. Yet I was lacking some amazing tools. I was mostly lead by my emotions, my speculations, and various factoids I had memorized.
This I believe is actually where most of the population of the world becomes stuck. This I feel is likely by design. Now before you tell me to put on my Tinfoil Faraday Cage Hat I assure you I've spent years thinking about this. Can I be wrong? Sure. I guarantee you I am wrong about a great many things, and I love it, for that means there is always more to learn. Yet, let me at least give you a hint of the path that lead me here. I learned about the Prussian Education System. I read about how that system was developed, and I read the positives that the governments involved had to say about that system. I extrapolated in a mental exercise what such "positives" would be like after several generations of that system. Essentially, you get what you have today. Why is that? Well in the U.S. and most countries our education system is based upon the Prussian Education System. It is actually where the word School comes from. Those positive traits. Obedience, and patriotism were high on the list. It was seen as a positive that they would believe what they were told and tend to stay focused on that task. These are framed as positives. Yet, I look back and see them mostly as negatives. It was about believing what you are told and not questioning. Learning the world and the facts in the framework they decide rather than actually teaching you to free your mind and THINK.
It teaches that asking questions can be bad unless they are asked under very controlled circumstances. It teaches you that there are some things you simply do not ask questions about. It teaches you that if someone who has gone to school or is a supposed "expert" tells you a thing is true that you should not question this and should take it as fact. In a sense it turns the State (aka government) into a religion. Just like religions protect themselves by calling some questions "blasphemy", "heresy", or "Satan", so too has the State managed to condition the population about questioning certain things.
Through years and years of this our mind is fitted with shackles that limit its movement, and for the most part we are completely unaware these shackles exist.
I consider myself closest to Anarcho Capitalist in terms of what I currently believe is a workable Utopian goal for society. For me Utopia is the societal version of infinity. I do not believe it is completely attainable, but it is something to strive towards.
As such I've pondered how would we get to that Anarcho Capitalistic world, and would it work?
I came to the conclusion that the mass populations minds could not handle such a society yet. I realized that until the society as a whole fully embraced critical thinking, and their own comfort in the beautiful INDIVIDUAL they are that Ancap, and all other utopian ideologies would not work.
In fact, I came to believe that getting the masses to learn critical thinking, and be okay with being an individual rather than obsessed with fitting in is likely the key to us potentially solving many of what are known as the BIG PROBLEMS.
So that is something I can try to do. I can talk about critical thinking. I can tell people to google it. Find places that do flashcards on logical fallacies, and do them every so often. This is like exercising your body. I am no critical thinking expert. I am individual who hopefully gets better and better at it with practice.
I use logical fallacies, and I am still flawed. I will likely always be so to some degree. I just seek to always minimize the impact those flaws might have on my life by continually pushing myself.
Part of that is seeking out people I disagree with and trying to have civil discussions with them. I learn far more doing this than intentionally only hanging out with people that agree with me.
So when someone calls me a genius, a master, a great mind, etc. I am a little embarrassed. I see myself as an individual like you. The only thing that separates each of us is our personal experiences, and yes perhaps some genetics. Yet since we are all supposedly using a fraction of our brain anyway, I don't see how my intellect is much difference than most peoples CAN be if they are in the right place at the right time, they exercise their mind, and hopefully they learn critical thinking and knock the Prussian Education System's shackles into the dirt where they belong.
It would be my hope that as the shackles fall away from you, or if they long ago fell away from you without my help, and possibly before mine had fallen away, is that you will use that knowledge to help other people free their minds.
I believe that is the most important thing we can do right now if we truly want to solve the big problems.
Let me give you one parting "gift" of something to look for...
Are there certain things be they words, phrases, topics that as soon as you hear them you say "uh, uh, no way" and turn away? If you can think of some examples ask yourself this. If something important that was fact in that conversation were to be presented how would you ever know if you turned away and did not engage? Why is this a conditioned response? Who benefits? What is the risk of listening? If you know how to use critical thinking then there should be no danger of mental contamination in talking to anyone about anything. Talking, and listening does not have to translate to believing. Unfortunately in the Prussian Education System people are conditioned so Listening, and Talking do lead to unquestioning belief in the fact of what they were told. So is it natural when we hear someone speaking of something uncomfortable to our world view for us to instinctively be trying to avoid this conditioning because the person speaking the words is not perceived as an authority figure? I don't know if this is the case or not. This is simply something I found myself pondering now.
The gift to you is that having such phrases and words that shut down your mind and make you refuse to listen, and use your head are BAD things. If you can recognize their existence you can take away the control they impose upon you. You free your mind a little bit more. Listening, and hearing someone does not mean you have to believe them. Listen and be open but use critical thought, don't give in to appeals to authority, appeals to tradition, etc.
And spread the word... if people en-mass are versed in critical thinking then we can seriously tackle many of the world/solar system/universe big problems as they head our way.
Thanks for reading.


Steem On!