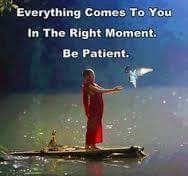 (Pinterest)
I like looking at this scene, it is peaceful, restful and reassuring. I found this on Pinterest several months exported it to photos and just kept it. Now and then I come across the beautiful picture read the words and go Ahh.
For me the message is a reminder of universal truth; whatever is to happen cannot be rushed no matter how much we may want otherwise. A good example was the ongoing waiting for our family home to be sold, it was time to move on. But somehow I intuitively knew that things would work out, there would be the right home at the right place ready to be bought once our old home was bought by new owners. Well that is exactly what happened. The synchronicity was boggling! Being trusting and patient during the wait was not always easy I have to say. It was a sudden on the move let's go now! Everything went bang bang bang; we moved out of our old home and straight into the new one at the beach. How good was that?
The frustrating bit about living on Earth is being dictated by linear time. Looking at the clock and the calendar, counting the minutes, hours, days and months when wanting something to happen. To me it produces a sense of worry and fear about missing out. Perhaps the best thing to do is to not look at time ticking by. Over the last few years this is exactly what I am concentrating on.
Here is my Mantra:
Everything Happens At The Right Time, I Am Patient.
---
Cheers
Angie
Enjoy reading my post. Feel free to comment.
---