Hello Guys, sorry for the delay the latest edition has been delayed for 1 day. I went out yesterday to do some Christmas Shopping, and was planning to post but I was so tired and went directly to sleep, haha. Worry not here is the new edition of Top 20 Commented Posts using the #philippines tag. Let's Start!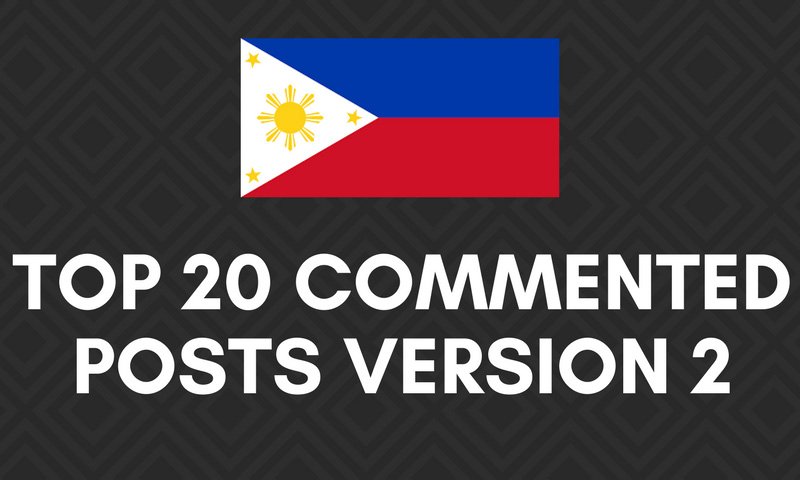 Mechanics
With the price of STEEM surging at $2 expect upvotes at $0.48-$0.50 to the top 3 and any other posts at $0.07 :)

My Top Post Pick
100% Voting Power and 100% Vote Weight Upvote = $0.50
Post Resteem to my current 598 Followers
Featured Author on the next post
Rewards Pool Point = 4

Second Top Pick
98% Voting Power and 100% Vote Weight Upvote = $0.49
Mentioned on the next post
Rewards Pool Point = 3

Third Top Pick
96% Voting Power and 100% Vote Weight Upvote = $0.48
Mentioned on the next post
Rewards Pool Point = 2

Every Other Post
15% Vote Weight Upvote = $0.07
Other posts can gain rewards pool point they can be called 'considerable' which means posts that are quality but fell short on the top 3.
Considerable Rewards Pool Point = 1

Note: Posts flagged by cheetah, or steemcleaners will not be considered.
Featured Post and Author
My top post pick from the last edition was - Kids from Children's Joy Foundation Christmas Caroling by @junebride
The post is about Children's Joy Foundation singing Christmas Carols. Reading the post and watching the video made me remember my Elementary, and Preschool days were we go from house to house to go Caroling. It was a nice memory to reminisce. To know more about the post, and hear the awesome Caroling go on and read the awesome post!

Follow @junebride for more awesome posts!
Honorable Mentions
Second Top Post
The post is about drawing the characters of Yu Yu Hakushu which is known here in the Philippines as Ghost Fighter. The drawing consists of characters, Urameshi, Hiei, Kuwabara, and Kurama or known here in the Philippines as Eugene, Vincent, Alfred and Dennis. I was amazed at the drawing as I remembered back in my Elementary days I use to draw this characters at the back of my notebooks but my drawings suck! My favorite character is Taguro at 100% o isandaang porsyento lol!
Third Top Post
I can feel the sadness in the post, losing some important to you is really sad, because they were a big part of your life. Their memories will live through and will always be on our hearts. The only thing I can say is Condolence to you and your family.
The Data
Here are the queries to STEEMSQL to generate the Top 20. The data comes from STEEMSQL by @arcange.

#philippines tag should be the main tag or first tag
gets the top 20 posts with the most comments arranged in descending order
posts from the past 48 hours(2 days)
Time Generated: 07:00 PM Sunday, 17 December 2017 (GMT+8)
The Top 20
Points Tally
Reward Pool Update
Projected Reward Pool: 22.172 SBD
The SBD Rewards of this post will be added to the Reward Pool.
Thank you for reading, see you on the next edition