How much does it cost to open a bank account in the Philippines?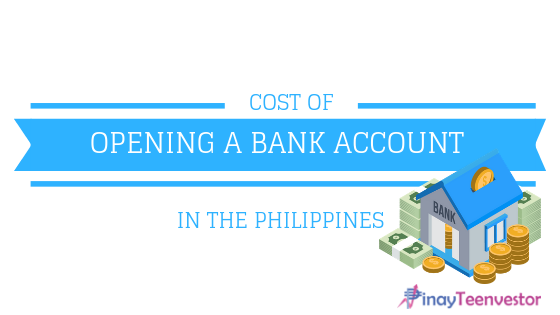 Opening a bank account has a lot of advantages. Banks do not only keep your money in a safety vault but also gives you an ease of having financial transactions (online purchasing, paying bills, money transfer to other bank accounts).
Having a bank account can also help you automate your savings, get paid instantly through money transfer, and seize investment opportunities online.
Above all? It saves you from two terrible T's that could exploit your cash – Thieves and Termites!
Still, some people still prefer keeping their bags of cold cash under their beds or in their bamboo coin banks. It is either they're afraid to entrust their money on banks, or they're just too lazy to open an account – Kidding! :D
Or maybe, they're not aware of how much it costs to open a bank account.
NOTE: You will not be paying anything for the creation of the bank account itself. The cost for account opening will only serve as your initial deposit or maintaining balance may it be for ATM or for passbook. Don't you worry for you can still withdraw such amount anytime.
Consider opening a bank account with the top banks in the Philippines:
---
Bank
ATM
Passbook
BDO (Banco de Oro)
P 2,000
P 5,000
Metrobank (Metropolitan Bank and Trust
Company)
P 2,000
P 10,000
BPI (Bank of the Philippine Islands)
P 500
P 10,000
Land Bank of the Philippines
P 500
P 10,000
PNB (Philippine National Bank)
P 3,000
P 10,000
Security Bank

P5,000
(w/ passbook)
P5,000
(w/ ATM)
Chinabank
P 2,000
P 5,000
DBP (Development Bank of the Philippines)
P 500
P 5,000
Unionbank (Union Bank of the Philippines)
P 100,000
P 100,000
RCBC (Rizal Commercial Banking Corporation)
P 500
P 5,000
EastWest Bank (East West Banking Corporation)
P 2,000
P 5,000
---
Don't have a bank account yet? You might want to visit one of the nearest bank branches from you and start opening one!
---
Posted from my blog with SteemPress : [https://pinayteenvestor.com]
---