I travel around the Philippines and often stay months at a time on any given island.  As a result, I make use of two different bags for different purposes.  :)
I use a standard nylon bag for daily use.  And then I use a Loctote bag for security of my important items, like my passport, extra money, extra ATM cards and my DSLR.
My nylon backpack holds my daily items I need when walking about town or the mall.
Here is a video going into detail on why I do what I do when traveling.  And how I secure my stuff in the room while I'm out in town.  Hope you find it helpful.
Check out the Loctote line of security bags HERE.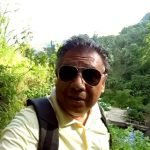 Reekay