Like little mirrors, stamps from every country around the world chronicle world history and culture. Stamps are more than just a tool to show prepayment for mail delivery service, stamps also tell a story – and each one has a tale of its own.
August 22, 1952 – The penal colony of Cayenne, commonly known as Devil's Island, a French penal colony that operated in the 19th and 20th century in the Salvation's Islands of French Guiana is closed. French Guiana was originally inhabited by indigenous people: Kalina, Arawak, Emerillon, Galibi, Palikur, Wayampi and Wayana. The French attempted to create a colony there in the eighteenth century in conjunction with its settlement of some other Caribbean islands. In this penal colony, the convicts were sometimes used as butterfly catchers. As the sentences of the convicts were often long, and the prospect of employment very weak, the convicts caught butterflies to sell in the international market, for scientific purposes as well as general collecting. The first French effort to colonize Guiana, in 1763, failed utterly when tropical diseases and climate killed all but 2,000 of the initial 12,000 settlers. During its existence, France transported approximately 56,000 prisoners to Devil's Island. Fewer than 10% survived their sentence.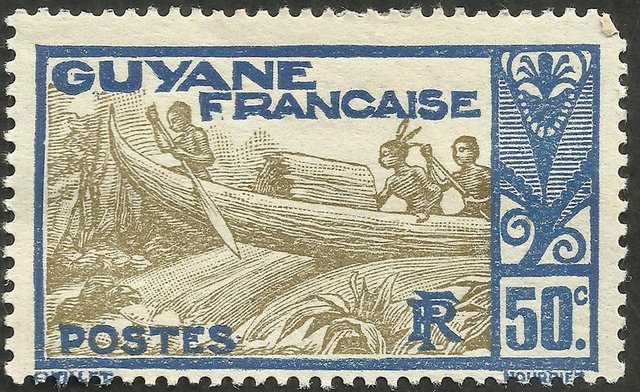 On July 1, 1859, this Canadian stamp was issued to commerate the day Jacques Cartier lands near Quebec on August 23, 1541, during his third voyage to North America. The portrait of Jacques Cartier is from a painting by François Riss who is said to have copied it from another portrait. Some art authorities believe that the portrait is entirely spurious. Monsieur Riss, a Russian painter who moved to Paris, copied a picture reported to be the likeness of Cartier some three hundred years after Cartier's first voyage. The historic chateau de Ramezay on Notre-Dame Street East in Montreal owns a similar 48(h) x 36(w) painting . A note appearing in the thirtieth edition of the gallery catalogue states that no genuine portrait of Cartier exists. The nearest is in Ramusio's engraving of his visit to Hochelaga (now Montreal). Unused Stamp values are currently $1,396 USD (unused) and $93.10 (postmarked).