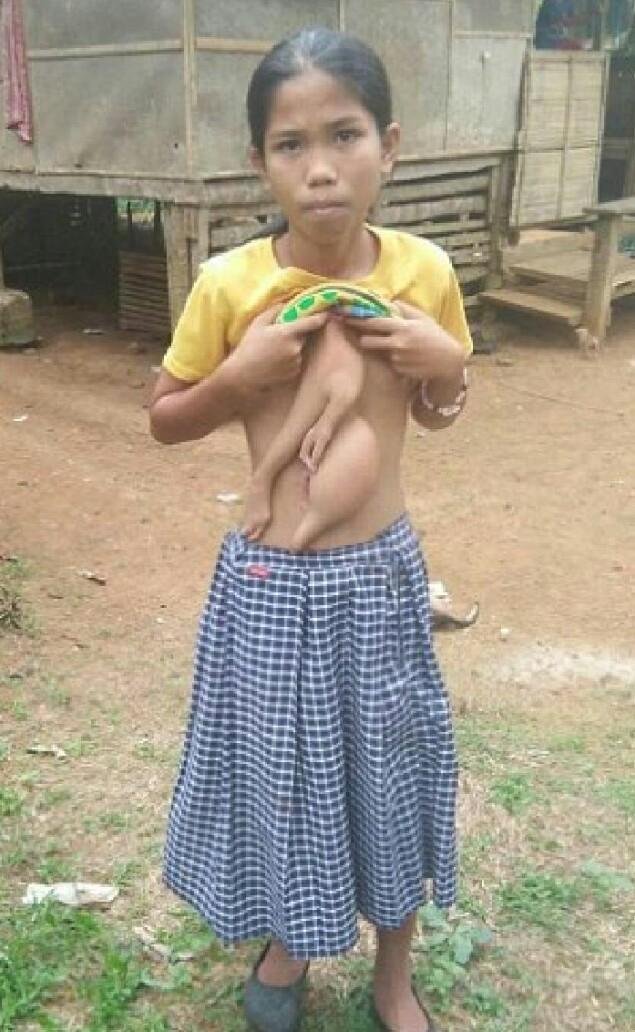 ---
A young woman in the Philippines named Veronica Cominguez, 14, claimed that her 14-year life was filled with suffering due to abnormal body conditions. Veronica was born with two extra hands with her fingers hanging on her stomach. The extra organ attaches to his body after his twin partner does not develop properly in the uterus.
Veronica, who lives in Iligan City, Philippines, has been 'accompanied' by additional hands from infancy. Every day he cleansed the hands of his twin partners and cut the tips of his fingers. Reportedly, the hands of the twin pair experienced growth so they had muscle.
the girl said "When I was a kid, I thought it was a leg, but when I continued to grow, it grew bigger. It was heavy, limiting my movements from hanging and swinging,"
The abnormality experienced by Veronica had never been detected since the womb because her mother, Flora Cominguez, was very poor and had never checked her pregnancy with a doctor. Even so he claimed to know if he contained twins.
Knowing that they contain twins, Flora has even prepared a name for her twin babies. Unfortunately the Veronica couple did not grow as expected. Flora describes the liquid often coming out of Veronica's stomach and sometimes there is blood in the liquid.
"The liquid comes out and produces a foul odor," he said.
According to local media, the girl's family was advised to carry out surgery to remove more limbs on Veronica's body, but they could not do so because of a cost problem.
Luckily now there are donors who are ready to finance the operation process. Local people collect money so that Veronica can fly from the Philippines to Thailand and undergo surgical procedures. The girl has received praise for patience and the local population supports her by praying that her operation is successful and she is always healthy. According to the doctor, the girl's surgery should not be too complicated because the additional body structure was not important and did not interfere with Veronica's original organs.