It's been so long since I last posted here. I'm amazed that during the recent bitcoin value spike, views on my blog also spiked. But sorry readers, as I will not yet discuss about bitcoin or cryptocurrency this time, but I'm sure that this is also an excited means to get extra savings. How's that?
But since it's already December and it's the month of sharing, I took time to share with you on how you turn your phones or tablets into a mobile gift-certificate or e-load making machine with Pera Swipe!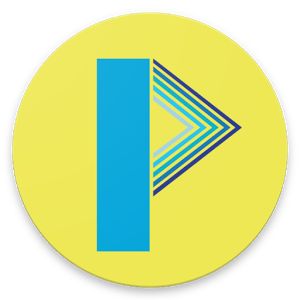 I'll give you an overview on how this works.
Background: (information courtesy of Pera Swipe Website)
One of the first lock screen apps here in the Philippines that emerged early 2016
This trend of rewarding users by viewing advertisement web pages started in Korea which also became hit in the Philippines and was actually featured in CNN (video link here)
Compared to point-to-click sites, I guess this is a more efficient way to earn rewards as you'll get the points on a per swipe basis, instead of waiting for at least 30 seconds to earn the money.
Here are the things I liked most about Pera Swipe:
1. Attractive Rewards System: Redemption levels can be reached easily as simple action will let you earn additional points (image credit to Google Play).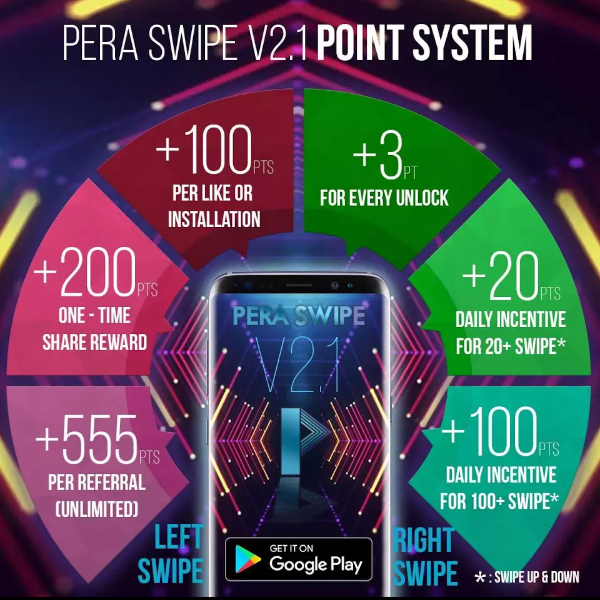 Pera Swipe Point System
You also get to earn more points per swipe the longer you use the app!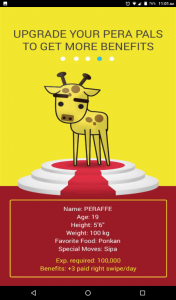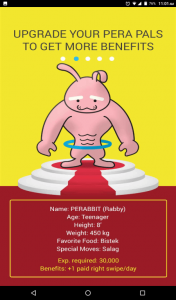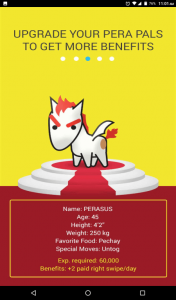 2. Absolutely Free - No investment needed, you'll never be asked to provide credit/debit card or banking details. Only internet connection is needed to use this.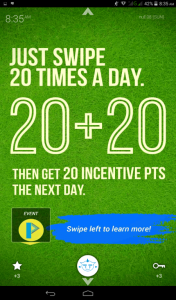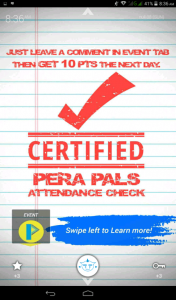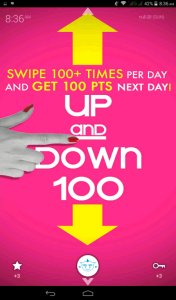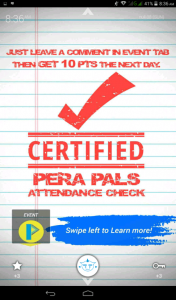 3. Get Free Wallpaper from the App!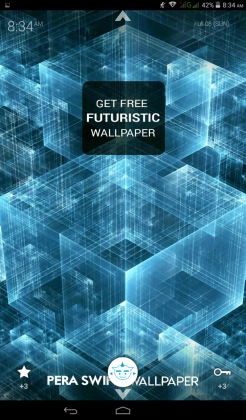 4. Get Daily News Updates and Hugot Quotes. :)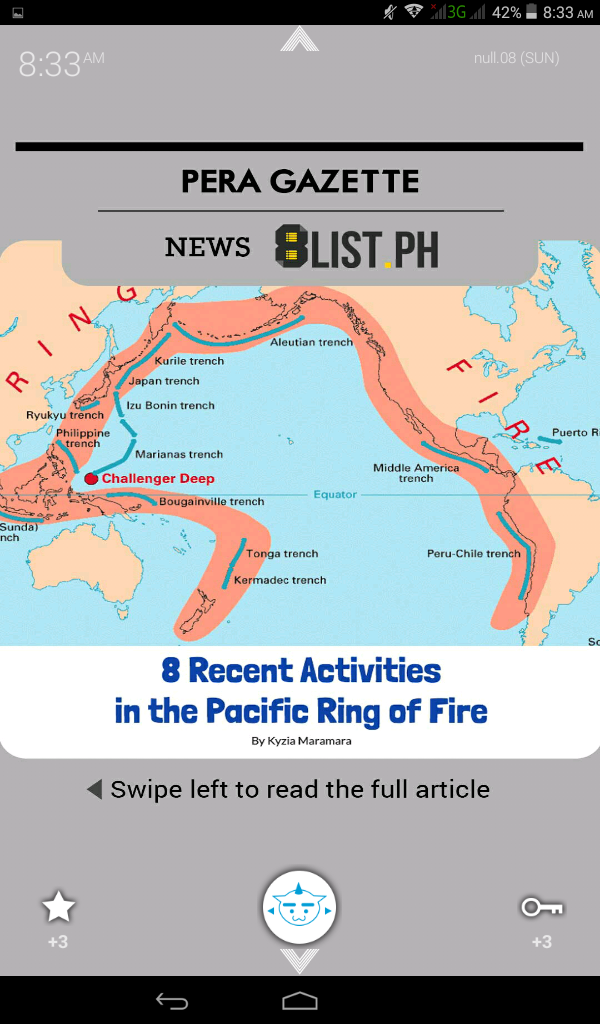 5. And the best part is, you can redeem your points for Smart, Globe or TNT Load or Sodexo Mobile Pass that can be used on various merchants!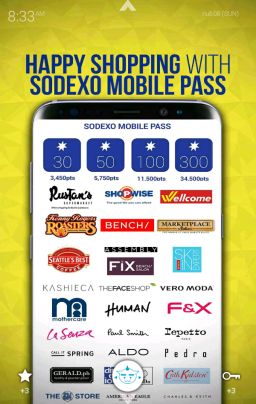 Note though that this app may not be compatible to all types of phones/tablets because of these reasons:
there are other phones/tablets that doesn't show this lock screen if there's another pre-installed lock screen app on your phone (like Agila Rewards on my|phone, which is another lock screen app which I may discuss further on my next blog posts).
the device is simply not supporting the app, which may result to device crashes or the app automatically closing!
That's it! I can't review this enough as the app is pretty straight forward. Complete description of the app is available on their site peraswipe.com or Google Play app description.
Pera Swipe introduction video is found here.
I hope you get to enjoy using your device same way I did! We can always turn our expenses into a saving or earning tool if we will become more open to these types of innovations and embrace it! If you are generous enough, please use my referral code nikpera17 when you download and install the app from Google Play store so you can earn 555 pts after 3 days your registration which will give you a headstart!
Did you like this kind of blog post? Any suggestions? Leave a comment or like below so I can further improve my content. Thanks for reading and browsing through. See you next time! :)
Additional Information:
Pera Swipe App Google Play Description:
You Swipe, We Pay!
Get Free Load, Mobile GC, and Game Credits from PERA SWIPE!
PERA SWIPE is a Lock Screen Rewards App that gives you Free Load and Gift Certificates.
Get P300+ per month from just unlocking your phone!
Get 555 points per referral for both you and your friend!
Get free load, gift certificates, and game credits!
Win smartphones, GCs, power banks, and many more from our events!
HOW TO EARN POINTS:
Just unlock your phone! Get 3 points for every swipe.
Swipe up and down 100 times a day on lock screen and get 100 points the next day.
Engage (Share, Like, or Install) to get more points.
Refer your friends and get 555 points for both you and your friend.
HOW TO USE POINTS:
Go to Store tab in the app.
Redeem points for instant Prepaid Load, SMS, Mobile GC, or Game Credits.
PERA SWIPE supports GLOBE/TM and SMART/TNT for load redemption.
Redeem Sodexo Mobile GC accepted by The SM Store, Rustan's, Bench, Shopwise, Wellcome, Kenny Rogers and many more merchants all over in the Philippines.
Redeem Garena Shells to boost your gaming experiences.
THE FOLLOWING ARE STRICTLY PROHIBITED:
1. Use of VPN and other similar ways to fraudulently access PERA SWIPE.
2. Using multiple IDs on a single device.
3. Creating fake accounts and using devices with emulators.
Users who engage in prohibited actions stated above will be banned and all points will be forfeited.
Visit our website!
https://www.peraswipe.com
Check out on-going events and promos!
https://www.facebook.com/peraswipe
We are available for support/inquiry:
Email
help@peraswipe.com
Facebook Live Chat Support
https://www.fb.com/peraswipe
You Swipe, We Pay!
PERA SWIPE
-I'm also the author of the similar content found in Wordpress.com