It was early spring in Western Australia, where ocassional winter breeze still sent us chills, when these trees with orange flowers that are beautifully lined-up along the road caught our attention. We do not have something like this in our home country, so it was a must that we take some pictures with it!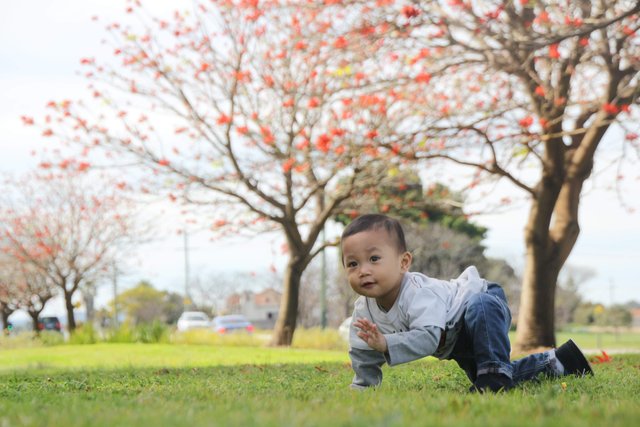 After the adults have taken turns of taking pictures with the tree on the background, we stationed our little one, who was barely able to walk then, on the grass. To our surprise, he started to crawl. Hahaha! 😂 It was such a beautiful sight. The contrast of the green grass and orange flowers were mesmerizing! I remember taking a hundred shots and more. 😂
Kids grow so fast, so enjoy and cherish each and every moment with them. 💕
Looking back, I enjoyed our three-week vacation with my whole family. It was the first out-of-the-country trip we had altogether. And each moment was for keeps. Our precious one has no recollections yet of those moments, but we do show him pictures of how it has been. I'm looking forward that our little one would grow up to be appreciative of nature, to be a responsible adult, and most of all, to be God-fearing. 🙏 It sure will not be an easy task, but with Jehovah God's help, we will be successful. 😉
===========================================
This post is for #peoplephotography hosted by @worldcapture. This is also an entry for "CONTEST Looking Back/Look Forward 2.18," hosted by @wakeupkitty.
This is an Invitation to join #ccc for Guaranteed 👍 Daily Income 💵 and Payout 💸 for Newbies (2.0) 🐟 🐜 🐛 in #ccc 👣 and Follow 👣 the Honor Code 🏅 - the Creed (Conditions and Limits Inside)
AND
the latest update <<< please click to read.