What is Peerplays?
Peerplays is a decentralized gaming platform that will allow people to gamble on lottery, card games, sports, etc…
Online gaming is becoming more and more popular and I am very confident Peerplays has a huge potential to grab some share of this market, thanks to its underlying technology which provide fast performances and scalability.
Why being a witness?
The graphene-based blockchain technologies are used by more and more ecosystems: Steemit, Golos, Bitshares and the coming soon EOS.
I have been involved as a Witness for both Steemit and Golos and now have setup my new witness/seed nodes for Peeplays.
My goal is to help the Peerplays network grow as I do for Steemit and Golos by putting my technical skills to work for the platform.
My witness infrastructure
I set up 3 separate servers:
a private main witness node
a private backup witness node
a public seed node at peerplays-seed.arcange.eu:7777
Nodes are running on Xeon E5-1521 2.4Ghz 4 cores with 32 GB RAM
Servers are in a datacenter with high bandwidth (1 Gbps) and 24x7 availability.
Thanks to @someguy123 for creating peerplays-in-a-box. Definitely a timesaver when you have to setup a node.
Thanks to @bitcoiner and @robrigo who also helped me to bootstrap my witness account.
Future
I am actually working on PeerplaysSQL, a SQL database where you will find all the blockchain data.Those here who know and use SteemSQL will directly see how such a tool will be valuable for data analysis on Peerplays.

I will port my Steem.NET libraries to Peerplays.
I'm definitely a Graphene blockchain addict and will stay involved and helpful on both Steemit and Peerplays
How to vote for my witness
Download and install the GUI wallet from the PeerPlays repository.

Create an account

In your wallet application, click on "Vote"

Select the "Witness" tab and add your vote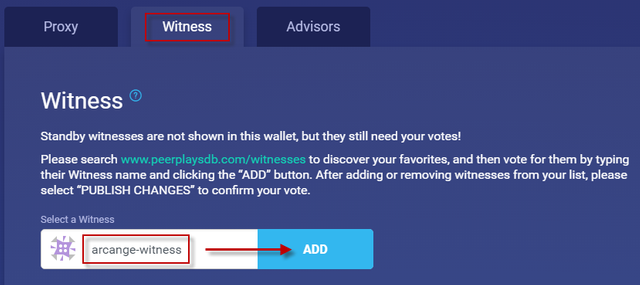 Finally, publish your vote

Thank you
A big shoutout to @someguy123, @bitcoiner, @xtar-testz and all other witnesses who are really helpful and also deserve your vote.
Thanks for reading and thanks for your support!
---

footer created with steemitboard - click any award to see my board of honor
Please consider voting for my Steemit witness too (here!)