I have to tell you the truth, I didn't know whether to start writing this or go throw up first. I chose to write, but if at any point, you see an unexpected break in my writing – just know what I'm doing.
I've written in the past about the utterly disturbing phenomenon that is child-modelling, taking on the case of twins Ave Marie and Leah Rose – two little girls dubbed the most beautiful girls in the world who were seven, if I remember correctly when I wrote that post.
Oh well, I've just found out they've been thrown over and are no longer the most beautiful kids in the world. Before I tell you who has taken the title, I have one question – what does that even mean, "the most beautiful child in the world"? Who makes these rankings? And more importantly, why? As if children don't have enough to worry about and feel insecure about...
But, it's the society we live in, it's no longer acceptable for girls my age to have impossible beauty standards and feel inadequate, we must now inflict that upon children, and so, a "most beautiful" is appointed at regular intervals.
The latest to hold this disgusting title is Jare, a five-year-old girl from Nigeria who shot to fame about two months ago after images of her taken by a professional photographer surfaced online. Or so the news article I was reading told me – that they "surfaced", like it was an accident or something. But if you go over to her mother's Instagram account, you'll find several pictures, not only of this little girl, but of her two sisters – who are seven and ten.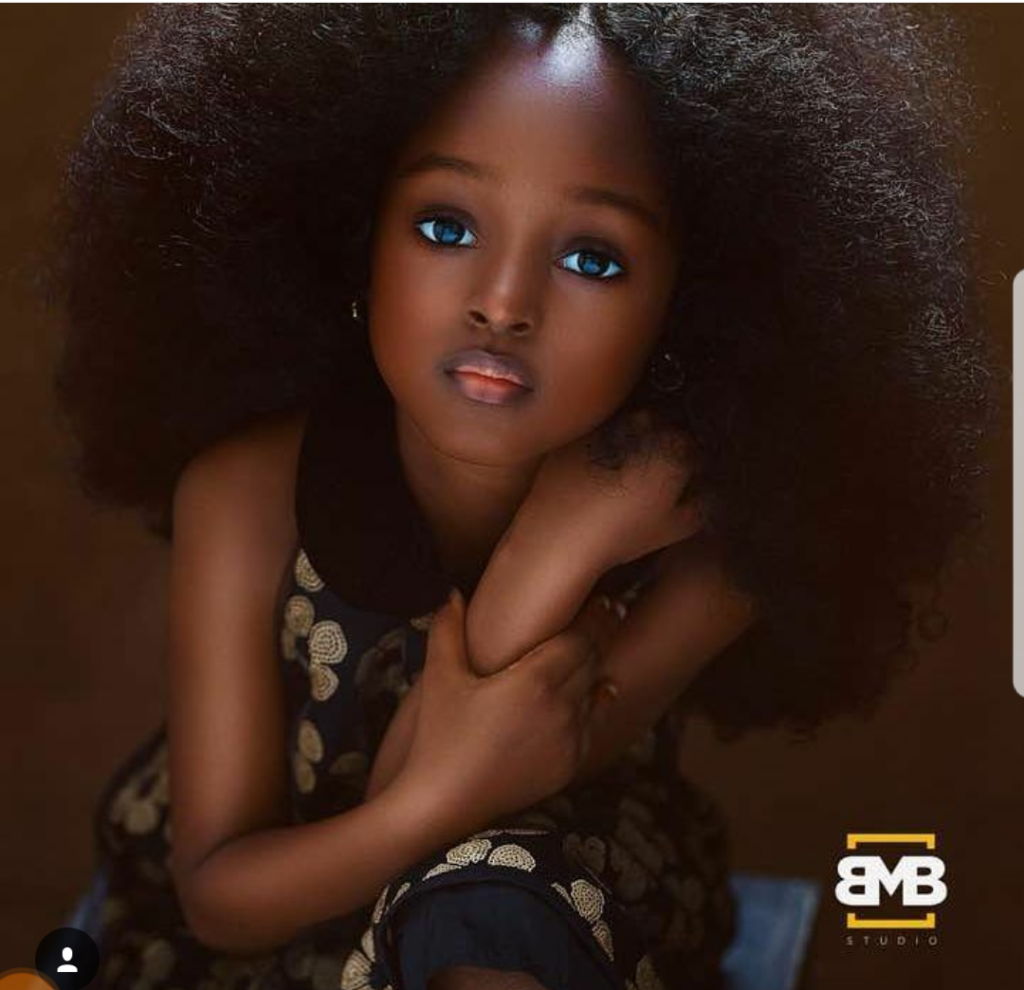 Is it just me or is that a bit young to be a "model"? Maybe I'm just a bit old-fashioned, but I think kids that age should have more normal activities...like playing.
But not Jare, it seems. The article I read on her explained that
At only five years old, Jare knows how to act at a photo shoot. She sits quietly in make-up and calmly plays while they arrange her wig. Then, she does everything the photographers ask.
I found this profoundly sickening – I mean I don't know about you, but I wouldn't want anyone to talk about my child that way. The article also used phrases like
People are fascinated by the girl's intense and very mature gaze.
Maybe I'm just paranoid, but a child's gaze shouldn't be intense and mature. By using such words, these articles make her sound more grown up, make her sound like something she is not. Surely, if she has such a mature gaze, maybe she has a mature way of thinking also, you know?
This is not how I think, this is how pedophiles think and they're probably all over this, as with any other child-model, because the websites broadcasting such "news" are full of clickbait titles.
This particular one was "The little girl branded 'the most beautiful child in the world.' Some think she's created on the computed". And of course, you click. Because why do they think she's made up?
You have to know and a click won't hurt. You'll see and then you can go about your day. I'm sure I don't need to explain the clickbait phenomenon to you. You're probably all too familiar with it.
But what pisses me off about such titles and about these articles is – why the hell are they even there? This is not news, and yet a quick search on Google revealed there is an article about this little girl in every major publication you can think of – The Sun, The Daily Mail, People etc.
No, these are not reputable publications or very "serious" for that matter. But they are food for the masses. A lot of people read these and undoubtedly, a lot of pedophiles. And by glamorizing this "most beautiful girl in the world" they're making it kinda okay.
I mean if The Sun says she's very very beautiful, maybe I'm not so wrong in thinking that too, you know?


I think it should be forbidden for newspapers, magazines or publications of any kind to distribute such images. Because by doing this, they encourage pedophilia. It makes it less taboo and more okay. And that's so not okay.
And I thought that parents should have a saying in this. I've always been told you're not allowed to use pictures of children without their parents' consent and that's an alright rule. But what does it matter when the parents of those children are so hungry for fame and so obsessed by social media that they willingly post these pictures on the Internet themselves?
Jare's mother apparently has set up an Instagram account, not just for little Jare, but also for her other two children, Joba and Jomiloju. The account, quite recent from what I can tell, has no less that 101k followers. Now, anyone who's been on social media knows that's a whole lot of people. I've seen loads of young girls (although not that young) struggling to get even 1000 followers on Instagram – a reason for pride, it seems – and I bet they can tell you that despite all the half-naked booty shots, it ain't that easy.
Yet, these girls have no problem getting thousands of followers. I have no doubt the huge publicity made to this little girl did help with that a lot.
And while they do have some pictures of the girls in school attire, surrounded by other kids (I could comment how well that might play in the minds of pedophiles, but I won't), there are also many pictures that are completely inappropriate for children.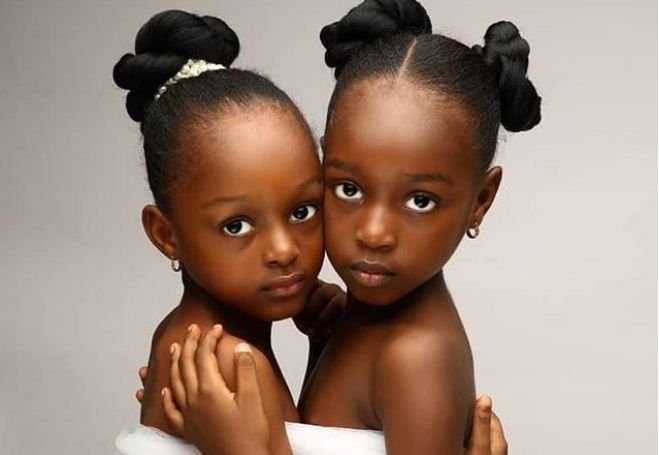 Seriously, why would you as a parent post such photos of your child? Why? For fame? For money? For a better life? To fulfill your own pathetic dreams of stardom?
It's despicable that someone would sell out their children like that for any of these reasons. Truly awful. And the worst part is that the mediatization of such images will hurt others too, nut just your own. Because by distributing such images, you're making it okay and you're putting it out there that looking at this and liking it and all that is okay, which is not.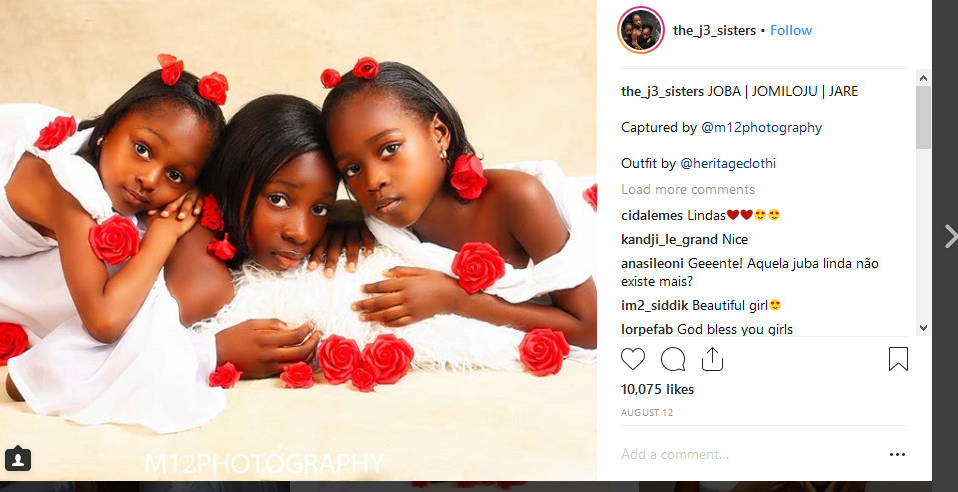 But sadly, it's not a new phenomenon. Not by a long shot. At the bottom of The Sun's article, you find a list of other little girls who've held the title, among which the Russian Anastasia Knyazeva or the French model Thylane Blondeau, who's now 16, but who shot to fame at the tender age of 4, appearing on the cover of Vogue at 10.
I love that if you follow the linked article, you get to read more about her and they do mention that "some" argued against this cover, disagreeing with the heavy make-up and indecent clothing. I expect that by "some" they mean normal people.
Her mother, however, who I imagine is a charming creature, defended the photo.
"The only thing that shocks me about the photo is the necklace that she's wearing, which is worth 3 million Euros," she told one French newspaper.
It's you. You're precisely the problem.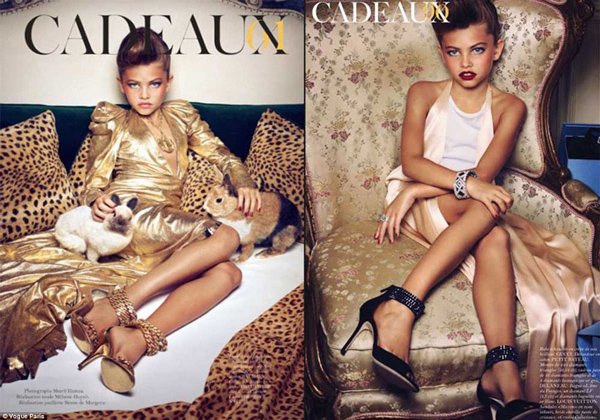 It's a shame that the masses don't see that. You know, they have the CPS and their counter-parts running after poor souls, like the parents of Charlie Gard. Weird how nobody seems to give a shit when a five year old is shown as a child bride by her mom or when a 10 year old appears half-naked in one of the most famous magazines in the world...
PS: Just wanted you to know the article about little Jare appeared in The Sun under the category "fabulous". Yes, apparently such a category exists. I'm as shocked as you are.
Thank you for reading,