After a month or so of silence Lewis Arthur is back and so too is his message... Trust The Plan- God's Plan. What bothers me the most is the lack of support (or courage) of the so-called "truth movement" who seemed to be the first to condemn him for an alleged "lengthy criminal record," that consisted of one offense. Just as soon as Craig the "Hollywood Henchman" Sawyer spoke out the truther sheep jumped on the bandwagon. God forbid they should compromise their Patreon accounts. Well I have a lengthier criminal record than Lewis (two assault offenses). Fiona Barnett has Craig's number...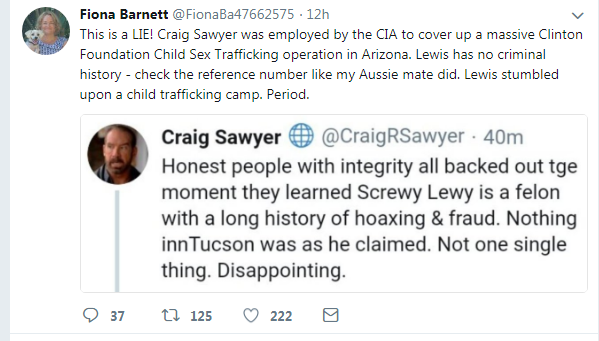 Fact: Tucson is a known child/human trafficking hub because of its proximity to the Mexican border.
Fact: Craig and his bogus organization (who won't disclose their tax returns) is located in Tucson. Their claim to fame is tagging along with police on two raids and watching.
Fact: Tucson Police are involved in the trafficking as is their Rothschild mayor.
Fact: Craig's organization has NEVER looked for trafficking in Tucson, only elsewhere (allegedly).
Fact: Cemex donates to the Clinton Foundation.
Fact: Craig is involved with the Clintons.
Fact: The sex camp that Lewis and VOP found was on Cemex property.
Do the math: Craig and the MSM in Tucson are fighting desperately to shut Lewis down. Why? Because they, along with the Mayor, the Clinton Foundation (Craig's boss) are involved. If Lewis was running a con he would have been arrested for that, not trespassing. Out of all the people involved Lewis and the VOP are the only legitimate actors in this tragic soap opera. What's most disappointing is the lack of backup by the paytriots in the "truth movement." Like Q says... Be careful who you follow. The ones squealing the loudest are the guilty and the ones being targeted the most are the biggest threat to the black hats.