Long ago, a well-researched Redditor posted a thread which contained multiple sources. I am posting this in parts, in the spirit said Redditor mentioned in his ending notes:
Some final notes. This account is brand new for anonymity purposes but I am a long time redditor and have been actively contributing to this conspiracy subreddit for a period of time as well. Feel free to repost this essay as you see fit, anywhere, without worrying about credit. I do not care about recognition, I only want this information to be made public.
Source
Presidio Day Care Scandal
---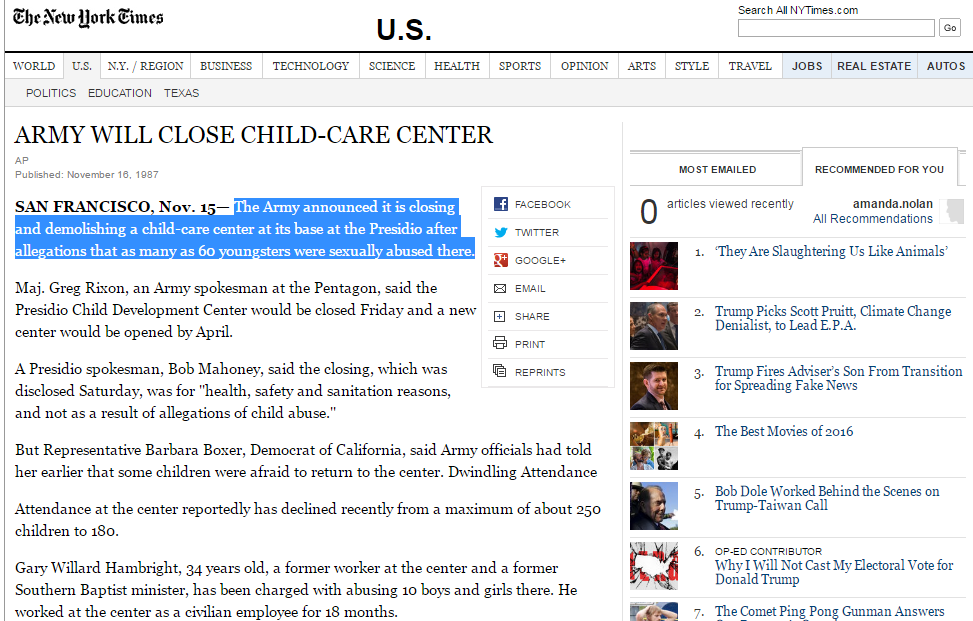 Unfortunately, the next step in this expose takes us to truly bizarre and disturbing places. A particularly disturbing child abuse case involving a military day care center came to light in 1987 43, NEW YORK TIMES. Allegations of abuse involving 60 children, some infants, surfaced at the Presidio military base in San Francisco. I would like to point out that this article claims that child abuse allegations had surfaced at more than 30(!!!) military day care centers across the country in the previous 3(!!!!) years before its publishing, including some of the most esteemed bases such as West Point and Fort Dix. It would be impossible to lay out the cases for each one here, but I would like to share this quote from the San Jose Mercury News: "Children at West Point told stories that would become horrifyingly familiar. They said they had been ritually abused. They said they had had excrement smeared on their bodies and been forced to eat feces and drink urine. They said they were taken away from the day care center and photographed. " [44]. At the Presidio, at least 4 children were found to have chlamydia, and up to 60 had shown clear signs of abuse. The most important exposes into the Presidio case were written by Linda Goldston of the San Jose Mercury News. In an article titled 44, "Abuse Case at Presidio Quietly Closed By U.S.", the events are told in chilling detail.
The first victims to come forward were aged 3 and 4. Interestingly, the Presidio child care center was not closed until over a year after these allegations came to light. Initially charges were only brought against one man, Gary Hambright, a civilian employee. Later, however, it was revealed that police were investigating a man named Michael Aquino, a Lt. Col. Aquino was the founder of a satanic church known as The Temple of Set. Army documents showed that children were often taken on unannounced trips outside the center, and many children could accurately describe Aquinos house. The search of Aquinos house got investigators thousands of videos and photographs, and what appeared to be a soundproof room, but charged were never brought against him. [44]
The American Journal of Orthopsychiatry, 45 wrote an extensive analysis of the victims of the Presidio. They stated: "The severity of the trauma for children at the Presidio was immediately manifest in clear cut symptoms. Before the abuse was exposed, parents had already noticed the following changes in their children: vaginal discharge, genital soreness, rashes, fear of the dark, sleep disturbances, nightmares, sexually provocative language, and sexually inappropriate behavior. In addition, the children were exhibiting other radical changes in behavior, including temper outbursts, sudden mood shifts, and poor impulse control. All these behavioral symptoms are to be expected in preschool children who have been molested." [45]
The San Jose Mercury News expanded on the story a few months later with an article titled Army of the Night, 46. This article dives into the satanic aspect of the child abuse at the Presidio. Satanism had apparently surfaced at the Presidio years earlier. Military Police had investigated some buildings after reports of a man dressed in all black holding a little girls hand had been reported. An MP was recorded as saying: "We kicked the door open and here's this nice little bedroom. In a corner was a mannequin with a gun aimed at the door. On the left side there was a bunk against the wall. There was a pentagram on the floor, a huge one. There were dolls' heads all over the ceiling, just off-the-wall stuff... We were sitting there, we've got a cult on the Presidio of San Francisco and nobody cares about it. We were told by the provost marshal to just forget about it." As a side note, in February 1987, Aquino appeared on the Oprah Winfrey show and gave a passionate defense of his Satanic beliefs. On the Autumnal equinox of 1987, an occult day of importance, fire would strike a building adjacent to the day care center, destroying many records relating to the center. A month later, fire would destroy the day care center itself. The ATF found that the causes of both fires had been arson, contrary to the Army which claimed faulty wiring. Prosecutors would once again bring charges against Gary Hambright, but suspiciously they did not include the allegations of children with serious documented abuse such as missing hymens and rectal lesions. Apparently the children were chosen on the basis of who would make the best witnesses. The strategy did not pan out, the judge ruled the charges as "too vague" and Hambright walked free, and no charges were again brought against the Presidio military base day care center [46].