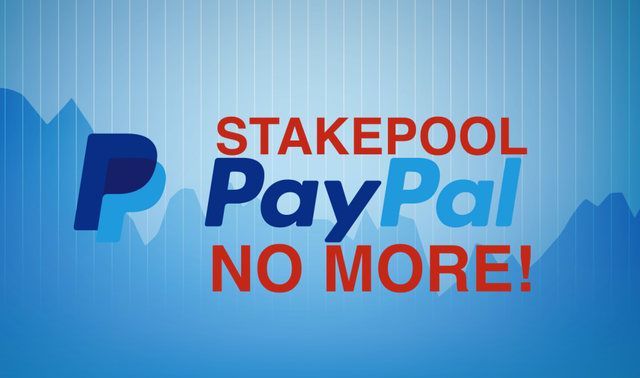 From today shopping with PayPal will no longer be possible on Stakepool.com. Since the start we have offered our customers payment using PayPal or Bitcoin - BUT - From today we will only accept Bitcoin and other crypto-currencies that plugin with WooCommerce, the shopping solution we use here on Stakepool.

PayPal is not secure
Hacking PayPal-accounts is the hackers #1 income-source online. They do not offer any kind of 2FA Authentication, PayPal is easily fooled and country-based using slow aging centralized technology that should have been banned years ago for being so ineffective and dirty.
PayPal is centralized
They say PayPal is country-based, well - that is not true at all. PayPal is a centralized data-machine that saves your credit or debit-card information and allow you to receive some money to your account which is your email-address, which in itself is not safe as anyone can read your emails - just look at Hilary Clinton. We don´t want to deal with a centralized company like PayPal who work in such insecure manners, so to protect ourselves and our users and to take a clear stand - we have removed PayPal from our shop. It is over PayPal - we are no longer friends - PayEnemy - EvilCorp - That is what you are PayPal, that is what you are.
PayPal is expensive
A long time ago the Internet needed payment processors - and Elon Musk (yes, the same guy who sell big batteries, talking about going to space and has produced an upscaled version of an electric RC-car) saw an opportunity to make one, and using dirty business-tactics they managed to "monopolize" Internet payment - and I guess we just got "used to paypal" so everybody uses it - well - not us - not anymore. Your PayPal is not legal tender in our store. Use Bitcoin.
PayPal is no longer needed
Everybody at Stakepool use
AdvCash
- It is so much better then PayPal, and it lets you transfer in and out through any currency or payment-provider, even lets you take out as much CASH as you need from your local ATM-Machine using Bitcoin. We Love
AdvCash
- You should sign up for
AdvCash
right now - it is true freedom compared to what you are used to, and the FEES - 0 % when you use Bitcoin, and as low as possible on everything else.
AdvCash is just so much better then anything out there, so go get one now!