My Entry to "Week 9 - Pay It Forward Curation Contest" by @thedarkhorse
I know that I have nominated / featured her before and that this is yet another post in Chinese. However, @mygoblin does not post frequently and she has posted a wonderful post about books in English and in Chinese (11 days old): 书海畅游——Powell 's Books体验 which could be used for judging though not for upvoting.
I am featuring @mygoblin again to generate interest and support for more bilingual posts. I would ask y'all to also view her other bilingual posts and to encourage more steemians to do the same and build a bridge between the two cultures.
And, speaking of which ...
translation:
google: The 2nd Xinshoucun Entrance Ceremony | Tucao Convention Childishness
mine: The 2nd newbie (新手) village (村) promotion to the next grade / advancement ceremony (升学典礼)
Although this is more of a group or community, their purposes are similar to what the contest and @newbieresteemday are doing albeit to promote bloggers in the Chinese community #cn.
Further more, this post features @coder-bts
【新手村计划#3】@coder-bts 来自美国的一位中学生的访谈
@coder-bts 是我们新手村的"三个一"。第一个报名参加新手访谈,第一个申办新手村猜猜猜,第一个报名参加ocd推广。(其实还有一个一,就是我们村的第一个背锅侠~)
Google says:
【Xin Tsung [newbie] Village Plan #3】@coder-bts Interview with a Middle School Student in the United States
@coder-bts is our "three ones first's" at Xinshoucun [newbie] village.
[@coder-bts is] The first person to register for a novice interview, [@coder-bts is] the first bid to guess Xinshoucun [newbie] guess, [@coder-bts is] the first to participate in ocd promotion. (In fact, there is another one, that is, [@coder-bts is] the first backpan [scapegoat] (背锅) of our [@team-cn] village ~)
Explaining the "grade levels":
新手村学历制度如下:
升入初中:声望达到50
升入高中:声望达到60
升入大学:声望达到65
大学毕业:声望达到70
Google says:
Xinshoucun's (新手村) [newbie village] education [grading] system is as follows:
Into junior high school: Reputation reached 50
Into High School: Reputation reaches 60
Admitted to University: Reputation reaches 65
University graduate: Reputation reaches 70
---
Optional: Themed 3rd Featured Blogger (New Theme)
New Theme for the Optional Featured Blogger! This week besides your 2 Mandatory Featured Bloggers the bonus Feature spot will be one for someone that has a Pay It Forward Mentality. You can feature any Blogger out there and help share with the community why you feel they are helping Pay It Forward.
You are free to feature those who give back to their local communities, maybe a teacher or active service member, or those who give back to the steemit community here on steemit, but they need to have a recent blog post to be able to link to.
Optional Featured Blogger @el-nailul
You might ask: "Why @el-nailul again?" And, I'll reply: "Because she exemplifies Pay It Forward" in spirit and in fact and her missions deserves all of our attention and help."
Roy El-Nailul (47)
I am a farmer | Tropical Rain Forest Survival Trainer | love to explore, art, adventure and cooking
My Journey: Isolated Tribe Mentawai #4 - [Bilingual] - part 4 of a series of her journey.
It started off with:
Let's continue the trip to isolated tribe Mentawai, if you found this at first you may want to see the previous post about my trip here [- part 3] - part 3 of a series.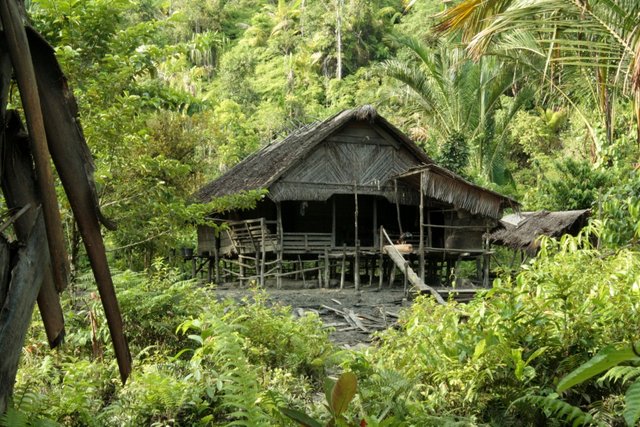 This is the last place we visited. This uma is belong to Syukri's Granfather. There is no more villager occupied after this one
Syukri's Uncle House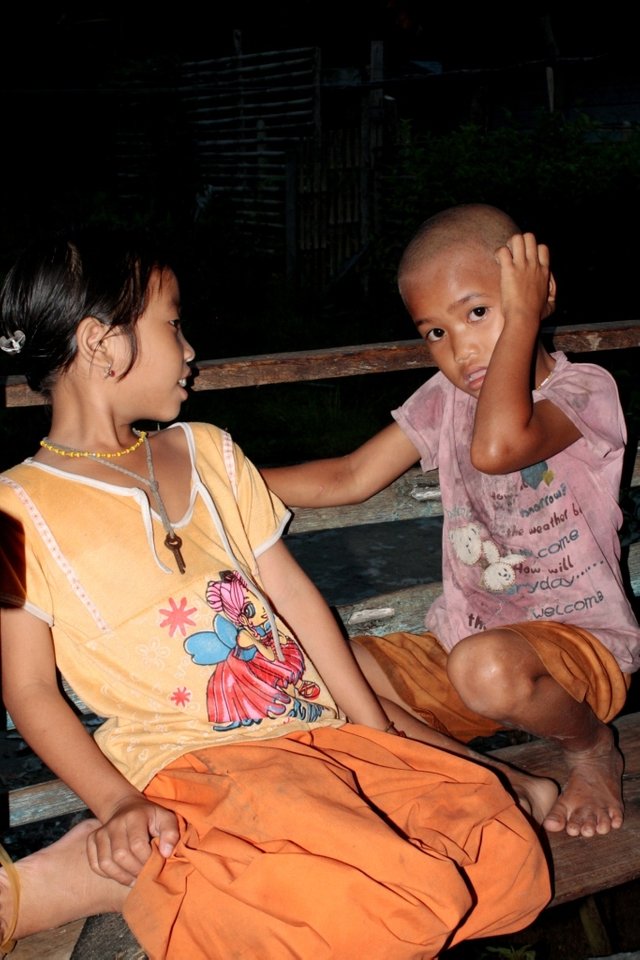 Two of Syukri's nephews sitting at the porch when we arrive
This series is a great adventure and a thriller into a remote jungle. Read from the start to get the complete picture.
I am so glad to have this opportunity to feature something that is not artistic and not pretty to look at. I could not even say that the writing is superb, but, @el-nailul has certainly given a lot! Just by returning to the remote village and then venture into the even more remote places is a lot to admire.
---
🌍 🌎 🌏 🌃 🌄 🌅 🌆 🌇 🌈 🌊 🌍 🌎 🌏
Footnote begins from here.
For most newbies with low SP, 120 SP or less, your upvote does not pay IF it is the only upvote.
And upvoting

depletes your SP by 2% for each vote (same as resteeming a post)
regeneration of SP is at 20% per day
So, you get to vote 20% or 10 upvotes for low SP votes each day.
But, No Worries - Help is On The Way ...
All the best! 🌀 🌊 🌋 🌄 🌈
---
Samples:
| Emoji | Code | Emoji | Code | Emoji | Code |
| --- | --- | --- | --- | --- | --- |
| 🌀 | 🌀 | 🌁 | 🌁 | 🌂 | 🌂 |
| 🌃 | 🌃 | 🌄 | 🌄 | 🌅 | 🌅 |
| 🌆 | 🌆 | 🌇 | 🌇 | 🌈 | 🌈 |
| 😁 | 😁 | 😂 | 😂 | 😃 | 😃 |
| 😄 | 😄 | 😅 | 😅 | 😆 | 😆 |
| 😇 | 😇 | 😈 | 😈 | 😉 | 😉 |
| 🚀 | 🚀 | 🚁 | 🚁 | 🚂 | 🚂 |
| 🚃 | 🚃 | 🚄 | 🚄 | 🚅 | 🚅 |
| 🚆 | 🚆 | 🚇 | 🚇 | 🚈 | 🚈 |