The Cathedral Basilica of St Stanislaus and St Ladislaus of Vilnius (Lithuanian: Vilniaus Šv. Stanislovo ir Šv. Vladislovo arkikatedra bazilika, Polish: Bazylika archikatedralna św. Stanisława Biskupa i św. Władysława) is the main Roman Catholic Cathedral of Lithuania. It is situated in Vilnius Old Town, just off of Cathedral Square. Dedicated to Saints Stanislaus and Ladislaus, the church is the heart of Catholic spiritual life in Lithuania.
Chapel of Saint Casimir with his sarcophagus
The coronations of the Grand Dukes of Lithuania took place within its confines. Inside its crypts and catacombs are buried many famous people from Lithuanian and Polish history including Vytautas (1430), his wife Anna (1418), his brother Sigismund (Žygimantas) (1440), his cousin Švitrigaila (1452), Saint Casimir (1484), Alexander Jagiellon (1506), and two wives of Sigismund II Augustus: Elisabeth of Habsburg (1545) and Barbara Radziwiłł (1551). The heart of the Polish king Władysław IV Vasa was buried there upon his death, although the rest of his body is buried at the Wawel Cathedral in Kraków.
Inside, there are more than forty works of art dating from the 16th through 19th centuries, including frescoes and paintings of various sizes. During the restoration of the Cathedral, the altars of a presumed pagan temple and the original floor, laid during the reign of King Mindaugas, were uncovered. In addition, the remains of the cathedral built in 1387 were also located. A fresco dating from the end of the 14th century, the oldest known fresco in Lithuania, was found on the wall of one of the cathedral's underground chapels.
During the Soviet regime initially the cathedral was converted into a warehouse. Masses were celebrated again starting in 1988, although the cathedral was still officially called "The Gallery of Images" at that time. In 1989, its status as a cathedral was restored.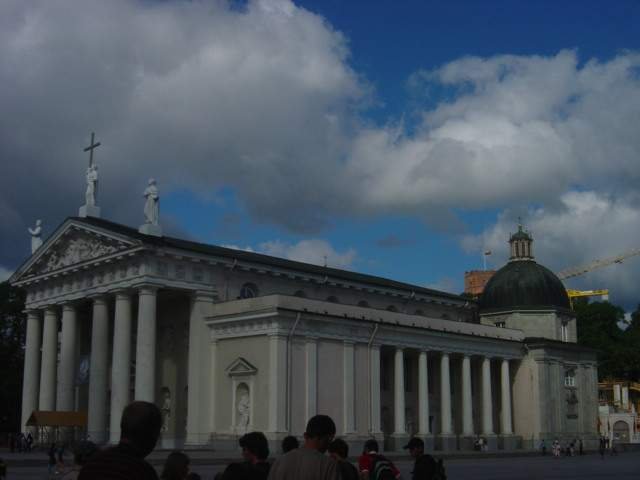 Posted using Partiko Android