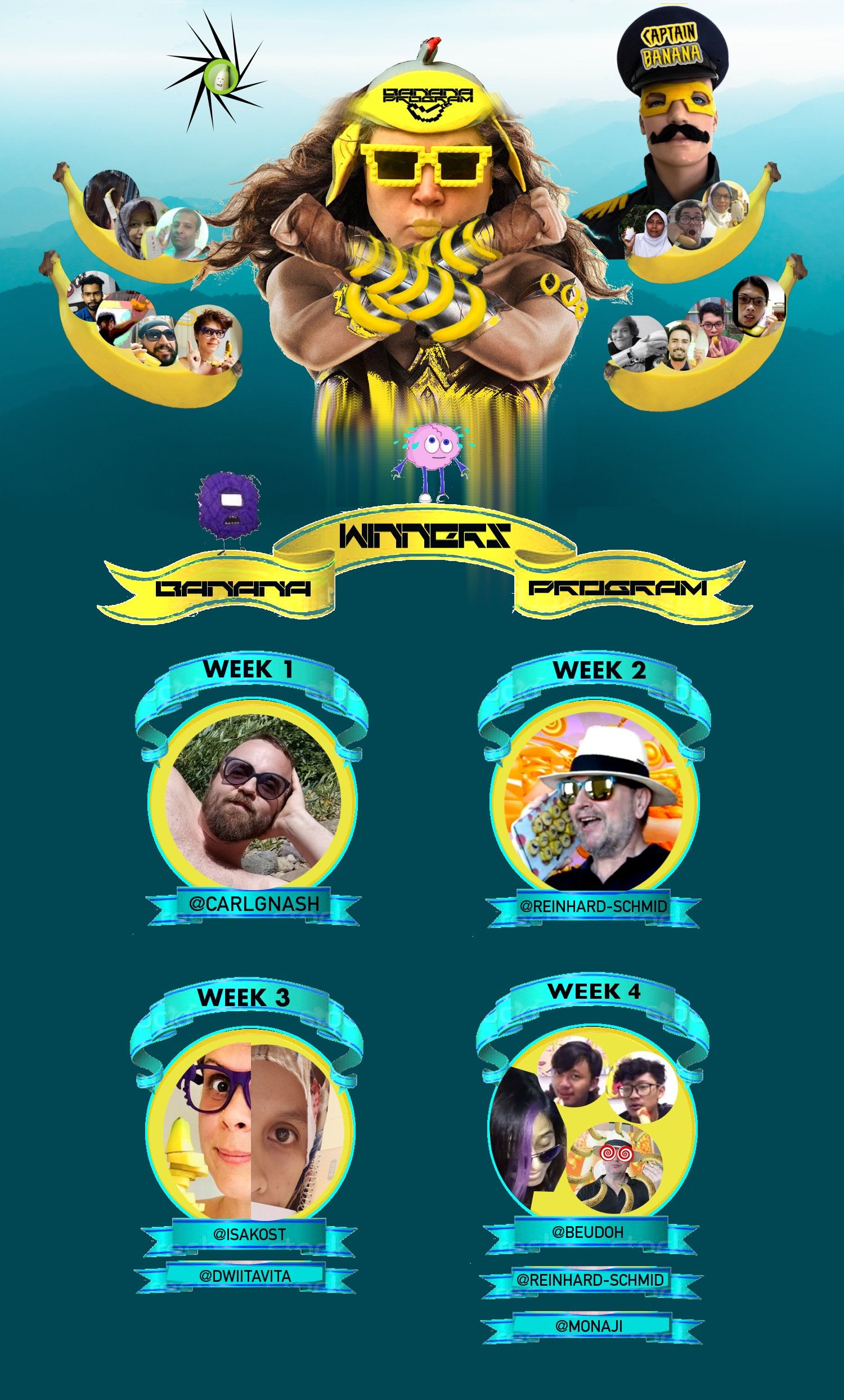 WEEK 4 OF THE BANANA PROGRAM: WE HAVE A THREE-WAY TIE FOR FIRST PLACE!
Because I had so many first place winners (and this Program includes a package sent to the first place winner, I'm giving the option to choose between the package or 3 Steem. All first place winners contact me in Discord or comment below to tell me whether you want the package or 3 Steem as your prize. This is for @beudoh, @reinhard-schmid and @monaji).
Here are the 3 winning entries for Week 4:
PUKING IN A BATHROOM
@beudoh really did blow up this contest because this video entry had me laughing out loud in several spots! First, the randomness of Spider-Man dancing in between a banana and hot sauce was hilarious!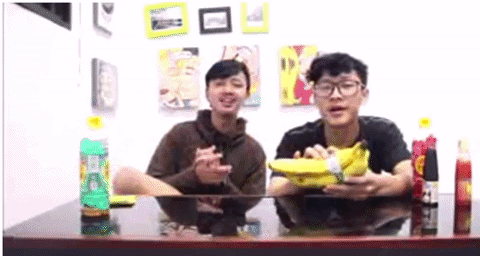 But the best part of the video was when Guy #1 follows Guy #2 into the bathroom after he swallows the hot sauced banana, and pukes it up. This was hilarious: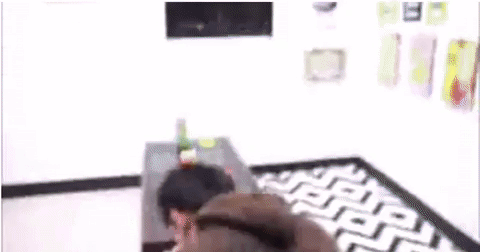 Go ahead and upvote @beudoh's original post, there's still time:
https://dlive.io/video/beudoh/5a1f3190-b387-11e8-997d-0242ac110003
SMOKING BANANA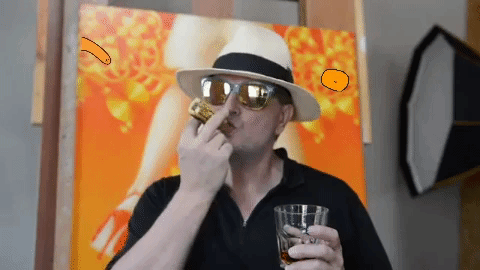 @reinhard-schmid has blown away another Banana Program Week with his smoking banana. This was definitely the most creative entry because he had to construct a smoking element inside of a banana. And his video was absolutely hysterical! I am loving this insanity….you will too, I'm sure.
Go ahead and upvote:
https://busy.org/@reinhard-schmid/banana-program-week-4-when-i-finish-a-painting-pydphl7s
EATING A TOOTHPASTE-COVERED BANANA!
By far, the most dangerous entry (that also made me fear that people are really going bananas in my program) was @monaji who ate a toothpaste-covered banana! DEAR GOD!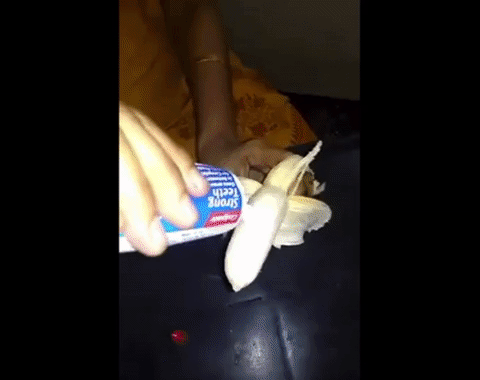 Anyone squeamish, don't watch this GIF of @monaji eating toothpaste:
PLEASE DON'T DO THIS!
This is very dangerous since most toothpaste contains fluoride, a very toxic chemical that can cause brain damage, among other things! I hope to Dog you didn't swallow this toothpaste, please tell me you puked it up? PLEASE DON'T COPY @monaji in the future! Eating toothpaste can kill you!
Go ahead and upvote her original post: https://d.tube/#!/v/monaji/pwgnkaop

HONORABLE MENTIONS
WASABI BANANA!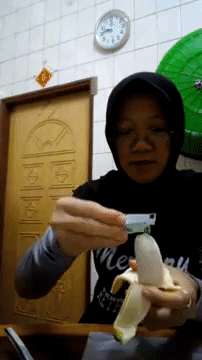 Oh lord @ainee ate a huge spoonful of Wasabi on her banana, and I could not believe my eyes! She hardly even winced after she ate this! She put more things on a banana including hot chilis too! She really went for this challenge.
Go and upvote her post: https://busy.org/@ainee/banana-program-week-4-task-evbydyk0
BANANA APPETIZERS
She's done it again! She's created something very creative and unique, making tiny banana appetizers, which look straight out of a high-end gourmet food magazine: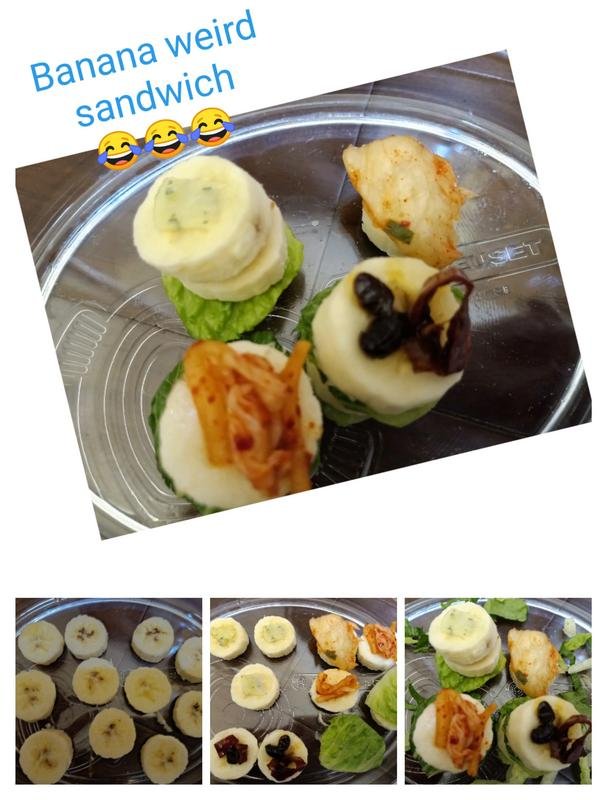 Go ahead and upvote: https://busy.org/@dwiitavita/banana-program-weeks-4--eat-the-banana-weird-topping-sandwich-3i4760nt
BANANA LASAGNE!
This entry blew me away. Who would think of making Banana Lasagna? Instead of pasta, @emergehealthier has substituted bananas, and put layers of cheese and pasta sauce between the banana slices. Then she put this into the microwave to cook it. This was a very creative entry for sure, and inspired me to think differently about the odd possibilities of banana dishes.
https://busy.org/@emergehealthier/0r0hcm2l
I was really happy to see that DTube upvoted the Banana Lasagne entry, as this resulted in a $16 payout for @emergehealthier! DTube has a much bigger account than me, so this just goes to show you that you never know just who will upvote you! By being more active, you increase your chances for earning, plus inspiring others!
Week 5 tasks will be announced soon, stay tuned and thank you for all those amazing submissions. I had a tough time deciding this week, that's why I announced these on Tuesday instead of Monday! Remember, the deadline is Monday at 12 midnight CST USA time. The Banana Program will run for 7 weeks, so there's only a few weeks left!
What is Banana Program? Banana Program rewards people who do social and creative and/or weird tasks. Banana Program was inspired by the Partiko app and is unofficially sponsored by the @stupid account. But BANANA PROGRAM is completely independent and not supported in any way by Partiko. BP is the brainchild of Stellabelle, and its mission can change according to whim, upon no notice.
Congratulations to all the winners!
Stay Weird,
Stellabelle
Posted using Partiko iOS