Selamat sore Partiko lovers, Alhamdulillah sore ini di tempat tinggalku di Bogor baru saja turun hujan. Hawanya menjadi sejuk, stok air bertambah.
Good evening Partiko lovers, Thank God this afternoon at my place in Bogor, it was just raining. The air becomes cool, the water stock increases.
Hari ini aku ingin berbagi resep masakan tradisional yang menggunakan bahan utama ikan mas dengan bumbu pecak. Bumbu pecak adalah salah satu masakan ala Betawi (Jakarta).
Today I want to share traditional recipes that use the main ingredients of goldfish with spicy flavor. Pecak seasoning is one of the Betawi-style dishes (Jakarta).
Jika sahabat Steemian ingin tahu resepnya, silahkan disimak :
If friend Steemian wants to know the recipe, please read :
Resep Pecak Ikan Mas
Pecak Goldfish Recipe
Bahan-bahannya :
Ingredient :
1 ekor ikan mas, bersihkan, buang isi perut dan sisiknya, cuci dengan air mengalir, kerat-kerat, lumuri dengan air jeruk nipis dan garam
1 gelas air mendidih
1 buah jeruk limau, belah dua
Gula pasir dan bumbu penyedap rasa secukupnya
1 goldfish, clean it, remove the contents of the stomach and scales, wash with running water, scrape, coat with lime juice and salt
1 cup boiling water
1 lemon, split in half
Sugar flavor and flavoring flavorings to taste
Bumbu yang digongseng di atas wajan tanpa minyak :
Spices fried in a skillet without oil :
Bawang merah 7 butir
Jahe 1 ruas
Kencur 3 cm
Ginger 1 segment
Kencur 3 cm
Bumbu yang ditumbuk/ diulek kasar :
The ingredients are crushed roughly :
Cabai rawit merah 10 buah
Cabe merah keriting 5 buah
Garam secukupnya
10 pieces of red cayenne pepper
Curly red chili 5 pieces
Salt to taste
Cara Membuat :
How To Make :
https://cookpad.com/id/resep/709325-pecak-ikan-mas-khas-betawi
Sumber gambar
Panaskan minyak goreng dalam wajan.
Goreng ikan mas sampai matang berwarna kuning kecoklatan. Angkat dan tiriskan.
Campurkan cabai yang sudah diulek kasar dengan bumbu yang sudah digonseng (bawang merah, jahe dan kencur cukup ditumbuk/digeprek saja), lalu beri garam, gula pasir dan bumbu penyedap rasa secukupnya.
Heat cooking oil in a pan.
Fry the goldfish until cooked brownish yellow. Lift and drain.
Mix the chili that has been roughly ground with the spices that have been mixed (onion, ginger and kencur just pounded /crushed), then give salt, sugar and flavorings to taste.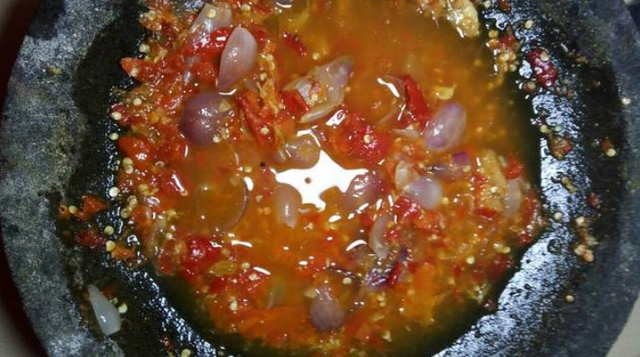 Sumber gambar
Tuang air mendidih ke atas campuran bumbu yang diulek kasar tadi, aduk rata.
Siramkan ke atas ikan mas goreng.
Beri perasaan air jeruk limau di atasnya
Pecak Ikan Mas siap dihidangkan dengan nasi putih hangat.
Pour boiling water onto the spice mixture which is roughly coated, stir well.
Pour over fried goldfish.
Give the feeling of lime juice on it
Goldfish ready to be served with warm white rice.
Demikian resep pecak ikan mas yang pedas dan enak. Selamat mencoba, semoga sesuai dengan selera makan sahabat Steemian. Terima kasih telah meluangkan waktunya untuk membaca postingan sederhana ini. Selamat sore.
That's the spicy and tasty recipe for carp fish. Good luck, hopefully according to the appetite of friends Steemian. Thank you for taking the time to read this simple post. A good afternoon.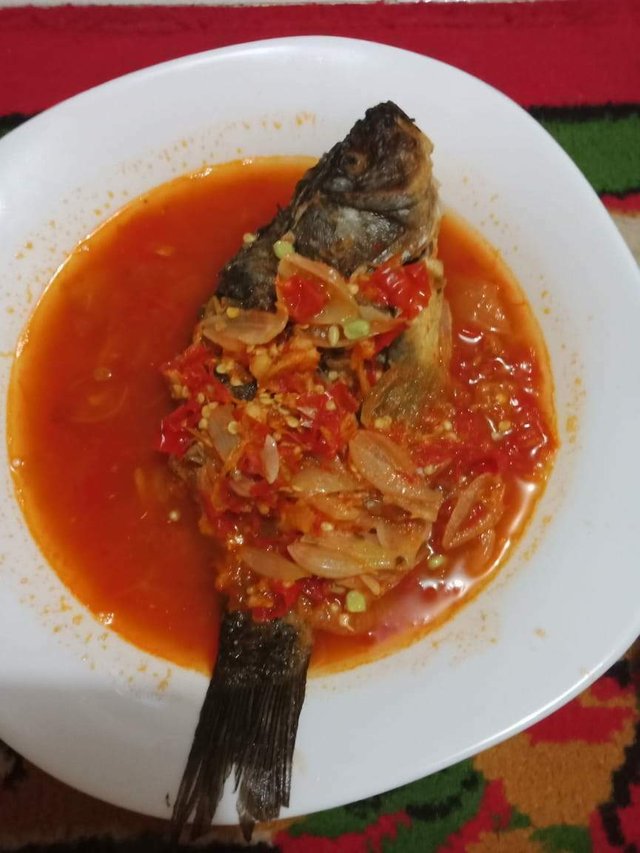 Posted using Partiko Android