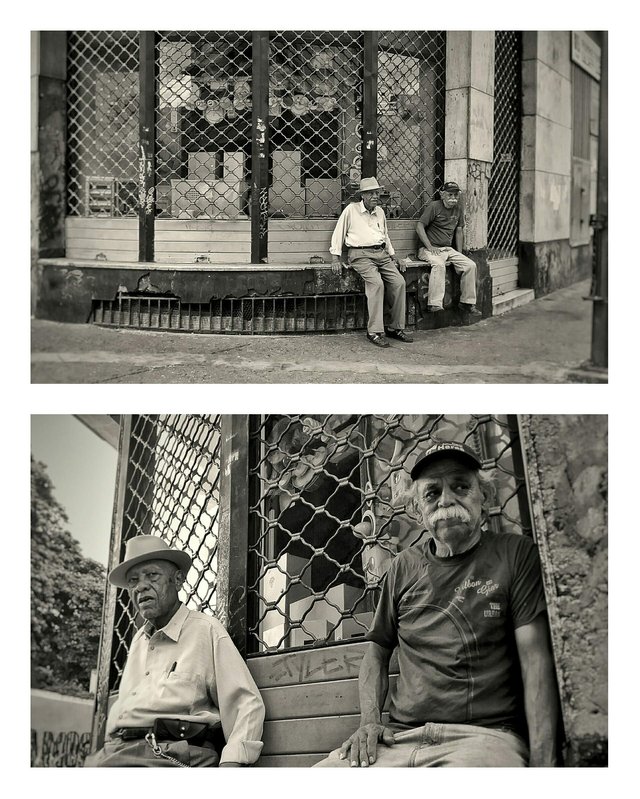 ES: Hay esquinas con historias.
Historias pasajeras que solo los viejos de la esquina de siempre sabrán contar.
Miles de transeúntes pasan ante los ojos de estos señores pero solo unos cuantos los notan.
En cambio los viejos de la esquina de siempre recuerdan a todos.
Son ellos la historia viva de la calle, son ellos los testigos del antes y del después, son el puente que se dilata como una burbuja hasta el pasado que nunca conoceremos, el presente que no vemos y el futuro que no divisamos.
Son los señores de la esquina, los textigos del día a día, trata de acercarte a hablarles un día y verás como la visión que tenías de tu calle cambiará.
---
EN: There are corners with stories.
Passing stories that only the old men on the corner will always know how to tell.
Thousands of passers-by pass before the eyes of these gentlemen but only a few notice them.
But the old men on the corner always remember everyone.
They are the living history of the street, they are the witnesses of the before and after, they are the bridge that expands like a bubble to the past that we will never know, the present that we do not see and the future that we do not see.
They are the lords of the corner, the texts of the day to day, try to approach them one day and you will see how the vision you had of your street will change.
---
Foto de mi autoría @lphnfotography
Cámara: Telefoto Samsung Galaxy J3
Modelos:
González Virgilio
José gregorio vivas Camacho
Señores residentes del municipio Chacao en Caracas / Venezuela
2019
Posted using Partiko Android