While healthcare start-ups are lead by ambitious teams and have managed to collectively gather billions of dollars every year — it could take long years before any of the products developed to reach consumers.
Continuous Innovation is well-present in the healthcare industry and plenty of new medicines are being synthesized. However, this form of research requires extensive investment and even more money needs to enter the industry to boost the way the development of new drugs that will carry mankind into a reality where even more diseases have a valid cure.
Cures token is a revolutionary healthcare startup anchored on the blockchain. The company aims to develop a premium healthcare hub where patients can get quality medical care across border at any time. Below is an INFOGRAPHICS of the benefits of the Cures token for both the patients and the clinics.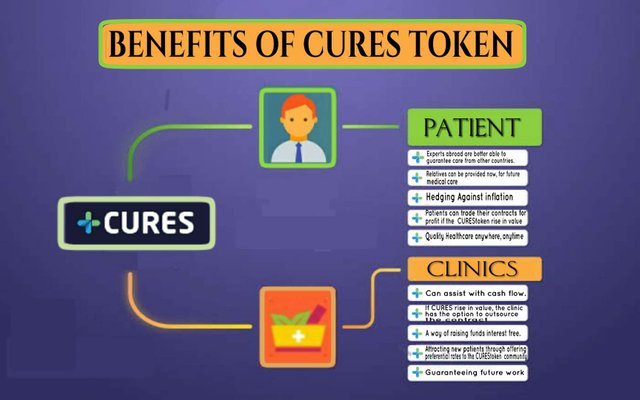 - Also check out the Representation I made about the Cures six (6) pillars
https://mobile.twitter.com/abdulRa37255144/status/1109228809813929986
Learn more about Cures Token with the following links
Web: https://www.curestoken.com/
Whitepaper: https://www.curestoken.com/#whitepaper_cures
Telegram: https://t.me/curestoken_community
Twitter: https://twitter.com/CuresToken
Bounty0x Username: Kryptarion1
Posted using Partiko Android