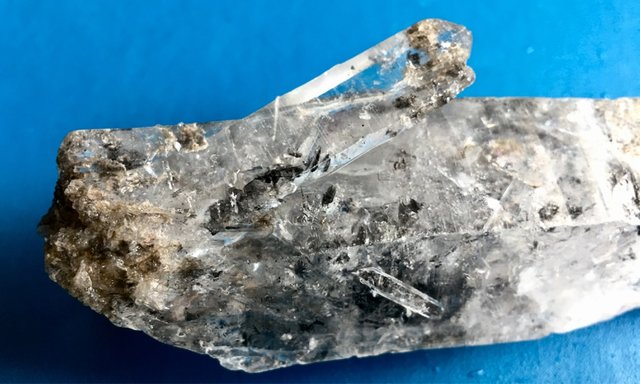 This is my entry for #fridaysrock by @nat-expressions curated by @shasta. This old quart chunk has been telling me to show him to my friends. So, here it is a very tattered Tibetan quartz blade or wand; I am not certain about the exact name.
This is a very complicated quartz wand with some black inclusions and perhaps a phantom inside. There are also smaller wands growing out of this quartz. I haven't played with him for years and he was just sitting there in my shrine room.
This was given to me as a gift by the crystal shop owner who was moved by his guides. He gave me this quartz during my first visit to his shop. His wife was very surprised that he wound give away a very special piece. I didn't want to take it at first, but he kept saying that this quartz was mine to keep! I will have to find some time to meditate with this wand so I would perhaps find out about his healing properties.
หินแท่งนี้มาจากธิเบตและท่าทางจะเก่ามาก เราไปได้มาจากร้านขายหินที่เก่าแก่มีชื่อเสียงในตลาดจตุจักร หลังจากที่คุยกับเจ้าของร้านสักพักหนึ่ง เราก็ซื้อหินก้อนเล็กๆก้อนหนึ่ง แต่เราก็ได้ดู และสัมผัสหินเก่าๆหลายชิ้น ซึ่งมีราคาสูงมาก เป็นหมื่นบาทขึ้นไป เราก็ซื้อเฉพาะก้อนที่เรามีกำลังซื้อได้เท่านั้น
แต่พอเราจะออกจากร้าน เจ้าของร้านก็ให้หินธิเบตแท่งนี้แก่เราเป็นของขวัญ เราก็ตกใจมากและไม่ยอมรับ แต่เจ้าของร้านบอกว่า นี่เป็นหินที่ต้องไปอยู่กับเรา เราต้องเอาหินแท่งนี้ไปด้วย เราจึงต้องรับของขวัญพิเศษชิ้นนี้มา ข้างในหินเหมือนมีจักรวาลอยู่ภายใน เราก็นั่งมองดูว่ามีอะไรแปลกๆข้างในบ้าง. เราไม่ได้เล่นกับหินแท่งนี้นานแล้ว แต่สัปดาห์นี้หินอยากให้เราเล่นด้วย และอยากออกไปสู่โลกภายนอกบ้าง เราก็เลยจับมาล้างน้ำทำความสะอาด และถ่ายรูปโชวให้เพื่อนๆดู เราคงต้องหาเวลานั่งสมาธิกับกินแท่งนี้บ้างแล้ว เผื่อจะได้รู้ว่ากินแท่งนี้มีคุณสมบัติพิเศษด้านการรักษาโรคบ้างไหม
Wishing you a very nice day.
Cheers.
Posted using Partiko iOS