Litecoin (LTC) Lates News: Posting Highest Gains Among Top 10 Cryptocurrencies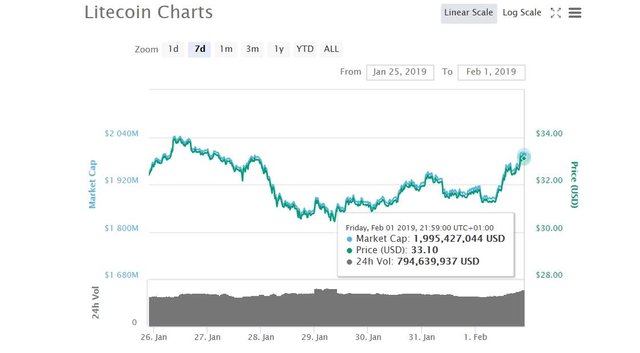 The seventh largest cryptocurrency by market capitalization is battling to stay above the $30.00 supportive level which was dealt with for the last time almost two years ago mid-2017.
The pair LTC/USD is changing hands at $33.10 with 4.56% increase in the last 24-hours leading the BTC market by 3.66%. The silver coin to Bitcoin's gold is standing at a market cap of $1.994 billion closing in to the big $2 bln. The latest performance has differentiated Charlie Lee's coin-standing even further away form Tron's $1.755 market cap.
Latest to Read
Believing that the scaling debate is behind the scene right now, Litecoin founder Charlie Lee highlights via his official twitter handle that the main focus now is making the coin more fungible meaning to up-grinding the ability to interchange with other goods or assets of the same type.
By implementing Confidential Transactions (CTs), the privacy game will be stepped-up as all transactional input and output can be summed and compared while never revealing any of the masked amounts.
Teaming up with Token Agency, the Litecoin foundation has come to a conclusion about a new design for the digital currency. The blue Litecoin logo first appeared on the recently concluded UFC232. The Litecoin foundation was an official partner of the event.
On Jan. 14 former Olympic Wrestler Ben Askren, who was scheduled to make his Ultimate Fighting Championship debut in a Welterweight match against Robbie Lawler for UFC 235, took to Twitter to promote both his upcoming match and its official cryptocurrency partner: Litecoin.
Posted using Partiko Android