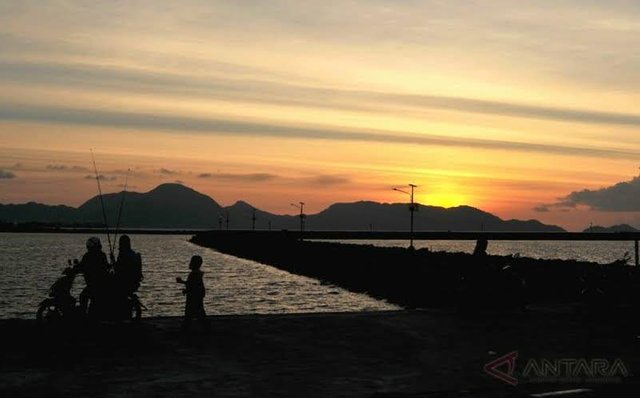 Indonesia's westernmost city which is directly adjacent to the Ocean in Banda Aceh City offers amazing sunset or sunset views. One of the spots to catch sunset is in Lampulo Harbor.
As the sun slips on the western horizon, you can stop there to enjoy the sea breeze with beautiful sunset views.
Located on the north side of Sumatra Island, this port is to the east of Ulee Lheue Port which is also part of the Banda Aceh City. The place with the official name of the Ocean Fisheries Port was built after the 2004 tsunami disaster.
After being built, this place is crowded with people who want to see the maritime panorama with the background of the Aceh island and Beras island and Sabang island.
Every day, this harbor is busy with the activities of the fishermen. There, you can see various exotic catches by fishermen in the Indian Ocean.
This port also functions as a place to transport passengers who want to cross to several islands in Aceh, such as Rice Island or Breueh. Cantiknya Matahari Terbenam dari Pelabuhan Lampulo Aceh
DALAM BAHASA INDONESIA
kota paling barat Indonesia yang berbatasan langsung dengan Samudera di Kota Banda Aceh ini menawarkan pemandangan matahari terbenam atau sunset yang menakjubkan.Salah satu spot untuk menangkap sunset ini ada di Pelabuhan Lampulo.
Menjelang matahari tergelincir di ufuk barat, Anda bisa mampir ke sana untuk menikmati angin laut dengan pemandangan sunset yang cantik.
Terletak di sebelah utara Pulau Sumatera, pelabuhan ini berada di sebelah timur Pelabuhan Ulee Lheue yang juga masuk dalam bagian Kota Banda Aceh.Tempat dengan nama resmi Pelabuhan Perikanan Samudera ini dibangun pascabencana tsunami 2004 lalu.
Setelah dibangun, tempat ini ramai dikunjungi warga yang ingin menyaksikan panorama bahari dengan latar gugusan pulau wisata Aceh dan pulau Beras serta pulau Sabang.
Setiap hari, pelabuhan ini ramai oleh kegiatan para nelayan.Di sana, Anda bisa melihat berbagai hasil tangkapan yang eksotis oleh para nelayan di Samudera Hindia.
Pelabuhan ini juga difungsikan sebagai tempat mengangkut penumpang yang ingin menyeberang ke beberapa pulau di Aceh, seperti Pulau Beras atau Breueh.
Posted using Partiko Android