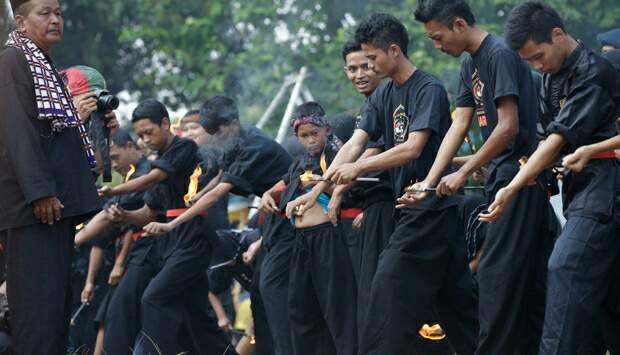 Debus
Pada artikel ini akan membahas tentang budaya-budaya unik yang ada di Indonesia. Budaya unik memiliki nilai yang sangat tinggi dan harus tetap dijaga kelestariannya untuk menambah keberagaman bangsa. Berikut akan dikutip sebuah tulisan yang menjelaskan tentang budaya unik yang ada di Indonesia.
Debus
Nah, siapa yang tidak tau atraksi debus? Debus merupakan salah satu seni bela diri berasal dari Banten, aksi bela diri ini dipercaya sudah ada sejak abad ke 16, namun pada saat itu Debus adalah sebuah kesenian dari hasil kombinasi suara dan seni tari. Atraksi ini mulai berkembang pada abad ke-18. Acara permainannya pun sangat beragam, mulai menusuk perut dengan benda tajam, mengiris badan dengan pisau, menusuk lidah, membakar diri dengan api, dan lain-lain.
Debus identik dengan ilmu kekebalan, tidak aneh, bila seni bela diri ini bikin jantung berdekup kencang, bukan karena faktor grogi namun atraksi yang dipertontonkan sangat-sangat menyeramkan. Bila kamu ingin belajar debus, fikir panjang dulu deh. Pasalnya, jika kamu ingin belajar seni bela diri ini, jika lengah sedikit kamu harus mempertaruhkan nyawa. Acungkan jempol yu untuk orang-orang yang menjaga tradisi debus.Source
Debus
This article will discuss the unique cultures that exist in Indonesia. Unique culture has a very high value and must be maintained in order to increase the diversity of the nation. The following will be quoted an article describing the unique culture that exists in Indonesia.
Debus
Now, who doesn't know the Debus attraction? debus is one of the martial arts originating from Banten, this martial action is believed to have existed since the 16th century, but at that time Debus was an art from the combination of sound and dance. This attraction began to develop in the 18th century. the game show was very diverse, starting to pierce the stomach with sharp objects, slicing the body with a knife, piercing the tongue, burning themselves with fire, and others.
Debus is identical to the science of immunity, not surprisingly, if this martial art makes the heart beat fast, not because of nervousness but the attraction that is shown is very, very scary. If you want to learn Debus, think long beforehand. the reason is, if you want to learn this martial art, if you let your guard down a little you have to risk your life. Give a thumbs up to those who maintain the Debus tradition.
Posted using Partiko Android