It seems most African dads don't actually understand what the word "love" truly means. Some of them have a kind of skewed idea about love that gets one wondering if that is what their parents actually made them to understand love to be. love encompasses care, attention, encouragement, support, dedication, commitment, faithfulness, protection, etc. But most African dads only view love from the provision point of view.
To most African dads, the only thing that they have to do to show their kids that they actually love them is by providing for their basic life's needs. By basic life's needs i meant food, shelter and clothing. Most African dads sees providing the needs of his kids as his highest expression of love to them. But what most of them don't realize is that their kids don't share such view. Kids value attention and time spent with them more than meeting their basic needs.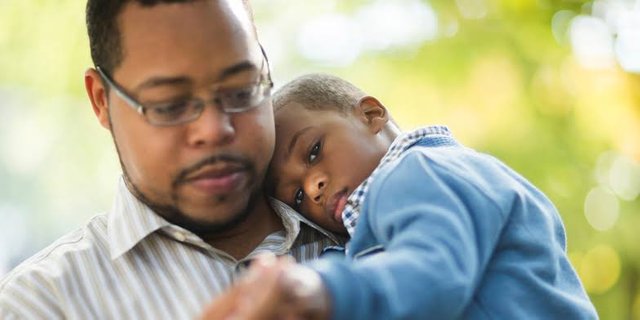 Image source
Most kids view meeting their daily needs as a responsibility or obligation their parents must meet each day and they don't read too much meaning to it: even though we all know that such an act is also an expression of love. Though there are still several other expressions of love that African dads need to pay attention to if they want to inscribe their names in the hearts of their kids for a life time.
Most dads sometimes wonder why their kids grow up and forget them easily and all the sacrifices they made for them while growing up. They fail to realize that kids grow up to remember easily those that gave them attention and spent valuable time with them more often than those that they never had any real connection with. This is one of the reasons why most kids grow up to be very close to their mums because she is the one that demonstrated their ideas of love to them.
Your kids will not necessary value your provision for them that much until you start showing them little attention and making out time to be with them. you need to start moulding a view of you in your kids minds because that is what will endear them to you when they are grown. How you relate with you kids today will determine how they will relate with you tomorrow.
Love is much more than just meeting your kids need. African dads need to sit up and start spending time with their kids. Most African dads are being abandoned by their kids when the kids become adults because the never built any sort of love relationship with their kids. Your kid will remember easily time you spent with them and events you engaged in with them, than the wonderful things you always provide for them.
Don't be one of those dads that the only pleasant memory their kids have about them is "he's a good provider". You can actually make your kids think more of you than just a providing dad by getting involve in their daily lives. Love is much more than just meeting your kids material needs. They also have emotional, social, psychological, intellectual and spiritual needs. How well your kids will relate with you tomorrow will greatly depend on how well you meet these other needs: not just the material or physical needs alone.
Love is much more than providing for your kids. Beside, you're the one that create such view about love. To your kids, meeting their material needs is simply you performing your natural obligation. Spending real time with your kids and giving them your full attention is their own definition of love. And if you must win their hearts for a life time, you must show to them both your own definition of love and their own definition of love.
African dads wake up! Reconfigure your minds and start building real love relationship with your kids because that is the only thing that will endear you to their hearts when they are grown.
Thanks for visiting my blog. Your support will be greatly appreciated.