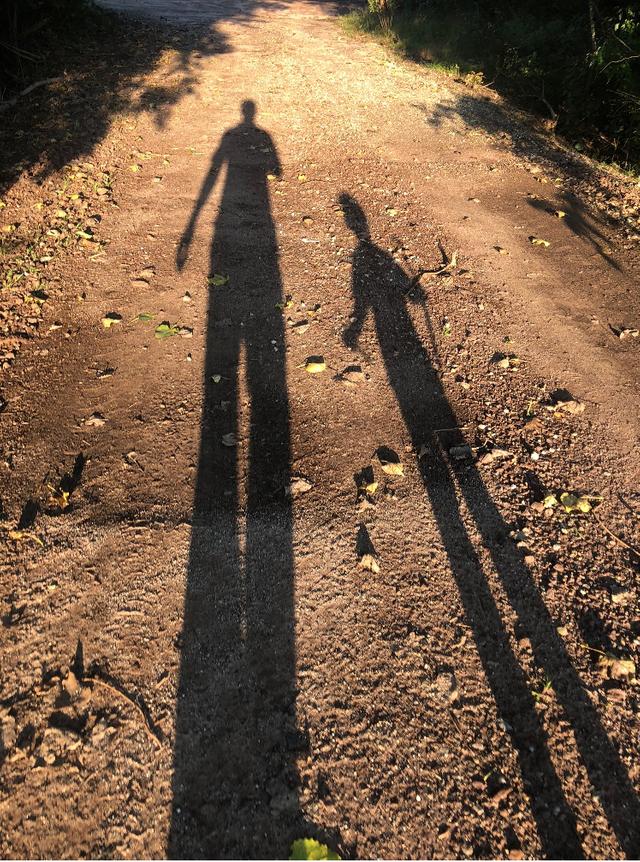 My wife and I have lived in a townhome community for the past several years. There are multiple buildings on the property, each with a dozen or so units. Our unit is directly across from another building, and behind the front door almost directly across from ours lives a man I'll call Jack.
The first few years that we lived here, I do not recall ever meeting Jack. Two years ago, our first child was born - a boy. I used to take my son with me to the mailbox, which was a short walk down the sidewalk to the main road into the community. During one of these walks, when my son was about 6 months old, we met Jack. He was walking back from the mailbox, and as we passed each other, he introduced himself by saying "and who is this little guy?" Odd, but assuming that perhaps I had met this neighbor before and just did not remember, I introduced my son to him. Not once did he ask my name. Not once did he ask what I did for a living. He just wanted to know about Adam. It was not a "normal" adult conversation. I didn't think it was strange at the time, but fast forward a bit and you will see why it might have been.
Anyway, a few weeks later, my wife tells me that she bumped into one of our neighbors, and that he knew our son's name. She was kind of rattled by the experience, because he just came out with "hi there Adam!" without introducing himself to my wife. I told her that it was probably the same guy from a few weeks prior. She told me she had a similar experience where all he wanted to do was ask about Adam, and again, not once did he ask her what her name was or anything about her individually. Again, I shrugged it off as him perhaps being a little socially awkward. Maybe he was trying to be friendly and he was just breaking the ice by talking about our kid the way you might mention something about someone's dog.
A month or two later, the community pool in our townhome community opened for the summer. My wife was home during the week with our son while I was at work, so she decided to start taking him to the pool. That is when she noticed that Jack would also go to the pool every day. Now, over the course of the two years of sporadic contact with him, I have pieced together that he lives alone, has at least one adult child that rarely visits him, and is retired. His car is also almost always parked in front of his unit, so I assume that he rarely goes out or has much of a social life. So Jack being at the pool on a weekday during the summertime was not that unexpected or strange. What is strange is what my wife reported to me a few weeks later.
According to her, Jack is super friendly with the other kids who live in our community. He calls them his "friends" and buys pool toys for them to play with. Once, my wife had a friend over at the very end of the summer - before the pool closed, but while the kids were in school. She said they lounged at the pool for hours that day, and noticed that Jack briefly came and went early in the afternoon. He then returned later in the day after the kids had gotten home from school and headed to the pool (which was my wife's cue to leave, since it was crowded with the kids there).
She mentioned to me another disturbing observation that she made. When Jack goes to the pool, he never actually gets in the water. He just sits in a chair under an umbrella with his sunglasses on. She said he is frequently on his phone (not talking, just holding it like he was texting or surfing the internet). She said that the angle that he holds his phone at is very awkward and unnatural high, and makes it look like he is actually angling it to take pictures of the kids in the pool. Most people will look down at their phone while they surf it - she said he is frequently looking almost directly ahead of himself.
All of these things up to this point did not make me feel like I needed to do or say anything. That changed when my sister-in-law came to visit. Once again, my wife headed to the pool for the afternoon, this time with my SIL. That night, my SIL told me that she "met" Jack. I asked if she actually meant she talked to him. She said no. She said that while she was in the pool, she noticed a man watching her and my wife and our son. She discretely mentioned something to my wife, who told her that she already knew that the guy was a little weird. My SIL said that she had an instant child predator vibe from the guy. She works in the prison system and says she's been around hundreds over the years and you can "always tell."
The key thing to remember is that my SIL said all of this to my wife without any advance warning about Jack whatsoever. She noticed him and came to her conclusions all by herself.
That sealed the deal for me. I decided I needed to do something. But confronting him directly was quickly out of the question. I asked around for advice. Several people actually said I should just go to the police and file an anonymous complaint or see if he had any outstanding complaints against him. I decided to do that.
I drove to the town police station the next day. I didn't get past the vestibule. I had to pick up a phone in the lobby and explain to whoever was on the other side of a one-way mirror why I wanted to come in and speak to an officer. In front of a lobby full of other people, I had to explain why I was creeped out by my neighbor. It was humiliating, but these are the sacrifices we make for our children, amirite? The officer on the other side of the wall told me that without evidence of an actual crime being committed, there was nothing the could do. I asked if I could just file a complaint to be on record as having come in. She said they did not do that. She then opened up a little bit and became a human again. She said that she was a mom, and if she were me, she would also be freaked out and probably would have done the same thing I was doing. She said I was doing the right thing, it was just that unfortunately there was nothing they could do. She asked if I had gone to my property management. I told her no, and she encouraged me to do that.
I went back home and drove directly up to the rental office. The office manager was out at the time, but her assistant was there. I asked if we could speak privately, and behind closed doors I explained to her that I was a little uncomfortable with my neighbors behavior. She listened as I explained most of what I laid out above. Then she asked what unit number he lived in. When I told her, her face got this very defensive look on it, and she emphatically said "Oh that's Jack! He stops by pretty often and I talk to him all the time. Trust me, you have nothing to worry about. He's a great guy! But I'll tell my boss that you came in and ask her to reach out to you." I thanked her and left. A day later, her boss e-mailed me. Here is exactly what she said:
Stacy mentioned you shared some concerns about your neighbor in unit 82. Thank you for bringing this to our attention.
Unfortunately there is not much I can do or say to the neighbor. I'm sure you understand.
Feel free to contact me or stop in if you would like to discuss further.
So with that, I felt like I was now the troublemaker, or the bad guy, or some kind of jerk. I threw my hands up and said forget it. The pool closed for the summer. Jack retreated into his house for the winter.
Until today.
I mentioned that my house sits almost perfectly across the lot from Jack's. Well, it is a two story unit, and my sons bedroom is at the front of the house. He has a big bay window that is directly above our front door. My son can now climb up to the ledge of the window and look out. He loves to look out that window, because he can see all the neighbors coming and going. Today, Adam woke up from his afternoon nap, and I went up to get him. He was standing at the window as usual, looking outside. He invited me to come over and look out the window with him, so I did. As we were looking out the window, I noticed that Jack's blinds looked like they were slightly opened. Not completely raised or parallel to the ground, but slanted a bit so you could see out but people could not easily see in. His car was in its spot. I thought I might have noticed a shadow on the window, but I did not want to stare at his house, so I kept looking left and right and down at the mailboxes. We saw someone walk down to the mailbox and craned our necks to watch them. After several seconds, we lost sight of them around the corner, and we quickly turned to look back at the other side of the parking lot. That's when I noticed, without any possibility for being mistaken, someone shut the blinds completely in Jack's house.
So now here I sit. All the emotion from last summer is coming back. I am at a loss as to what to do. I do not think that confronting him is the right thing to do. If anything, I fear it will make things worse with our situation. I also do not think that today's events warrant another visit to the property manager. I just feel so powerless and confused. I keep trying to convince myself that there is an innocent explanation for all of this it's nothing to be concerned about, but because of everything that's transpired over the past two years, that's impossible for me to do. I've checked the sex offender registry lists to make sure he's not on there - he is not. I've run his name through Google to see if he was ever in the news - he was not. I don't have any friends in the neighborhood that I am close enough to feel comfortable talking with.
Am I blowing this out of proportion? Is there probably nothing to worry about? If not, what are the next steps I should take? What kinds of things can I do to protect my son? I'm at a loss right now, and feeling pretty anxious and hopeless about the whole situation.
---
View this post on Steeve, an AI-powered Steem interface