Collonges-la-Rouge: Painting a Memory
 
It most certainly is no secret to my esteemed followers here that I'm a die-hard Francophile. One of my favourite regions in France is the Limousin and there exists a little village from the 8th century, which was built almost entirely of red sandstone.
Collonges-la-Rouge has a very special atmosphere. On my adventure trip into the world of fine arts I have distilled an abiding memory of this special place in a painting that I would like to present to you here.
If you would like to visit Collonges-la-Rouge yourself, you can get in the proper mood by checking Wikipedia which has lots of photos of the place. Once you're there I highly recommend you stop by at "Le Cantou," a restaurant with a cozy atmosphere and excellent cuisine!
Thanks for looking, and please don't forget to upvote and resteem if you liked my post. Catch you next time!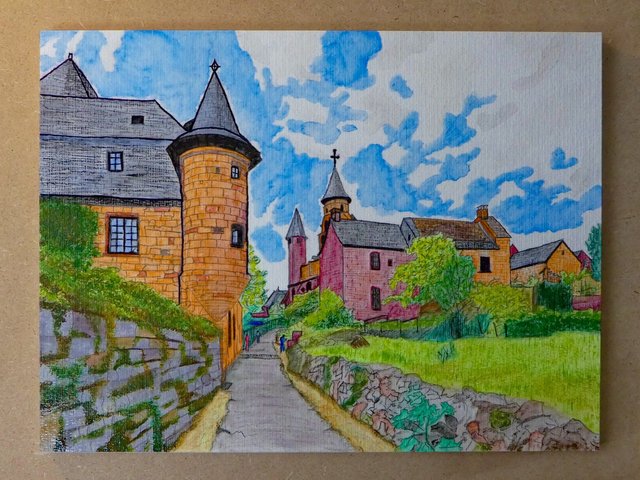 Collonges-la-Rouge, mixed media on paper, 16 x 12"
Collonges-la-Rouge, Mischtechnik auf Papier, 40 x 30 cm
 
Dass ich ein Francophiler bin, ist meinen geschätzten Followern hier bestimmt nicht verborgen geblieben. Eine meiner liebsten Regionen in Frankreich ist das Limousin und dort gibt es ein Dörfchen aus dem 8. Jahrhundert, das fast ganz aus rotem Sandstein erbaut wurde.
Collonges-la-Rouge hat eine sehr eigene Atmosphäre. Auf meiner Abenteuerreise in die Welt der bildenden Kunst habe ich die Erinnerung an diesen besonderen Ort in einem Gemälde verarbeitet, dass ich euch hier vorstelle.
Wer sich Collonges-la-Rouge gerne mal selber anschauen will, wird in der englischen Wikipedia fündig; da gibt es eine Menge Fotos zur Einstimmung. (Der deutsche Artikel ist etwas dürftig.) Vor Ort empfehle ich euch, unbedingt im "Le Cantou" einzukehren, einem Restaurant mit schnuckeliger Atmosphäre und ausgezeichneter Küche!
Danke fürs Anschauen, und vergesst bitte nicht das Upvoten und Resteemen, wenn euch mein Beitrag gefallen hat. Bis zum nächsten Mal!