A battle for the ages took place in my home a few nights ago. A "terrible monster" ravaged our peace and sleep in the middle of the night with his insatiable thirst. He wanted to be seen. He wanted to be known. All he did was groan and mutter - not a single word was spoken. This creature devastated our sleep and laughed in our faces as we tried to fight him off. Eventually, we won. We were tired and bruised, but we victorious.
Finally, around 2:30 AM, our 10 month-old-son (the infamous "terrible monster) was asleep in his crib. Mommy and Daddy could finally go to sleep too!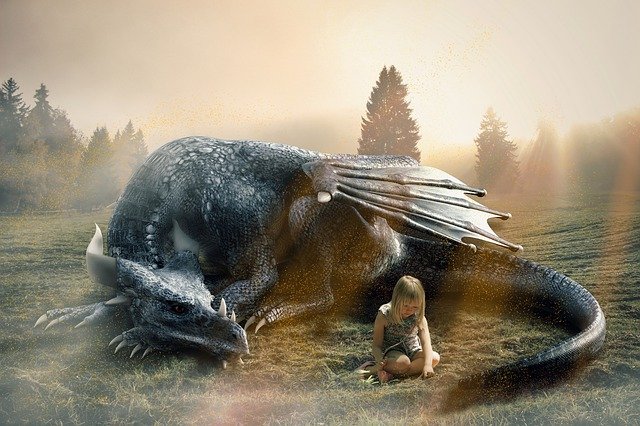 Image Source
Late Night Post Ideas
A lot of my inspiration for post ideas come from real-life situations that I am facing. My everyday life spawns what seems like a million different thoughts, reflections, dreams, and challenges.
This post is birthed from a cloudy thought that popped into my mind as I battled the "terrible monster": Force or Finesse?
The Origin Of The Thought
My wife had worked with our son from about 1:00 AM to 1:45 AM. I had heard some of the battle cries that took place, but I remained in bed as I had to be at work in a few short hours. When she finally rolled into bed, I felt relief. She was going to get some much-needed rest. But only after a few short moments, our Little Man was active again.
Little Man was not being bad. He was just not asleep, and at that time in the morning, everyone in our house should be asleep. And I mean everyone! I crawled out of bed, walked down the hallway, and picked up Little Man. He was happy to see me. I love him with all of my heart, but I was not happy (not at all). I was tired and grumpy!
I tried some of my tried-and-true tricks to get him calmed down and back in bed. COMPLETE FAILURE! Nothing was working. That is when I made the decisions to try something new - something new that ensured my wife could get some sleep.
Think! Think! Think! (I was channeling my inner Pooh.)
Finally, Little Man and I ended up at the far end of the house. I searched around the darkroom for the beanbag so that I could lay down (comfort is important), and I gave Little Manfull reign of the floor. Lights were out. Only the faint rays from the street lamps shined into the room. I had my eyes closed and my ears opened, ready to jump up in case Little Man got into trouble.
I never moved, but my son kept roaming the floors. I could hear his hands and knees pounding the floor as he moved to this corner of the room and that corner of the room. He occasionally came back to me (on the beanbag) to check-in. I am guessing he wanted to make sure that I had not left him.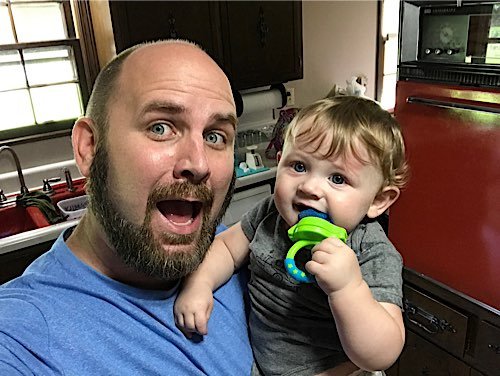 Little Man's Finesse
On one of his trips back to the beanbag, Little Man gently placed his tiny hand on my face. Even a tired, grumpy dad smiles on the inside when one of his children shows him love. I am no exception.
I have shared many tender moments like this with my son.
Little Man is learning how to give kisses. They are wet and slobbery, but they show love.
He loves to cuddle. Kids grow up too quickly, so I try to enjoy every moment that one of my kiddos wants to be near me.
My beard is his beard. He touches my beard, gently tugs on it. I think it would scare him if I shaved.
Little Man's Force
Those gentle moments were quickly overshadowed by two forceful moments. On a different return trip to the beanbag, Little Man's sharp fingernails gouged one of my eyes. So glad that my eyes were closed, but it hurt none the less. And finally, on one of his check-in stops, Little Man pulled himself up and placed both of his hands on my throat. More than anything I was startled, but my son can inflict a bit of discomfort. He is a stout little dude.
Finesse Versus Force
Isn't it amazing that a 10-month-old child can show so much range? He can't talk. He can't walk, but he is a great example that people can be a crazy paradox of what seems like to conflicting ideas.
Sometimes we see finesse and force as polar opponents that are mutually exclusive. We look at people through our biased lenses and start to apply labels.
If we go to the extreme (which we usually do), we label Finesse as being weak, helpless, and incapable while labeling Force as unthoughtful, unkind, and unintelligent. But when I step back to examine some of the people I admired and look up to, I see both qualities.
Below are some statements I believe to be true. Let me know in the comments section if you agree or disagree.
Most people tend to identify themselves as either finesse or force.
In actuality, most people are a combination of the two.
Force is not exclusive to physicality but can be applied to intelligence, emotional capacity, and spiritually as well.
Some people are naturally gifted with the proper understanding of when to apply Force, but most people have to learn this skill. All people can improve on this skill.
Finesse becomes more powerful when a person is equipped and enabled to channel Force in an appropriate manner.
Person Reflection
I am both/and. I see different parts of my life where finesse wins out. There are other parts of my life where force is in control. When I reflect on who I am, I see a lot of opportunities to grow.
For example, ...
I want finesse to lead my conversations with my wife and children, not forceful angry. I want to speak powerfully with kindness and love.
I want to channel more force when dealing with confrontation because my nature is to run away. I still want finesse to guide my words and my thoughts, but I want there to be more conviction and confidence behind the words I speak when experiencing confrontational situations.
So glad that the "terrible monster" can teach me so much. I will be proud one day if he says the same.
Thanks for stopping by!
@SumatraNate