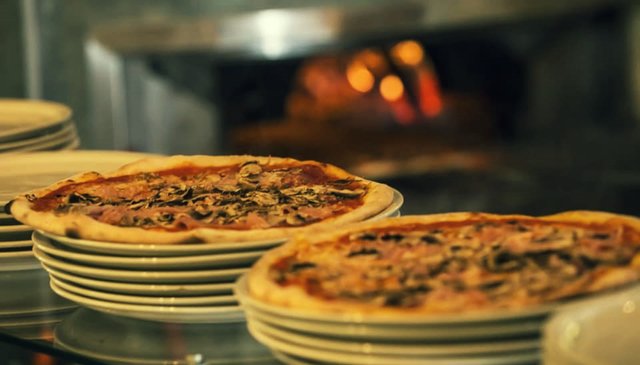 English
If I'm already in town and hungry, then I'll stop by at my old school friend's Pizzeria Colosseo. I was already there today at noon but he wasn't there yet. The father told me that I should come again at 14.30 o'clock, just when they have their 30 minute lunch/afternoon break.
So I was there just before the lunch break and my old buddy, with whom I was not only together in school, we also played football together in our youth, was already standing in front of the door. The father had already prepared us 2x Pizza Funghi with turkey ham. That was the pizza we sometimes used to eat together after our soccer matches at sundays. With a victory the father had always spent pizza for the team.
The Pizzeria is in a small side street directly to the Rhine at the Düsseldorfer Promenade and has tradition. So, who is in the Altstadt (old town) of Düsseldorf and wants to eat a damn tasty stone oven pizza, I can recommend Colosseo warmest! I don't just say that because it's a buddy's shop, but because the pizza is really damn delicious. It's not for nothing that Colosseo is considered one of the best, if not the best pizzeria in the old town of Düsseldorf.
Deutsch
Wenn ich schon in der Stadt bin und Hunger habe, dann schaue ich doch bei meinem alten Schulfreund in seiner Pizzeria Colosseo vorbei. Ich war schon heute Mittag da aber da war er noch nicht da. Der Vater sagte mir, dass ich noch mal um 14.30 Uhr kommen solle, gerade dann wenn die ihre 30 minütige Mittags-/Nachmittagspause machen.
Also war ich kurz vor der Mittagspause dann da und mein alter Kumpel, mit dem ich nicht nur zusammen in der Schule war, wir haben in unserer Jugend auch zusammen Fußball gespielt, stand schon vor der Tür. Der Vater hatte uns schon 2x Pizza Funghi mit Putenschinken vorbereitet. Das war die Pizza die wir früher immer zusammen gegessen hatten. Bei einem Sieg hatte der Vater immer Pizza für die Mannschaft ausgegeben.
Die Pizzeria ist in einer kleinen Nebenstraße direkt zum Rhein an der Düsseldorfer Promenade und hat Tradition. Also, wer in der Düsseldorfer Altstadt ist und eine verdammt leckere Steinofen Pizza essen möchte, dem kann ich Colosseo wärmstes empfehlen! Ich sage das nicht nur weil es der Laden eines Kumpels ist, sondern weil die Pizza wirklich verdammt lecker ist. Nicht umsonst gilt Colosseo als eines der besten, wenn nicht sogar die beste Pizzeria in der Altstadt.
Date: 06.08.2019
Medium: Samsung Smartphone
Location: Düsseldorf - Altstadt, Germany
photo is edited with the AndroidApp Pixlr