Good Day Everybody!
Welcome to my 10th entry in my Skateboarding Photography series!
For this entry I would like to share with you this photo of me doing a Fakie Tailslide and behind me is the Sun setting on the spot known as the Abu Dhabi Chambers. As you can see, the spot is a three stair spot but I chose to just do a fakie tail on the first step. This is skateboarding for me, if I want to learn a new trick, I would do it on a low obstacle and gradually increase the height as I master the trick I am doing.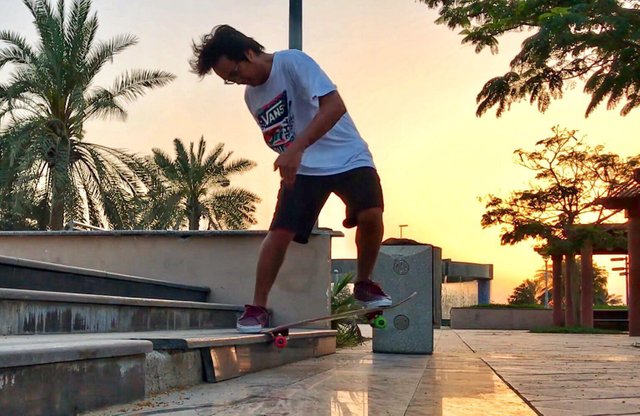 Fakie tailslides are hard for me. It needs great precision and balance on the board, otherwise the board will slip out and you will fall unpleasantly like this: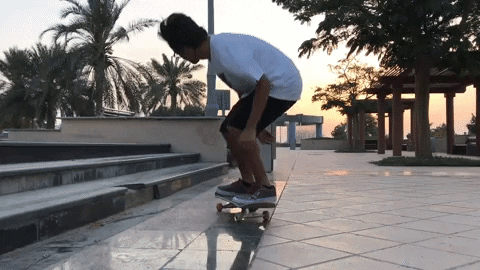 That is why for new tricks, I learn it first on a low obstacle. Doing tricks low for the first time will make you learn the trick easier and will prevent any injuries. Going big is part of skateboarding. Many professionals go big and I am sure, before they do, they would learn it on chill obstacles.
And that's it! See you again on the next entry. Hope you like my skate photo! Thank you very much for your time reading my blog, I really appreciate it!
All photos are mine, taken by my friend TJ and I tuned the image on the Snapseed app.
Cheers,
@mark0318
P.S. So that is it, I have manage to post without my after image edit. I just went to my files and saw this photo with a beautiful sunset on it, gave me the idea that there is a lot of ways to share. PEACE!
——————————————————————————————————————————————————————
For more Skateboarding Content, Photographs, Videos, Skate Blogs and Vlogs please visit my profile at https://steemit.com/@mark0318 I also have travel blogs and other stuff there, enjoy!