28 Days Nextcolony, Review after 4-5Hours Gameplay, What is achievable?
After 4 Weeks on my first Planet, while I was playing 2-Times a day for (5-10Min), so around 4-5 hours actual playtime. This is how far I made it.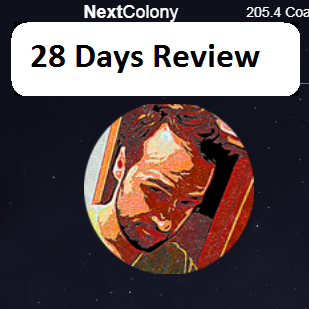 1 Planet only
Meta-Skill Level: lvl. 183
Coal Mine (11)+1040.00 / Day (+43.33 / Hour)
Ore Mine (11)+560.00 / Day (+23.33 / Hour)
Copper Mine (11)+260.00 / Day (+10.83 / Hour)
Uranium Mine (11)+130.00 / Day (+5.42 / Hour)
---
My last Weeks Post actually Won a Price!
Go check this out and win too, there are still some ready to grab! This week you only have to restreem this post to a super valuable Blueprint: https://steempeak.com/game/@nextcolony/transporter-iii-blueprints-sent-new-giveaway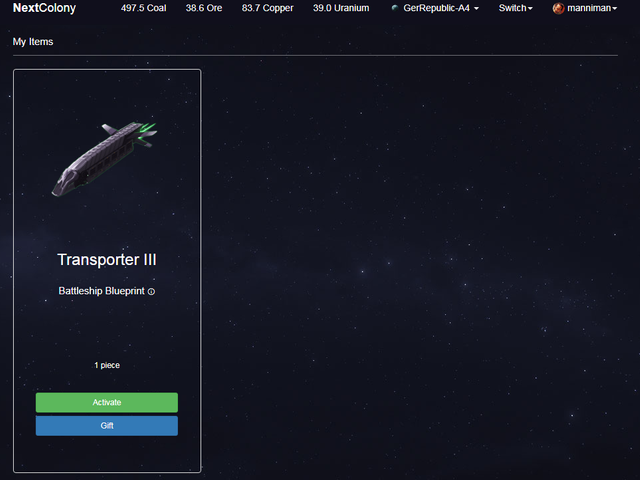 ---
How long till I can make ships?
I'm 45% done with the Corvette Tech Tree and I still need Level20 on that to create my first Ships. I expect the first Corvettes in around 1-2 weeks from now. That means:
Anyone who starts NextColony today, can be a Space Exploring Species in 40 Days from now! Isn't that cool?

Requirements and Details: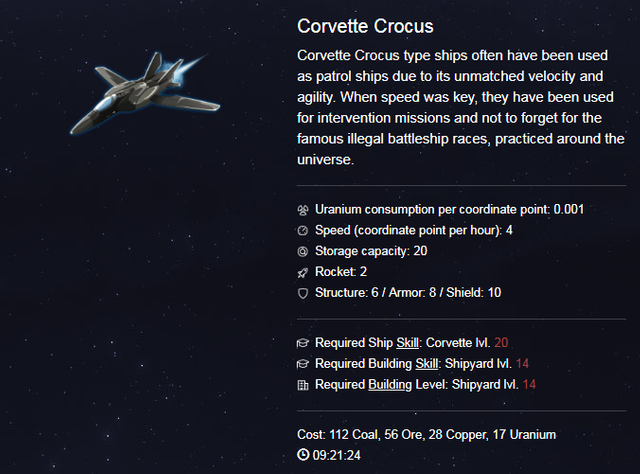 For me now, patience is the key to victory. I'll keep my Base researching Day and Night until I can finally explorer the infinity Universe.
---
My Tipp at this Point is:
Prioritize mining Skills before any other, from the very beginning on. Your Mining Skills should be 2-3 Levels higher than the Rest of all your Skill Levels are.
---
My Last Post on NextColony:
15 Days Review: https://steempeak.com/palnet/@manniman/15-days-nextcolony-review-after-3hours-gameplay-what-is-achievable
NextColony Giveaway:
https://steempeak.com/game/@nextcolony/transporter-iii-blueprints-sent-new-giveaway
Also very interesting to read:
https://steempeak.com/delegationapp/@nextcolony/application-for-delegation-nextcolony
Best Regards, Manni