Hi Friends,
Steem Monsters battles are interesting as we all know. But, those became more interesting with the introduction of Guilds.
Here I would like to provide an update of daily quest of Steem Monsters I completed and few other updates.
Steem Monsters:
I had the opportunity to complete the daily quest with Earth Splinters today and I would say earth is among my favorite splinters along with Life and Water.
No wonder the cards I received off late aren't that great for the daily quests or may be I am unlucky, but today I had a little more cheer as I got a gold foiled card, an Epic and a Rare card among the cards I got from today's quest completion rewards.
Here are the cards: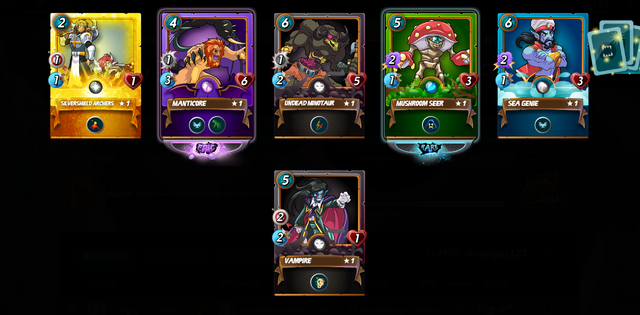 Gold Foiled SILVERSHIELD ARCHERS, Epic MANTICORE and a Rare MUSHROOM SEER are the highlights of this reward pack and other cards aren't bad as well.
I am part of the Team Possible Guild team among the 21 team members and happy to be working with some of my friends who are with me since I joined Steemit and would like to enjoy the battle even more with Guilds giving an option to earn extra DEC and also discounts on purchases.
Other Updates:
Cricket:
I am a cricket lover and you might have noticed my updates about recently concluded ICC Cricket World Cup./b
With World Cup over, teams are back to bi-lateral series with all time famous Ashes Series going on between Australia and England.
In other series, India is touring West Indies, Sri Lanka hosted Bangladesh and is now touring New Zealand.
Ashes is like India Pakistan match or we can say it's more intense than an India Pakistan match.
In the first test, England had the upper hand for more than 3 days, but come back man Steve Smith showed why he is important for the team Australia along with David Warner.
His back to back centuries not only revived sinking Australia in first innings, but helped Australia wrap up the test.
India played West Indies in 3 T20 matches to win those comfortably and is gearing up for One Day series followed by Test matches.
New Look Indian team with few front line batsmen and bowlers rested should give an opportunity to some of the IPL heroes like Navdeep Saini, Shreyas Iyer and all.
Indian Politics:
I am not someone who gives much interest into political developments, but couple of days back, Indian Government under the honorable Prime Minister Narendra Modi, made an historic amendment by abolishing a longstanding article 370 which gave special status to the northern state of Jammu and Kashmir.
As per the amendment, Jammu and Kashmir are no more states, but Central Territories of India and this should help develop the mentioned areas and also give more power to Indian government to battle out the terrorism in Jammu and Kashmir areas.

Thanks for the votes, comments and resteems.
I am a proud member and supporter of below communities:

Do you use eSteem?
eSteem is a Mobile📱& PC💻 app. for Steem with great features. Also, you get Incentives posting through eSteem apps.
eSteem Spotlight; eSteem provides rewards for it top users in Leader Board with most Posts, Comments and Highest Earners.
---