Canned Drink - Peanut Soup
Canned Drink - Peanut Soup
I bought some boxes of peanut kernel soup .
Every 1~2 days, if I want to drink Peanut Soup, I will open the refrigerator and come out to drink.
It is a very good soup.
The scientific name of peanuts is "Arachis hypogaea".
It is a bean plant of pods. People often eat his fruit.
Peanut kernel soup is a soup , it made from water cook and plus sucrose.
Peanut itself is relatively hard, but after water cook, it will become soft and delicious, and it is a famous food.
Peanuts are rich in fat (49%) and protein (22-38%).
The protein contains a variety of amino acids, which are the nutrients needed by the human body.
Peanut red skin contains fiber, protein, fat and polyphenols, etc., can supplement blood and improve anemia symptoms.
But eating peanuts can't be eaten too much at one time, because Chinese medicine says that eating too much peanuts will not. I ask my family to drink only one can a day.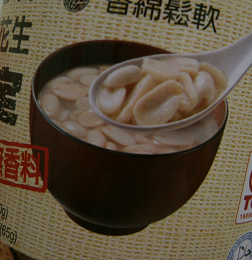 罐装饮料 - 花生仁汤
家里买了好几箱的花生仁汤,每隔1~2天,想要喝,便打开冰箱,来出来喝,这是一款很好喝的汤。
花生的学名为Arachis hypogaea),是荚果的豆类植物,人们常食用的是他的果实。
花生仁汤就是采用其果实,再加上蔗糖,以水煮法所熬制而成的汤。
花生本身较为坚硬,但熬制之后,会变的柔软好吃,是一道有名的美食。
花生含有丰富的脂肪(49%)和蛋白质(22-38%)。
蛋白质中含有多种胺基酸,是人体所需的营养成分。
花生红皮含有纤维质、蛋白质、脂肪及多酚类等等,能补血、改善贫血症状。
但吃花生不能一次性的吃太多,因为中医说花生吃太多会上火,我要求家人们,一天只能喝1罐。