After exercise, the effect of eating food on health!
After exercise, the effect of eating food on health!
According to a study by the American College of Sports Medicine and the American Dietetic Association, taking a simple food within 30 minutes to an hour after exercise is beneficial for weight loss, muscle build-up or improvement of body health.
The reason is that after high-intensity aerobic exercise, the body needs to take a food to restore energy and repair muscles.
This food is based on carbohydrates, followed by protein.
Carbohydrates restore glycogen that maintains strength.
Protein can repair muscle tissue that is damaged by exercise.
Many people think that after exercise, the body's absorption will become stronger, so at this time, eating is easy to get fat.
Or say, Eating at this time will eat back the calories burned in the sport and lose the effect of exercise.
According to a research report in the Journal of Nutritional Science and Vitamins,
It is a fact that the body's absorption will become stronger after eating food after exercise ,the is right,
but it is easy to get fat is not correct.
Instead, eating a simple light snack between half an hour and one hour after exercise is good for weight loss, gaining muscles or improving your health.
Compound starchy foods, such as bread, pasta, cereals, potatoes, etc., help muscle repair, as for single sugars such as sugar-rich biscuits and cakes, it is still need to be avoided.
In addition to starch, fruit is also a good choice for carbohydrates such as orange, apple, kiwi and tomato.
The protein is mainly meat, but can not eat excessive.
The ratio between the two: recommended as starch 4~3: protein 1.
It should be noted that the amount should not be too much, and the heat should be controlled below 300 calories.
such as
A meat buns or bananas + a small cup of low-fat milk or sugar-free soy milk.
In addition, drink water, but do not drink diuretic drinks such as coffee.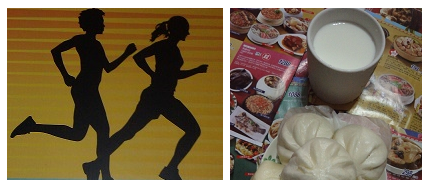 运动之后,吃食物对于身体健康的影响!
根据美国运动医学学会与美国膳食协会的研究报告指出,运动后的30分钟~1小时内,摄取一份簡單的食物,有益於减重、增肌或者改善身体的健康。
原因是,在中高强度的有氧运动后,身体需要攝取一份食物,來恢复精力与修补肌肉。
這份食物以碳水化合物為主,其次為蛋白质。
碳水化合物可恢复维持体力的肝糖。
蛋白质能修补因运动受到破坏的肌肉组织。
很多人认为,在运动之后,身体的吸收力会变强,所以在这个时候,吃东西很容易变胖。
或者说。在这个时候吃东西,会把运动所燃烧掉的卡路里又吃了回来,丧失了运动的效果。
根据营养科学与维生素学期刊的一篇研究报告指出,
在运动之后吃食物,身体的吸收力会变强是事实,但是容易变胖的结论并不正确。
反而是,在运动后的半小时到1小时之间,吃一份简单的轻食,有益於减重、增肌或是改善身体的健康。
复合性淀粉类的食物,如面包、面食、谷类、马铃薯等等,有助于肌肉修补,至于富含糖分的饼干与蛋糕等单一性碳水化合物,则仍是要尽量的避免。
除了淀粉类,水果也是碳水化合物中的一种好选择,比如柳橙、苹果、奇异果与番茄等等。
蛋白质主要為肉類,但不可过量。
两者之间的比例:建议为淀粉4~3:蛋白质1。
要注意,份量不可过多,宜热量控制在300卡以下。
比如
一个肉包子或者香蕉 + 一小杯的低脂牛奶或无糖豆浆。
此外,可喝水,但不要喝咖啡等利尿​​性饮料。