4 Very Interesting Things That Happened In Ethereum's Ecosystem Last Week
July is coming to a close and it's been an interesting month for the market. Unfortunately, Bitcoin (BTC) is below $10,000 and people's expectations of Bitcoin reaching $25,000 or $40,000 are a little shot now. Some people have downgraded their forecast of new all-time highs to late next year. Still, a lot relating to development has happened this month, and that's what I'm going to be covering here, as it predicts a good future for the token.
1. Many DeFi Products Being Developed on Ethereum
Decentralized Finance is a big part of the future blockchain ecosystem. Several projects associated with this use case have had related products built, and it seems that most of them are being built on Ethereum. Use cases in this specific area include marketplaces, the tokenization of assets, lending platforms, staking platforms, asset management services and stablecoins.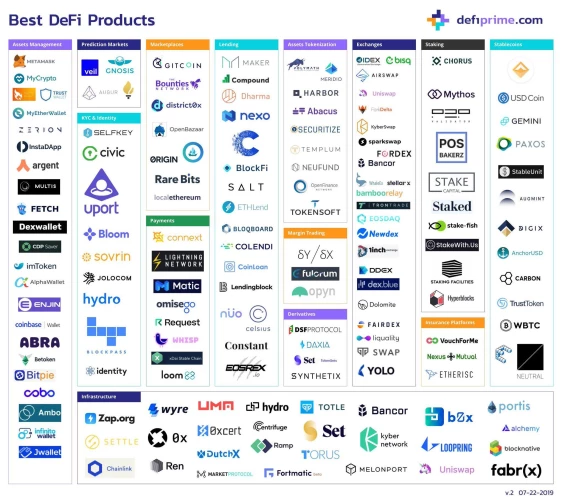 Source: Reddit
Some websites estimate that the total funds locked up in the decentralized finance space is nearly $500, a significant sum already. If stablecoins, exchanges and lending platforms take off as predicted, that number could shoot up much higher.
2. DuckDuckGo Now Taking BAT Donations

DuckDuckGo is a famous search engine which emphasizes privacy. It turns out that it is now accepting BAT donations - another great step forward for the project. It regularly finds itself having partners like DuckDuckGo - services that need donations - in its ecosystem.
Basic Attention Token (BAT) and Brave have been taking the internet content creation and advertising space by storm since last year. Development is going good, new features are being released and an incredible number of entities have taken to the project.
3. Microsoft Using Ethereum to Create Decentralized and Collaborative AI
Microsoft's support for blockchain development Ethereum development is already well known, as they've released an Ethereum Development Kit on Microsoft Azure for many developers. They also have an Azure Blockchain Workbench that is very welcoming of blockchain development.
Things seem to be going one step forward though, as now Microsoft is using the Ethereum blockchain to create a decentralized AI. In a post titled "Leveraging blockchain to make machine learning models more accessible", a senior software development engineer said that blockchain could be used to help everybody run machine learning models - a truly democratic AI accessible to all.
The post said that blockchain technology is useful because it offers participants trust and security, and can an incentive based system that encourages people to participate.
4. $280 Million Ethereum Token Sale Approved by German Officials
Token sales seem to have gone past their heyday, but you'll still hear of these every now and then. One big such announcement that's making the headlines is a $280 token sale that has been approved by German regulators.
The startup, Fundament, has been given the approval to sell tokenized real estate assets worth $280 million to investors, with there being no minimum investment restriction. This will let people from across the world buy property in Germany.
Tokenization of assets, like real estate, are becoming an increasingly popular use case for blockchain technology. Gold, art, real commodities, estate - it's all happening! Another huge step forward for decentralized finance!