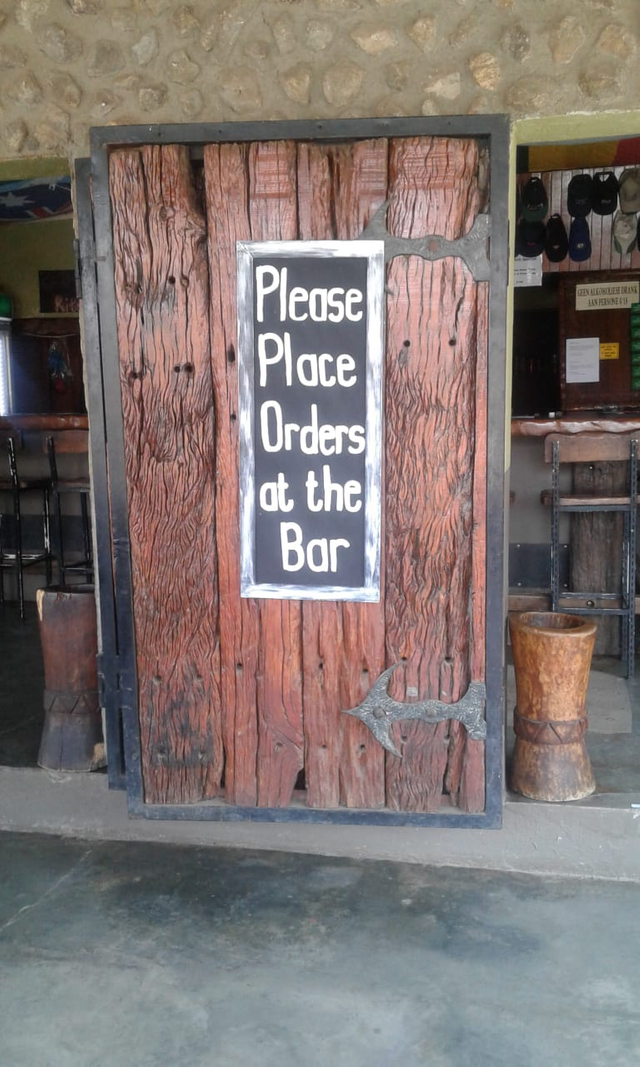 South Africa is known for its diverse culture, friendly people and hospitality, and although not quite the picturesque place you might expect to see on the visit South Africa travel brochures I would like you to join me for a visit to a tiny culture filled bush bar off the beaten track called On The Rocks situated in Limpopo, South Africa.
The name On The Rocks that clearly has influence from the idea of an ice cold drink served on the rocks, actually lends its origin from its location. The rocky hilltop on which this bar was built, which lends for a great view - well at least once we get some rain again. And certainly the fact that the initial structure was built from rocks sourced at the location contributed to naming the place as well.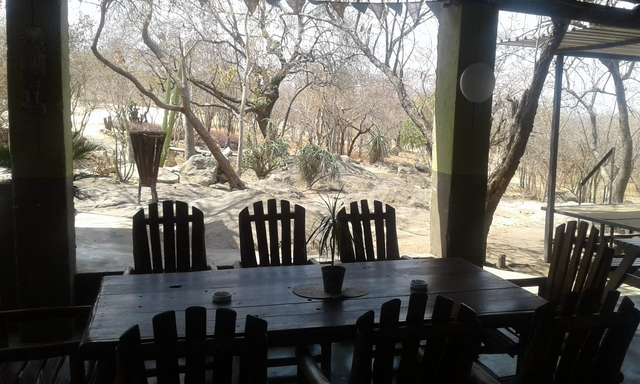 But this cozy local watering hole certainly did not gain it popularity based purely on its looks!
It has in fact become somewhat of a heritage site in its own rights in the eyes of the locals. A great deal of the interior and a majority of the wood furnishings inside has been made from old railway sleeper wood from the Selati Railway Line that was initially built in the 1890's and completed in 1912 during the gold rush era, later on to be commercialized by the South-African railways who diversified the trains travel routs in later years.
The pub also boasts with an array of ancient farming implements that was utilized on the farm that hosts this lovely venue, way before mechanization of farming implements came into play. And for the majority of farmers in this area, this is a reminder of the hard road that our forefathers had to walk in order to get to where we are today, as we started farming previously uninhabitable land that was plagued with malaria, tetsi flies and a spectrum of unforeseen challenges.

At the moment this pubs surroundings might not look like much due to the 7 year progressive drought that has left the soil barren and void from all but a few cactus, succulents and aloes standing in the spares shade of acacia tree skeletons, while the once flourishing dam that the pub overlooks now only hosts a pool of dust.
But this is by no means the end of the scenic view, because once the African rains starts (and this is predicted to be a late but good rain year) this desert like scenery will spring back to life with color and wildlife once again, and anyone that knows this part of the world will tell you that, that is simply the magic of Africa.
And as you can see below - even despite the hardships that the landscape is currently enduring you can still find beauty in the indigenous succulents blooming in contrast to their surroundings.
Bottom Left - the now empty dam
Bottom Right - A Kudu Lilly in bloom.

When Traditions becomes a custom
Out on the African plains, wearing a hat is not uncommon, in fact during the warm summer months it is utterly advisable, as the low veld sun beats down with vengeance on a good day, however in the Afrikaans culture it has always been a custom to remove your hat before entering a building, this is considered good manners and it is taught and expected of a person.
But what happens when these customs are not adhered to?
Well then, the bar keep simply expands his display collection...
So if you are ever in a bar, or any building in this area, and you are wearing a hat - you might want to take that into account, unless of course it is a safety-hat that you are obligated to wear, in which case I am pretty sure you'd be excused.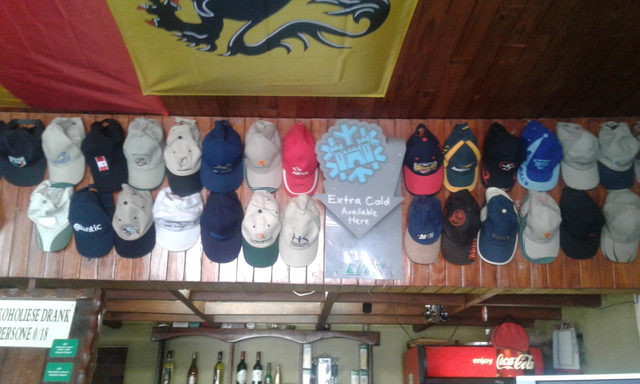 No lack of humor in the design
There is never a dull moment here - weather it stems from the local conversation or the quirky signs and painted slogans that can be found throughout the design of the bar, you can certainly be sure that you wont be leaving without a smile on your face. I mean you might, but I for one certainly have never.

The True Stars
But enough about history and settings - this is a bar after all right?
At this stage we are pretty much halfway into Spring and our temperatures are already rocketing up to 45 deg Celsius during the day - with evenings not being much cooler, and on a day like this few things can quench a thirst like an Ice cold beer, and when in Rome.... uhhhhem... I mean when in South Africa - well fuck, just have a South African beer would you?
Craft beers are still a reasonably new concept when it comes to the commercial counter sales, but we do have a few South African beers that is known and loved throughout South Africa, and proudly produced by the SAB - South African Breweries, and you can step into pretty much any bar in South Africa and expect these guys to be staring right back at you.
And trust me if you lived in the Low veld you would easily agree that walking into any of these guys is more than just a welcome sight.
The Castle range of beers are all reasonably light and easy drinking, and stems from a beer that was originally made by using corn in stead of barley and/or hops, and despite the fact that they have put in every effort to maintain the beers original flavor, I read on the label the other day that they are now merely using corn flavoring pffft - but hey, a Caste by any other name would smell just as sweet, right?
Black label on the other hand is a divine but cruel mistress, its sweet aromas tends to decieve you of its effects... just saying - but maybe that's just me.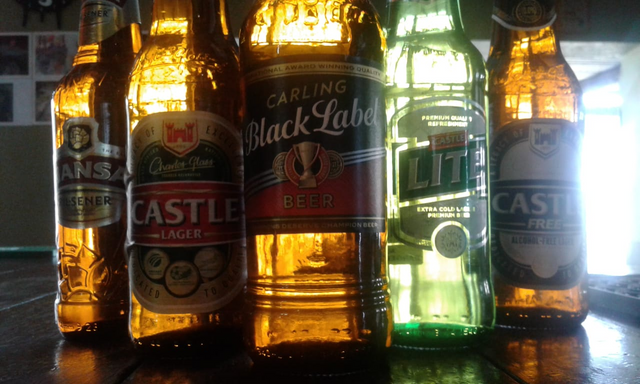 Brandy review
The bar also hosts an array of alcoholic beverages, of local and international origin, but I would like to dive into another favorite after hours drink that is popular in South Africa. And that of course is a Brandy & Coke A term that you are more than likely to hear in bars all around the country.
Commonly taken as a double shot of Brandy in a Willies glass, poured over ice, then topped up with coca cola.
And one name in local brandy that is definitely making a name for itself is BUFFELSFONTEIN - Brandy a locally produced three year old brandy that has everyone talking. So, I decided to give it a shot.
First of all I must admit that I am not really a big brandy drinker, but I did find that BUFFELSFONTEIN Brandy was smooth, crisp and full of flavor. And once mixed with cola made for a delightfully refreshing drink that simply tasted like more!
And with a slogan that more or less translates to...
...Spoil yourself you rugged bastard "bederf jouself jou rowwe bliksem"
What else could you expect?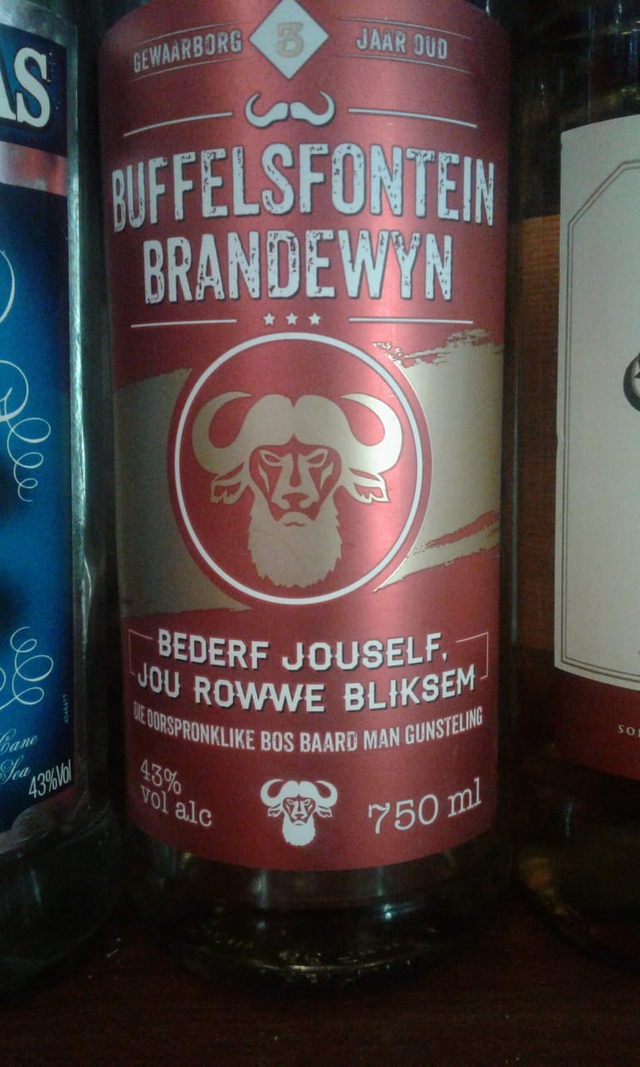 Anyway - I hope you had fun on this little "visit" to the local pub with me!